"Millie, you're cute."
Kappus to Millie, his girlfriend
"Kappus" is the name of a Bunny Scout who is friends with the Bunnies and also the Honeybees, Kappus is a gentle giant and a kind teenager, but when he is pushed beyond his limits, he becomes enraged when he gets picked on. While he cares or his friends, he cares about Millie the most and he returns her feelings. e His pet turtle, Lily Hesterton, has a crush for Chester Turtleton,
Biography
Early life and Birth
Michael Lovell Dario A.K.A James was born on the 29th of Febuary 1996 in a hospital in Christchurch, New Zealand. His Mum named him "Kappus" as a random name, he lived with his family in Wigram, Christchurch,
Kappus's life in New Zealand
Scouts
In 2001, Kappus started Boy Scouts on the first day. He was met by a boy named Nicholas Weaver who found him sitting in the tree alone, Nic became Kappus`s best friend and taught him to be social to others.
Kappus' First Encounter with his best friends
Kappus met William, Don, Joseph, Angus and Lovik. Despite William was a real funny guy that could mock everybody, he and Kappus became best friends. William ( a British person), Don (a New Zealander),Joseph (an Australian), Angus (a Scottish person), and Lovik (a German), would become his best friends.
At the tree, Kappus said that they will be rockstars one day.
Kappus` First Outing with his Scouts
One day, Kappus, his fellow scouts,and his teacher, Mr. Havelock went to the museum in Christchurch. They saw exhibits that consisted of caves. Kappus even went in the cave, it was too dark, though. One Scout Kano was feeling Claustrophobic and Kappus saved him from the dark cave, they later went on into the other expedites. They both saw vehicles and even saw that they were in a museum old Town, Kappus, Nick and his team both saw a pretend horse, Kano went on the horse, after Kappus saved Kano from the darkness that he feared Kappus was awarded a badge for saving Kano, Mr Havelock thanked Kappus for saving him,
Kappus`s Mothers Death
One day Kappus was at his Scouts, but trouble came his Mother Karen James caught Throat cancer and had to go to hospital, the nurses were unable to save his mum from Throat Cancer, his mother said to Kappus "take care of you father, for me," his mum suddenly died, Kappus began to cry, both he and his Friends and his Scouts and Mr Havelock and their Parents and other People participated in his Karen's funeral, Kappus said to her grave that, "I Was not able to save you Mum, good by mum you are in are hearts forever," after his mums death Kappus and his friends decided to do a rockband for his Mother, sins she was a founder of rockbands, Kappus became the vocals and Nic became the Electric Guitar player, Will became his second guitar player, Don also became his Drum player, and Joseph became a amplifier man and Angus also became a another Guitar player and Lovik became a another amplifier man, they played for the first time, it became popular by fans. Later when Kappus moved to San Francisco, he never mentioned it to Millie and the others about his mum.
Mission to the Mountains of the Mt Range
Mr Havelock was soon to take his Scouts to Mt Range where they would get trained to see if they would prove a rock climber, Kappus and his Scouts went on a bus to Mt Range, along the way the Bus went on the road that goes from Rolleston through to Darfiled and Springfield, along the Kappus saw a coal train, Nic told Kappus I'll help you on the step climb,
Kappus and his Scouts arrived at Mt Range at the bottom they both used cable guns to attach onto the cliffs Kappus was climbing up the cliff with his Scouts, Nic was helping him to the top, Kappus`s hand could not grip onto the cliff, Nic was gripping his hand to the second cliff then to the third,
A Close Death
When they got up the fourth cliff they were climbing up a cliff then to the next one, up the fifth cliff he was helped by Nic, Kappus got up the sixth cliff then the Seventh, Nic`s hand was getting sweater, However when Kappus grabbed Nic`s hand he lost his footing by a lose rock then slipped and Free-fell down, Kappus was still attached to the Four cables, as he fell the cable saved him, one of the cables snapped, Kappus lade on the cliff for about three minutes, he accidently banged his forehead giving him a cut, on his forehead but not a scar, but also he broke his leg, Nic and Will both saved Kappus, and finally brought him up the cliff,
Nic and Will got to the top Will, got up on the cliff, Nic was still with him, Don and Will pulled Kappus to the top of the Cliff, Nic got up there, and Kappus thanked Nic and Will for saving his life.
Kappus was awarded the Purple Badge for his actions, bu he rejected it and gave it to Bessie,
Kappus`s trip to Lake Ellesmere
Kappus and his Scouts went to lake Ellesmere on the way to Birdlings flat, On the way Kappus stopped at a big hill rock, Kappus and his Scouts went to the rock for morning tea, then they went to Birdlings flat, were they collected stones, after that Kappus and both the Scouts were awarded both the Badges,
Kappus and his trip to Lyttleton
Kappus and Mr Havelock and his Scouts went to Lyttleton to the ferry to Quail Island to look around the island, once Kappus`s Scouts looked around the island they soon were to see some old ships and also learned the history of how dogs got trained, one Boy Scout Werner began talking to Kappus about Quail Island, Werner said to him that his life would not be completed without a girlfriend, Kappus told him someday I'll get one, Nic and Kappus and the Scouts and Mr Havelock went across the Island, after all that Kappus and his Scouts returned to Lyttleton,
Skirmish on Kajolica all over the world
At one occasion Kappus was on a Computer and a word named Kojlica came up but as he said it made him look like he had Parkinson's disease, as it stopped then something bad happened again a huge eagle came and nearly attacked Kappus but it destroyed his computer as he made it safely to the room where his friends where, but Will then told him what was going on, but Nic replied "That word must mean doom or disaster Kappus," then he typed on Wikipedia and looked at the name as he looked at it he found out that the name meant a Magical word that means doom and death and a curse, however Kappus told his friends that the word is not a middle name it is a cursed word for doom, but as Donald said it the eagle came back and evenly they escaped though the eagle was chasing them, Kappus and his friends used the guns and shot the eagle down and they would warn everyone in Christchurch,
But then as they arrived at Riccaton mall Kappus along with Nic, Will, Don, Joe, Angus, and Lovik, and fellow Scout Sergeants Yuri and Boomer, came to warn them, but then as Scout Captain Kappus and Scout Sergeants Yuri and Boomer came to the bridge at Riccaton mall he tried to warn the two citizens but one citizen said the word Kojlica which caused the bridge to collapse, however only 4 made it and one citizen was killed in the fall, the 2nd citizen jumped and grabbed hold to the metal bar along with Kappus and Yuri and Boomer, Nic and Will and Don and Joe saved them and after that Kappus then thanked Nic for saving him, the citizen who Joe saved panicked and said, "My friend he`s" and Kappus replied "Dead, I am so sorry about him," after that Kappus began to warn everyone but although the word was still in the kayos of that word.
Kappus and Nicholas`s Outing
Kappus and Nic planed a outing, they went to Hagley Park and began to run through the park and later go right past the hospital and on their way by bus to Cashel mall, they went through Cashel mall and later went on a Tram in the city centre, Kappus and Nic went to the museum, then went back on the tram to the station, Kappus and Nic went to a café and were discussing about going to the USA in future years, Kappus and Nic paid the money and had a drink, once they received a message from William their friend they had to go home to have the meeting,
As they were at a meeting with his rockband members Kappus and Nic and Will were soon to discuss about going to the band, Kappus got all his equipment ready for tonight including his Microphone, and Electric guitars and his drums and his amplifies, they were both put in the van.
The Night out at the Band
During the night Kappus was on stage and with his bandmembers Kappus was on stage to tell the fans about him, before the song played Kappus began to shout out loud in the band, he started singing and singing, along through the song, his Friend Nicholas became the fastest Electric Guitar player in history and Don became the fastest drum player in history ever,
After that night the ONE NEWS team came to the band, and told them they are the best in history, Kappus and his bandmembers won the trophy,
2010 when Kappus was 14
In Kappus later life he was 14 years old, and the year was 2010, during this year, he would be the Scout Captain, he had earned every single badge for bravery, Kappus and Nic and his Scouts went to the hills near Mt Range but would go into Caves,
To the Caves
Kappus went by bus to the hills at Springfield, then went by horse along with his Scouts and Mr Havelock to the mountains, they went by the path then through the regain then past the hills and then to the mountain, they both arrived at the rowdy view point, Mr Havelock told both the Scouts to dismount Kappus got of first and then the others did, Nicholas was felling horse sick, after that, Mr Havelock told both Kappus and Nic and two others to go with him, Kappus along with Nic, and Will, and Longshot, followed Kappus Will, and Longshot, went to the other cave, whilst Kappus and Nic went to the Cave, inside the Cave Kappus and Nic were walking, Nic said to Kappus that it wasn't such a good idea, Kappus brought Nic to see this, They saw a group of Three Grave robbers and one Fedora, they both spied on them they saw one of the Grave robbers that found the Cross of Colorado, Runnio the Grave robber was happy that they were rich, Kappus saw the Fredora and his cross of Colorado with him as the Fedora put the cross on the table, Kappus told Nic that was an important artefact and belongs in a museum, Kappus said to Nic to go and warn Mr Havelock and get the Sheriff, because their were men in the caves, Nic was worried that Kappus was going to get caught, but Kappus told Nic he won`t,
Escape from the Grave Robbers
After Nic went to warn the others Kappus went down into the pit and grabbed the cross of Colorado whilst the Graverobers were not looking, Kappus quickly went up the rope and his foot accidently touched the wood and made a sound, the Fedora turned his head and the graverobers turned their back, the Fedora and his men went after him, Kappus made a run down the hill and tried to call Mr Havelock, but no one was their, when Kappus saw the Fedora go after him Kappus quickly made his run and whistled for his horse, he jumped onto his horse and quickly made his run, the Fedora stopped and whistled for his truck to hitch them a ride, Kappus was running away from the car and the truck that was chasing him Kappus herd the sound of a train, and charged for it, Kappus made it onto what was called a circus train, he went on one of the boxcars and went directly onto the roof, the Grave robbers went onto the roof, the Fedora and his men tried to catch Kappus but made his run to the Boxcar that was the house of reptiles, Kappus went into the boxcar and one of the Grave robbers grabbed him by the foot, his name being Vacula, an American Indian, Kappus kicked him by the stomach, Kappus would soon realize that the path well would soon fall down, it pulled Kappus down in to the snake pool, and one of the snakes got scared and frightened, Kappus accidently fell into the box of whitetail spiders, one nearly bit him, but Kappus panicked and screamed, he slacked the spider off with his hand, turn out the circus train was actually a curic de freak train, Kappus went to the door, and shut it and locked it, leaving the other two grave robbers inside, Kappus saw Runnio try to get him he kicked him back, Kappus made his run to the next boxcar, Runnio used a long hook that was used for elephant's, he used it to trip his foot into it, Kappus tripped over, which made the light where the rhino was fall on his head, the rhino got angry, and used his horn to try and Kill them, Runnio tried threatening Kappus with a knife the rhino tried to break the roof, both Kappus and Runnio did not get hit, Kappus threw Runnio to the roof and the others that were stuck in the boxcar of reptiles, came out, Kappus found the water tower and swing to the other side of the boxcar, he kicked Vacula, and swing to the other Boxcar, but the Fedora found him, Kappus confronted the Fedora into the fight, the Fedora told Kappus that his Cross was his property, Kappus told him that it belongs to Christchurch, Kappus told the Fedora that it should be in a museum, the train was heading into Christchurch, they tried to take the cross, but a Spider frightened Runnio, Kappus made a run for the Gaurdsvan, which was the house of magic, Kappus made his run inside, Kappus tried to open a door but was locked he went to hide inside the magic box which made him disappear, The Fedora tried to find him, but found he was not their, Kappus made his run to Wagram to his home, he ran and ran to his house, he found his dad, but was busy at work, Kappus then found that Nic arrived, Kappus was happy that his friend came, he was blowing on the trumpet, he took it from his mouth, and Nic told Kappus that he had brought the Sheriff, as the Sheriff came he told them that their maybe five or six of them, but then trouble arrived and the sheriff told them about the rightful owner who it belonged to, the Fedora and his men arrived, and their leader came know as the Panama hat, Kappus the Sheriff gave the cross to Runnio and then gave it to the Panama hat. the Sheriff told them good day and the Fedora told him he lost today but did not mean he had to like it, he gave him an old man French hat,
With Kappus being a thief he realised he should not have done that=
The 7.1 Earthquake
A week after the Incident, it was September 3rd and Kappus went to sleep unknown to Kappus that their would be a 7.1 Earthquake that would come on September 4th early in the morning. while Kappus woke up in the middle of the night He heard the first shake, and it rocked his Bed, Kappus felt traumatised when it came, after the first shake he went to his Dad and then went beneath a table, when morning came all Kappus`s best Friends came along with their parents, his Dad would soon tell them that they would soon move to the U.S.A in California to one of the city's San Francisco, they both packed their stuff and their stuff was to be shipped to San Francisco and both Kappus and his Dad and his Friends and their best friends family came along on an airplane, they released and they would both miss Christchurch, and soon move to the U.S.A,
Kappus' New Life In San Francisco
Arrival in San Francisco
On September the 5th 2010 Kappus arrived in San Francisco along with both his Friends and Family. Kappus`s dad Antonio could not find a home, they looked at a hill but unfortunately they were afraid that if an earthquake hit they would get all killed, so the group managed to find an old hotel at the harbor, Kappus and his Friends found rooms, and Kappus and Nic found their own rooms, after their arrive in San Francisco, they stayed forever and ever and always.
January of 2011
"Greetings, my name is "Dee Snider," and you are,"
"Kappus." "Kappus James."
"Dee Snider," to "Kappus." during their meeting,
Later on in 2011 Kappus met up with the Twisted Sisters their names being "Dee Snider", "Eddie Ojeda", "Mark Mendoza." "Jay Jay French." and also "A,J, Pero." at one of the bars, they were discussing to Kappus and his band that they were new to San Francisco, and also that they were rock stars, Dee Snider, their leader, told them you will be new members of the Twisted Sisters, Kappus was given the nickname, "Dee Snider." after the leader, Nicholas, Kappus`s Best friend was also given the nickname "Eddie Ojeda." after one of the band members, and also William was given the nickname "Mark Mendoza." after another Twisted Sister, band member, Don, was given the nickname "Jay Jay French," after one of Dee Snider`s band members, and also Joseph was given the nickname, "A.J. Pero." after one of the band members, the other two were not nicknamed, ,Dee Snider. told Kappus, good luck being the new Twisted Sister band leader, and a good luck to all of you, Kappus told Dee, that why do you need new band members, Dee, said to Kappus, because we are getting older, Kappus soon became the new Twisted Sister band leader,
Running Down San Francisco
A week after the old Twisted Sisters left, Kappus. along with Nic, William, Don, Joseph, Angus and Lovik went for a run up San Francisco. They stopped near a Park, they both were talking about in three days time the Band will be doing their First Appearance at Kiss Kiss Clue, a restaraunt, Kappus and his friend, Nic, would go to Sacramento for two days, Kappus told William to take care of my band, until I get back, Kappus and Nic got onto a train heading for Sacramento, to have a meeting.
Actual Mighty B episodes
Note: The episode script in this article are only the ones featuring Kappus.
S3-E1b: Kappus and the Rockband script
Bessie, Happy and Penny see a convoy of Army stuff pass by.
Bessie: Wow, your right, Pen Pen. Watching a bunch of army stuff for no reason is fun. I can't believe I haven't thought of it sooner.
Penny: Yeah. Hey Bessie, would you be able to lead an army.
Bessie: So, what's this Kiss Kiss Clue place. Is it like a blog or something.
Happy: Bark
Bessie: Oh, OK.
Penny: What did he say?
Bessie: I don't know.
Ben: Hey, Bessie!
Bessie: Oh hi, Ben.
Ben: Did you see all tha--
Bessie: Yeah. That's pretty much behind us now.
Ben: But...
Bessie: Let's go!
Penny: Where?
Bessie: I DON'T KNOW!!
Bessie, Happy and Penny walk off
Ben: I never get to have a line that means something.
Ben walks off and murmurs to himself.
Kappus and his band of peoples discuss about band stuff.
Kappus: So, wait. When are we supposed to go to that Kiss Kiss Clue blog thingy, mates?
Nic: It says here that we're up for 3 days from now.
Kappus: Really!? Then, why are we here now?!
Will: Uh, Earthquake.
Kappus: Oh, Right!
3 Days Later:
Nic and the rest are still sleeping.
Kappus: HEY NIC AND WILL AND DONALD AND JOE AND ANGUS AND LOVIK, TODAY'S THE DAY!!! HARALOOYA!!!
Kappus makes a lot of happy noises
Nic: Ug, Where even are we?
Kappus: A Dumpster! I rented it!
Donald: 0_O I'll meet you guys there.
Lovik: Take me with you!
Kappus: See ya there, Donald!
Kappus: Let's get to the cable car, SUPER FAST!
They run to the cable car.
Random People: Hi!
Kappus: Wow, the people are so nice, they're saying hi to us before we become famous! I'm starting to like this America place!
They run into Portia Gibbons
Portia: I know this is out of character for me, but it's Say Hi to People You Don't Care For Day, so Hi who ever you people are supposed to be.
Kappus gets scared
Kappus: Nic, she's creeping me out.
Nic: Huh?
Kappus: Look at her. Her skin is like so tan I bet that's the daughter of the overly-tanned mom.
Nic: Dude, that's so old news.
Kappus: and her buck-teeth are grotesc, her girly girly girly outfit is so girly and un-manly and feminine. IT REMINDS ME NOTHING OF THE HUNT!!
Nic: I'll handle this.
Nic walks up to Portia.
Nic: Excuse us, but...
Nic gets a closer look of how girly and bitchy and tanny Portia is.
Nic: Uh, uh sdbms, LOOK A SHOOTING STAR!
Portia: WHERE! I Wish I Was in Dixie!
Kappus and Nic run for they're lives
Portia: Hey, wait a minute. It's DAYTIME!
Portia runs after Kappus and Nic
Nic: Oh wow, she's pretty fast for a girly girl.
Portia: EXCUSE ME!?
Nic: Well, your excused, princess.
Portia: I'LL KILL U!!!!!!!!!
Portia runs faster. Nic doesn't notice.
Kappus: uh, nic?
Nic: Oh sure you will. Oh wait, you might break a nail. hahaha!
Portia grabs Nic by the shoulder.
Nic screams like a women.
Kappus screams as well.
Nic screams again.
Portia: Prepare to die, Powers!
Kappus whispers: let's split up.
Nic whispers: OK, why are we whispering.
Kappus whispers: I don't know.
Nic whispers: Can we talk loudly now?
Kappus shouts: SURE THING, BUDDY!!!!!!!!!!!!!!!!!!!
Nic: Ah, MY EAR!
Portia: Uh, Hello. I'm trying to kill you guys here. Not really, though.
Kappus: Oh, right.
They split up.
Nic goes to Kiss Kiss Clue while Portia follows Kappus.
Kappus: I'm sorry! I'll let you kiss my brother.
Ian: NO!
Kappus: OK
Reporter: Uh, so bored. Why hasn't anything happened yet?
The background has lots of newsworthy stuff happens.
Mr. Reporter Man sees Portia chasing Kappus.
Mr. Reporter Man: Hey, that's something, I guess.
Mr. Reporter Man: Hey guys, this is newsworthy!
Mr. Reporter Man shows the team Portia chasing Kappus.
Mrs. Camera Man: (sigh) Really?
Mr. Reporter Man: REALLY! This is HOT!
The team looks at him weirdly.
Kappus: Hey, look, a HILL!
Kappus falls down the hill and gets ahead of Portia.
Kappus: Ow, I broke my spine by landing on my face. WHAT ARE THE ODDS!?
Kappus: (gasps) A Rubbish Bin!
Portia: Uh, that's a trash can.
Kappus screams, runs and hides in the rubbish bin.
Portia runs the wrong way and Kappus gets out of the bin.
Kappus turns around and
Portia: Boo
Kappus feints
Portia stands there and at one point scratches her butt.
Kappus wakes up.
Portia: Hi
Kappus screams and runs again.
Kappus: Activate Jetboots!
Portia: What?
Kappus jumps and falls.
Kappus: Why aren't my jetboots working?
Portia: What boots?
Kappus: Oh, right.
Portia calls Gwen.
Kappus: Oh No. TRAFFIC! It's not even sidewalk traffic, it's just regular traffic!
Car: BEEEEEEEEEEEEEEEEEEEEEEEP
Kappus: Yipe!
Sheriff Murdoch O'Brian: STOP RIGHT THERE!
Kappus: Oh no! Coppahs! What did I do?
Sheriff Murdoch O'Brian: Your a suspect!
Kappus: Of What?
Sheriff Murdoch O'Brian:..........uh?......I don't know but your a suspect!
Kappus: Oh.
Sheriff Murdoch O'Brian: After him!
Officer Toby Boxhall: Wait, why would you go after some weird old guy?
Murdoch beats up that one asshole police.
Murdoch O'Brian: Not just that but he's breaking the law for causing a disturbance on the roads.
Toby Boxhall: Oh.
a huge force is called to strike at Kappus Dario, with a enormous load of 30 police cars, in one of them the two slacking Police Officers both Police Sergeant Harris Daye and Junior Police Officer Morly Roobler where just having their donuts when Sheriff O'Brian interrupts on the speaker,
Sheriff Murdoch O'Brian, (mic): All units we have a runaway kid on invisible Jetboots all units dispatch I repeat dispatch from all Armor Team units 2 to 30 on us now.
In the chase Morly Roobler begins shooting at Kappus with a old World War II M3 "Grease Gun" Kappus however looks in horror.
Kappus: What the Fudge, Man!
Officer Falk: Hold still!
Police Sergeant Harris Daye. Woah when did you get that old M3 Grease Gun, Morly? Those weapons are no longer issued for service in the army nowadays.
Junior Police Officer Morly Roobler. It's from my father. He keeps his old rifles in his underwear drawer.
Kappus blasts down the hill.
Policecar crashes into a parked car.
Kappus blasts into town he then heads on the way to Chinatown.
Kappus grabs onto a pole and tries calling his dad.
Kappus: c'mon, PICK UP!
Kappus can't hold on.
Kappus: PICK UP!
Kappus let's go.
Kappus then passes Mr. Wu's restaurant.
Mr. Wu: Well, Po Chang, here's the keys to the freezer.
Po Chang: Hory Chow-Cow!
Junior Police Cadet Officer Michal: Ow my arm,
Sheriff Murdoch O'Brian: WHY DOES THIS KEEP HAPPENING TO MEEEEEEEEEEEEEEE!
Sheriff O'Brian: You boys alright? You have had a trying day.
Police Sergeant Daye: The frick does that mean?
Kappus: Yeah!! I Made It.
Kappus arrives at Kiss Kiss Clue.
Gwen: Hey, you OK, guy?
Gwen: ZOMFG!!!!! YOUR BLEEDING!!!!! I NEVER SEEN SOMEBODY BLEED BEFORE SO THIS IS SCARY!!!!!! cries and runs
Kappus: Wait! Pass me the mirror.
Gwen: Sure.
Gwen passes Kappus the mirror and Kappus looks in it and sees the scars.
Kappus: SCAAAAAARRRRRRRRR!!!!!!!!!!!
Gwen: Uh, yeah, it is a scar.
Kappus: There's this stalker stalking me even though I'm not famous yet.
Gwen: Is it Portia?
Kappus: Yes. How'd you know?
Gwen: She's like that around future famous people, even herself... She was Stalking Herself. No joke.
Kappus: Haha, Funny. Oh, it's time
Kappus runs in the building.
Gwen:... Well, bye.
Gwen walks off.
Portia: So, who was that guy I was chasing.
Gwen: IDK, some guy who thinks he has jetboots.
Portia: OK. ahahahahahaha
Kappus enters and meets his friends.
Kappus: Hey guys. I made it.
Will: You might need some stitches.
Kappus: Or a band-aid?
Will: Nope. Stitches hurt moar.
Will stitches Kappus and Kappus screams.
Announcer: And now, all the way from New Zee-Land. Please welcome newcomer band, the TWISTED SISTAAAAAHHHssssss!!!!!!
Kappus and his band sing "Let the Good Times Roll".
Kappus sings it to Millie and Millie falls...in love.
Millie giggles and the other Honeybees roll they're eyes.
Kappus: TANK YOU, SAN FRAN! THIS IS THE ONLY SONG WERE GONNA SING EVER! GO TO THE MARKEY CLUB FOR THE REAL BAND!
Cuts to Bessie in the ballpit.
Bessie: Why are we here?
Penny: I dunno, but this is FUN!
Ben: Ow, Bessie, I got pinkeye from the ballpit!
Bessie: I don't care, Ben. I really don't care!
Tigerlily: Hey.
Bessie: Oh, hey, uh.........
Tigerlily: Tigerlily.
Bessie: Right. This is just the first time you actually said something. I didn't even know you were able to talk.
Tigerlily: Millie's gone gaga over some guy with non-existent jetboots.
Millie being lovesick and stuff.
Bessie: That's Millie for ya.
Happy: Bark
Bessie laughing: Good one, Haps!
Roxxy and Matilda show up.
Matilda: Hey guys, stuck babysitting Roxxy.
Roxxy: Hi, Ben!
Ben: Oh god.
Roxxy: So, how ya doin'
Ben: Look, I know your probably gonna ask me out even I keep saying no so NO!
Roxxy: Oh, Ben. You'll warm up to the idea, eventually.
Nisa walks in: Sup.
Bessie: Hey, Nisa.
Nisa: So, you called me over for.
Matilda: I need you to take Roxxy off of my hands, I need to head to pretend China.
Roxxy starts hugging and dragging Ben, who of course is in discomfort.
Matilda: And Ben, apparently.
Roxxy: YAY!
Ben: ah, crud.
Nisa: Nah, I'm going to the ice cream bar thingy.
Matilda: Whatever. Hey, Penny, look over here.
Penny: Yeah.
Matilda holds up a raygun and shoots Penny.
Matilda: Did it hurt?
Penny: Nope.
Matilda: SERIOUSLY?!
Kappus goes to the counter and drinks a Milkshake.
Bessie and Penny go up to the Milkshake stuff with Nisa.
Bessie: Hey, look, it's a guy.
Kappus looks over.
Bessie: Hey, guy. I'm Bessie Higgenbottom.
Penny: And I'm Penny.
Kappus: I'm Kappus. I was in that band back there.
Penny: The BeeGees?
Kappus: No, the Twisted Sisters.
Penny: Oh.
Matilda: Hey, weird guy, look over here!
Matilda shoots Kappus with the raygun.
Matilda: Did it hurt?
Kappus: Not really.
Matilda: GOSH DARNIT! Seriously!
Kappus: Who was that?
Bessie: Matilda.
Roxxy: Hey, Bessie. C'mon! Nisa's holding a party at her house.
Nisa: I never said that! But, OK.
Roxxy: YAAAAAAAAAY! C'mon, Ben!
Ben: Your not gonna try anything are you?
Roxxy: No, of course not, not at a party.
As Ben leaves, Roxxy holds up the cupid arrow and diamond ring she had behind her back and threw it out.
Sheriff Murdoch O'Brian: All right, Kappus, your under arrest for no reason.
The other police guys join in the arrest,
Kappus: I didn't do it.
Officer Toby Boxhall: Tell that to Sheriff O'Brian,
Kappus: I really didn't cause trouble.
Sheriff O'Brian: OK.
Kappus: Really?
Sheriff O'Brian: Yeah. I don't see why not.
Kappus: uh, OK.
Police Captain Morrison: So, who was the real suspect?
Kappus: Portia.
Police Sergeant Daye: OK.
Kappus: Again, really?
Sheriff O'Brian: Yeah. Want to help us arrest her and get a award and become a member of the honeybees even though your 17 and become a war veteran and become the gosh darn president of the united states!?
Kappus: Sure.
Sheriff O'Brian: That only works in bad fan fiction, kid. (slowly looks at the camera)
Bessie: But, what's the crime, anyway?
Sheriff O'Brian and the officers stares in the other direction.
Officer Toby Boxhall: LITTERING!
Bessie: Oh, right. That was Portia.
Police Captain Norman Morrison: I guess I believe you since you helped save my life from three criminals once at the donut store.
Bessie: Haha, references!
Police Captain Morrison: Okay, Kappus isn't charged with the crimes. So it's Porita who littered. Thank you Bessie.
Bessie: Sure thing Captain Morrison and you too Lieutenant Heller.
Police Lieutenant Steve Heller: Thank's Bessie though it really means a lot to us.
Bessie: Oh that's alright Lieutenant Heller I am always here to help as your my closest allies.
Police Sergeant Daye: All right, you owe us 1.00.
Portia: Darnit!
Bessie: I just realized I was barely in this.
Kappus: Well, I guess everything all worked out!
The End.
S3-E4a: A Brand New Job for Kappus
Bessie wakes up and changes into her uniform.
Bessie: Time for another awesome day at the troop meeting.
Bessie: Bye, mom!
Hilary: Have a great day, sweetie.
Bessie and Happy walk to the meeting.
Penny: Hey, Bessie.
Nisa: Sup, B!
Bessie: Hi, you guys!
Roxxy: Wait for me!
Bessie: Oh, hi, Roxxy.
Roxxy: So, is Ben busy tonight?
Bessie: He's never busy on Friday nights. He's that lonely.
Roxxy: Good to know.
Bessie sees Kappus in the rec center.
Bessie to herself: ah, jeez!
Bessie: Weird old guy, what are you doing here!
Kappus: I...
Bessie: The honeybees are only for girls ages 7-12.
Kappus: Well...
Bessie: MRS. GIBBONS!
Mrs. Gibbons: What!
Bessie: This guy is here and he's not a girl or 7-12!
Mrs. Gibbons: Bessie, calm down. Kappus and his band of other guys are our new teacher aids.
Bessie: We never had teacher aids before.
Mrs. Gibbons: Yes, thankfully, Kappus and his little friends are willing to do it for free.
Nic, Will, Donald, Joe, Angus, Lovik: WHAT?!
Kappus: ¡YAAAAAAAAAY!
Matilda: OK, Penny. Come over here.
Penny: Comin'
Matilda: I think I got the hang of this one. So, hold still.
Matilda shoots Penny.
Matilda: Did it hurt?
Penny: Nope.
Matilda: @!#?@!
Kappus: So, anyway! Hi GUYS! So, ah, this is Nic and this is Will and this is Donald and Joe, Angus and Lovik!
Roxxy: ZOMG! IT'S A SKULL! I'M A LITLLE GIRL SO I CAN'T HANDLE THAT! screams and runs.
Kappus: Don't worry, we're here to look after you guysiz.
Kappus looks at Millie.
Kappus: Well, hello, there.
Millie blushes.
Millie: LET'S BE FRIENDS!
Kappus: Sure thing.
Meanwhile, outside.
Bessie: So guys. I have a perfect idea to get the Parody badge.
Matilda: Don't care. Besides, I'm supposed to be at pretend China.
Nisa: OK, so what were you gonna say Bessie.
Bessie: Well...
Millie: Hey guys.
Bessie to herself: ah, jeez.
Kappus: So, Are We Having Fun, Party People?
Millie: I know I am.
Bessie: uh, Did I miss something?
Nisa: Millie and Kappus are best friends now.
Bessie: Oh.
Portia: Hey.
Kappus: Oh NO! IT'S THE WITCH!!!!!!
Portia: Huh.
Kappus: C'mon Guys!, Let's Get Her!
Bessie: Uh.
Kappus: I AM THE MIGHTY BUNNY!
Bessie: Wait, Wait, Wait. I'm The Mighty B!
Kappus: Yeah.
Bessie: Can you call yourself something else.
Kappus: Nope.
Bessie: Why?
Kappus: Because. Now let's destroy Portia's plans for GOOD!
Portia: What are you even talking about?
Kappus: Come along, sidekick Bessie.
Bessie: SIDEKICK!?
Kappus: Sidekick Penny, your now Chicken Girl!
Penny: Can I be fried.
Kappus: Sure! I don't see why not.
Penny: Yay!
Kappus: Come Millie. Let's go!
Millie: Coming Darling! I mean, Kappus!
Bessie: SIDEKICK!?
Kappus: Yeah. Mighty B. You are the sidekick of the Mighty Bunny.
Bessie stares angrily.
Penny: Wait, Kappus. How are we gonna be the superheroes if we don't have all of the badges yet.
Kappus: We just will!
Penny: Well, that makes sense.
Portia: Leave me alone!
Kappus: Get Her!
Millie: Yes, lov--I mean, only friend I have.
Nisa: What's with the whole stuff your doing.
Millie: I'm waiting for Valentine's Day.
Mrs. Gibbons and for some reason, Miriam Breedlove walk by.
Portia: Stop it.
Kappus: I know your trying to stop the Bees.
Portia: What are you talking about!?
Kappus grabs Portia and puts her in the corner.
Kappus: Now, sit in the corner!
Portia: Man, I cannot win TODAY!
Mrs. Gibbons: KAPPUS!
Kappus: Yes, ma'am?
Mrs. Gibbons: You...ARE...BRILLIANT!
Bessie and Portia: WHAT?!
Mrs. Gibbons: You're actions are doing well with the girls. Here's the Great with Kids Award.
Kappus: Oh, thank you, MF.
Millie: YAAAAY!
Kappus: LET'S GRAB LUNCH!
Millie: Sure thing!
They both walk off as Bessie and Portia stare at them angrily.
Bessie: SIDEKICK! Unbelivable!
Portia: You think you had it bad, Kappus nearly attacked me!
Bessie: (sigh) I guess I'll just have to talk with him and tell him who the main hero is.
Bessie follows Kappus.
Roxxy: You'll get used to it. And now, it's time for my date with Ben.
Portia: You finally got him to say yes?
Roxxy holding Ben who is tied up: No, was I supposed to.
Portia: This was a weird episode.
S3-E6a: The First Field trip to the Hills
The honeybees and teacher aids walk up the hills of San Francisco.
Bessie: Wow! What a great view. You can see the birthmark, the mole, the Band-Aid, the exposed panties, even the buttcrack.
Penny: Uh, Bessie, that's Matilda's back.
Bessie blows chunks.
Happy: Bark.
Bessie: No problem, Haps.
Nisa: Do you think there's bigfoot up there.
Roxxy: I hope not.
Bessie: Don't be silly guys, there's no such thing as bigfoot.
Penny: Are you sure?
Bessie: 0o0 Well, now I'm not.
Bessie covers her face with her shirt.
Kappus: Welp, Party People. Take in this beautiful scenery. It's breath-taking
Matilda: His perkiness bores me.
Portia: Me too. I'm gonna take some pics.
Portia whips out her iPhone and starts recording.
Portia: This is what I have to deal on a regular basis, ladies and boy germs. A freckle-faced nerd, a boring braceface and an overly-perky moron...face. Hope you're happy that I'm not a movie star, yet.
Portia: Hey, look a lightbulb.
Bessie: Uh, Portia, I wouldn't touch that if I were you.
Portia: If you were me, you'd be so totally much more like fabulous, dude.
Bessie looking bored: Sure, whatever you say.
Portia: Party on, Garth.
Portia touches the lightbulb and it falls.
Portia: Oops.
The others walk off.
Portia: Hey, guys...uh, there's a...
The others ignore her.
The bush catches on...
Portia: FIRE!!!!!!!!!!!!
Portia screams and runs. The others notice the fire and they scream and run too.
Kappus: Hurry, to the tree!
Bessie: Wouldn't be more eaiser to climb down.
Kappus: There's no time for that. JUMP!
Kappus, Millie and his men jump
The other honeybees just jump off the short ledge.
Bessie: C'mon, guys!
Millie to Kappus: Would anyone find us up here.
Bessie: Guys?
Kappus to Millie: We're the honeybees, Millie. They have to save us.
Bessie looking bored: guys-
Kappus: THEY'RE NOT ALLOWED TO LEAVE US HERE!!!!
Lovik: SCIENCE!
Bessie: Well, bye.
Roxxy: I Love Shrimp!
Nisa: Good for you, Roxxy. Good for you.
Portia: What a bunch of dorks.
Kappus to Millie: Ha! Jokes on her because she just fell off a ledge.
The others walk off.
Kappus: (Gasp) I hear a helicopter, I get out my signal.
A signal in the sky, a big long Kappus nose.
Nic and Will chuckle
Mr. Chopper Man: Hey, you fools alright.
Kappus: We sure are, now that you're here.
Millie: Thank you, Mr. Helicopter Man!
Mr. Chopper Man: Uh, sure thing, young...lady?
Kappus and friends are set down by the helicopter.
Mrs. Gibbons: MR. DARIO!!!!!!!!!!
Kappus: Yes, Ma'am
Mrs. Gibbons: I JUST HAVE ONE THING TO SAY TO YOU, MISTER!
Mrs. Gibbons: You saved my little girl!
Portia: Um...no
Mrs. Gibbons: Oh, and the other girls. Anyway, you get this Medal of Epic Bravery! You're are hero, Our big weird hero!
Kappus: OMG! Thank you, MF! I'll treasure this forever!
Mrs. Gibbons: Good. But, call me MF again and I will rip you're nose off and stick it on your butt!!!
Kappus looking nervous: Yes, Ma'am.
Bessie: Now, Kappus. Don't get too cocky. Just remember who the main hero is.
Kappus: Oh, right!
Kappus: Thank you, Millie!
Millie: Oh, Kappus.
Kappus: (in a rather sexy voice) Oh, Babe!
William the Doctor
One day at the Scouts William, Kappus`s best friend was hearing to a girl named Satha that got her arm cut by mistake, he saved her as Kappus watched, then later, their was a meeting and Kappus then participated in the meeting he was sitting next to Millie, Mary was telling them if anyone of you get your self cut he will save you, as Mary was telling them, Millie whispered into Kappus`s ear, and said, "He`s a life saver," and Kappus said, "No he`s a Medic," as Kappus told Millie, then Bessie heard Kappus talk to Millie, later on Millie was talking to both Kappus, Nicholas, Bessie, and Penny, and Tigerlily, and Molly, and Marie, that were the only girls that sat down as the others were talking to Portia and Gwen, Millie was talking to Bessie about William, then Kappus said to Millie that you are a very kind girl, Millie told Kappus you are nice man, and you are right for me, they both laughed, Bessie began to talk to Millie her friend,
The next day Kappus watched William help a girl named Nisa and put a plaster on her, Later Kappus and Millie and Bessie and Penny and Nic both went outside later on when one girl injured herself William came to help Jane, he found her and he put a plaster on her arm, Jane soon kissed William, as Kappus and Millie and Penny and Bessie and Nic both watched,
Kappus then participated in William`s Medal of honor, in being awarded the lifesaving medal, Anton then thanked his best friend,
Valentine's Day
On Valentine's Day Kappus went to the beach. then he heard a sound from a girl, he realised Millie had fell of her surfing board, the lifeguards were ment to save her, but Kappus then started to save her, he brought her to shore, and Kappus carried Millie in his arms, she thanked him, then Millie starred at Kappus`s eyes she began to blush at Kappus. Millie and Kappus fell in love, Millie and Kappus then winked at each other then started to laugh, she and Kappus began to hug each other, and she began to flirt with him, Millie told him you are the right man for me, he and Millie became, boyfriend and girlfriend, she returned Kappus's feelings.
S3-E17b: The Day When Kappus Sang
Kappus screams
Portia: What! What is it?! Can't You See I'm Trying to Take a Nap Overheres! C'mon, eh!
Kappus: Where's Millie?
Bessie: I dunno, Maybe she's sick. But, enough about that. Let's get on with the meeting.
Kappus: I'll be in my office.
Bessie: Since when do you have an office.
Kappus: Isn't it awesome, kids!
Nisa: What's that cardboard box doing in the middle of the road.
Kappus: That's my Office!
Nisa: Oh.
Millie: Hello, Party People!
Kappus: Hey, Party Co-Captain Person!
Millie: Sup, Party Man!
Millie and Kappus make moar corny jokes and hug.
Bessie: OK, so...
Cuts to Kappus and friends at god knows where.
Kappus: Blah Blah Blah
Nic: Blah Blah Blah
Don: Blah Blah Blah
Will: Blah Blah Blah
Angus: Blah Blah Blah
Lovik: Blah Blah Blah
Kappus: Blah Blah Bla... Oh no, look!
Roxxy got her foot stuck in her helmet.
Don: Wow! What a dumb geek. I know she was stupid, but, god seriously.
Bessie: Hey! Can we get on with the meeting, plz!?
Kappus: Ok. But, first! Let's sing.
Song sequence.
Kappus: Well, that was fun. I'll be in my office. Hope I don't get run over.
Bessie: I don't get it, I'm supposed to be the main character. How come he keeps stealing all the spotlight.
Penny: Who are you talking to?
The End.
Trouble at the Bonfire
At the bonfire that night as Millie and her friends came to Kappus, she was surprised that she saw her boyfriend, however Kappus accidently said something rude to Millie, she told him he is a fake and a phoney and wished she never laid eyes on him, she then began to cry, and Kappus got sad, but Kappus thinking he could get away with his bad behavior apologized to Millie on Facebook.
S3-E21b: Trying To Be Social
Bessie, Happy, Penny, Roxxy, Nisa and Millie sitting somewhere.
Bessie: Hey, guys. Guess what.
Nisa: You really want us to guess what?
Bessie: Chicken butt. But, seriously. I just heard that they're finally gonna upgrade our beephones.
Portia, Matilda and Gwen overhear.
Portia: OMG! AWESOME! Does it finally have music?
Gwen: Does it finally have a camera?
Matilda: Does it finally have a dead Mrs. Gibbons?
Bessie: Nope. It has one new ringtone added!
The girls groan and Portia, Matilda and Gwen walk off.
Bessie: Isn't that awesome! Unfortunately, they had to get rid of the ability to plug in anything and you can only text up to 10 characters.
Happy: Really, What the f- I mean, Bark in sarcasm.
Kappus: Hey, Party Peeps! I just did cross country.
Millie: Hey, sugar-nipples.
Bessie, Happy, Penny, Roxxy and Nisa get grossed out by Millie's line.
Kappus: Hey, Moosey-Pe...(trips on an object)
Nisa: Oh, thank god he didn't say what I think he was gonna.
Millie: Sugar-Lumps! RU Alright! Speak to Me! What won't you something.
Kappus: Ness.
Millie: Serves you right.
Kappus: You still on that?
Millie: Perty much. But, we're back together.
Bessie: OK, just don't call him Sugar Nipples, again.
Kappus: Hey, wanna go out sometime.
Millie: Well, that depends. Besides, I'm 9 and you're 14 so what would the others think.
Nisa: Sense when do you think about others?
Millie: Kappus showed me the way.
Millie hugs Kappus.
Flash-Forward to 2 weeks later.
At Hilary's Café
Hilary: Welcome to the Café Place. Where Peace is present and the coffee is actually made from coffee beans.
Bessie: Actually Mom...(whispers in Hilary's ear)
Hilary: Oh, really?
Bessie nods
Hilary: (back to Kappus) Well, I believe you're seated with a certain honeybee tonight. Right this way.
Kappus: Hey, Mills.
Millie: What is it? (looks around) Sugar-Nipples!
Kappus: I invited my fan-shippings. That's right! We have Will and Jane.
Will: Who even is this?
Jane smiles at William and blinks happily at Will.
Janes: Coochie-coochie boy.
Will looks terrified.
Kappus: Bessie and Donald!
Bessie: Wait, Donald the bunny scout or Donald the mailman?
Kappus: Penny and Joe!
Penny: So, are you the tall one?
Joseph: Me matey, I'm Ausi Penn-Penn!
Kappus: Portia and Rocky!
Portia: YES! FINALLY!
Rocky (in his mind): Oh god no!
Kappus: Gwen and Nic!
Gwen: Wait, I'm 10 and so are the other honeybees besides Messie and Roxxy. So, wouldn't a 14-year-old dating a 10-year-old be kinda creepy or whate-
Kappus: Angus and Satha!
Angus: (Scottish accent) Archei then I'll take thee ANGUS burger (laughs histerically)
Kappus: Molly and Boomer
Millie: Wait, I don't remember there being a Boo-
Kappus: And Lovik and...who is that again.
Lovik: (referring to Andria) Oh, just some under aged girl I've been stalking...for the benefit of SCIENCE!
Andria facepalms.
Bessie: I'm outta here! (Walks out and leaves then comes back in)
Bessie: This is my house! (Shows Kappus and Millie out)
Happy: Bark
Bessie: Yeah. I know it's kinda weird, but I guess that's what love is...which is why I'm glad that I still think that boys are gross.
Happy: Sly Bark!
Bessie: What? No, I don't love Don, Happy! I'm not into that stuff.
Happy: (sarcasm) Yeah, Ok.
Millie: COME 2 MY HAUS!
Kappus: Sure thing.
The End...
Kappus goes to Millie`s house
Kappus got invited to Millie`s house and Drove his Car to her house, just before he entered Kappus knocked on the door, and Millie`s father, Derek Millerson her father thought Kappus was a stranger, but Kappus told Derek that he is Millie`s boyfriend, he let him in, Kappus then found Millie`s Mother, Lisa Millerson, and Lisa thought he was a stranger, but Kappus told her I'm Millie`s boyfriend, Lisa then found it was Kappus, Lisa told Kappus that she is upstairs in her room, Kappus went to her room, and entered Millie was surprised to see him, she hugged him, and she was wearing a short dress, He told her you look sexy and hot, Millie liked that, Millie`s brother entered and saw Kappus, he told him, that was he the stranger, and Millie told him, that's my boyfriend, Millie`s brother was surprised about that, Lisa came to Millie`s room, and told them would she like anything to eat, Kappus and Millie told Lisa, no were fine, Kappus and Millie soon went out on an outing, Her mother let Kappus and Millie go on their first date,
A Intelligent Mission
Kappus was having a nice time at home until a Junior Police Officer Albert Michal came from the hospital after three weeks in hospital with a broken arm which he caught when his Sheriff named Bert Bertram which got killed in an incident, he hired Kappus due to the fact that they was no one to look after, he took part in an attempt to stop a criminal who escaped, he stopped a criminal named Dan Carter and apprehended him, after that he was given an award,
New Boy Scouts join as Teacher aids
Bessie literally dragging Happy, Penny, Roxxy and Nisa with her to the rec center at 4am.
Bessie: Morning, guys.
Nisa: Bessie, how come you dragged us here at 4 in the morning!?
Bessie: Because, I need help cleaning up the rec center before Mrs. Gibbons shows up. Also, I want to see what Kappus is hiding in his office. So, I need someone to risk getting run over to bring his cardboard box for an office over here.
Roxxy: I volunteer...Ben. Serves you right for not returning my calls.
Ben: Wait, how did I get here!?
Bessie: You were following us, 'member. You 'member.
Ben: Oh yeah.
4 hours later.
Nisa: Well, there goes 4 hours of sleep I could've had.
Penny: I didn't even do anything.
Ben: Here's the box, Bessie.
Bessie: It took you 4 hours to get a box from a busy highway?
Ben: I'm not a very good runner. As you can see I'm morbidly obese.
Happy: Bark.
Ben: F U.
Happy: I'm telling.
Ben: NO! WAIT! I SAID VACCUM!
Kappus: Good morning, Partiers of Zoroark.
Bessie: ...wha-?
Kappus: Oh goody froody, you got my office out of the streets.
Bessie: You put it there, though.
Kappus: Yeah. That wasn't a very good idea. I just came back from my 6th trip to the hospital this week. Guess I'm not invincible either. But, at least I still have my imaginary jetboots.
Kappus flies up (but not really)
Kappus: I'm gonna put this office in a more safe area...in a dark alley between 2 demolished buildings.
Later...
Mrs. Gibbons: Good news, bees. We're getting more sorry saps, I mean, boy scouts to be our "teacher aids".
Mrs. Gibbons: Please welcome the newest lowlives, I mean, members of the honeybee family, Yuri, Boomer. Denald, Hyram, Ivon, Lewis, Kano, Werner, Isaac, Henry, Kevin, Tobias, Edward, Colby and Gordon and I don't want to think about the rest,
Yuri & Boomer: Sup.
Honeybees: Oh, that's Boomer.
Boomer: Oh shut up.
Kappus: Boomer, my buddy.
Yuri & Boomer: Kappus, how you doin', main.
Kappus: I have a cardboard box for an office.
Boomer: I married a toothpick!
Millie: I'm scared of oxygen.
Mrs. Gibbons: My butt is on backwards.
Portia: So is mine. I'M GOING THROUGH PUBERTY!
Chelsea (in a deep deep voice): No, I'm going through puberty.
Portia: AAAAAAH!!!!!!!! MONSTER!!!!!
Lovik: SCIENCE!
Yuri: ...Well, we came a long way with all your friends from New Zealand, with Denald, or 'Denal', Hyram, Ivon, Lewis or 'Longshot' Kano, I think you know him, and Werner, Isaac and Henry, and Kevin, and oh we have Tobias, Edward and Colby, and of course Gordon, and not much to think about but more of our Teacher Aids,
Kappus: Great, now they will need a lot of duty's althought I don't know what to make them do?
Pool time...
Bessie: This is nice. I just wish those boy-germ-infested-Beavers would stop staring at us.
Beaver 1: Oh my god. Roxxy is so hot in that bathing suit.
Ronnie: Check out Nisa, she's actually wearing a midriff-baring bathing suit.
Nisa: I'm gonna kick you guys in the crotch if you don't leave now.
Beaver 1: Look, Portia is so...
Nisa kicks the Beavers in the crotch.
Kappus: Who were those guys.
Bessie: Nobody important.
Molly: Look at that guy.
Molly stares at Boomer.
Molly: Just look at his muscles.
Tigerlily: Who are you?
Molly: Hi, handsome.
Boomer: HELLO!
Molly: Wanna make out.
Boomer: Well, I don't know, I mean, I'm 15 and your 9 and, and I'm married to a toothpick and, OK!
Kappus: Jesus.
Yuri: Yeah I know right, but this girl loves me, what's your name?
Matilda: Taniata Rommatha your so beautiful as Russian had greed?
Yuri was surprised.
Yuri: Greed, We Russians are the nicest people around, and they where greedy in Afghanistan wher's my father was a soldier in Afghanistan and fought the Taliban,
Yuri looked again at Taniata,
Yuri: What never heard about them, we Russians have our defenses like Vladimir Putin, or whatever.
Taniata: Oh Yuri.
Kappus: Wow that's a relive. I wonder what Bessie is up to.
The End.
Kappus gets new braces
One day Kappus went to a dentist appointment but as the dentist saw his teeth they weren`t strait so that forced him to wear Braces on his teeth, When he arrived at the Honeybees Millie thought he was way nicer because he had braces on his teeth, ===Millie comes to Kappus`s House.===Millie went to Kappus`s house that day, she was soon met by Kappus`s sister's Kaitlyn and Brooke and his brother Ian, Kappus showed her around his house, Millie was soon to run into Kappus`s dad, Millie was introduced by Kappus`s dad, Millie and Kappus then went to their room, Kappus and Millie were playing an Xbox 360 R16 game called Halo 3, Kappus teaches Millie on how to use the controller and Millie got the skill, then they played campaign on the first level of Halo 3, after they had played the first level of Halo 3, Millie and Kappus soon went on Facebook and wrote to their friends on Facebook, Millie wrote to her friends that she has arrived at Kappus`s house, Kappus showed Millie his parrot named Neil, Kappus took Neil out and was on Millie`s finger and Millie giggled and laughed, Neil went onto Millie`s shoulder, Millie said something to Kappus, but his Parrot copied her, Millie laughed, Later Nic came into Kappus`s room and Nic said to Kappus, would you like anything to eat, Kappus and Millie told Nic, "no were fine" and later Kappus showed Millie his garage of his cars, Millie was surprised of Kappus then he Showed her his rollerblading trophy he got, Millie then found out Kappus was the champion of rollerblades, Later Mr and Mrs Millerson was introduced to Kappus`s Dad, Millie said I'll see you tomorrow Kappus, and Kappus waved at her,
Two days before Kappus`s Birthday party
Kappus got dressed into his Flying Officer uniform and then put on his Officer`s hat, then Nic and the others went into the Astin Martin to the Scouts, as he arrived at the Scouting, Kappus and Nic and William and Don and Joseph and Angus and Lovik then went to the class, they were welcomed by Bessie to class, Kappus was teaching both the Honeybees about the Great Escape, what had happened at Stulag Luft III during 1944, Kappus told them about the leader of the escape, Squadron Leader Roger Joyce Bushell who was known as Big-X. Kappus told them the Names of the POW`s at Stulag, Kappus told them about the names, those names being Flight Lieutanant Romualds Marcinkus, a Lithuanian Pilot, also Squadron Leader Leonard Trent, also Flight Lieutanant Ernst Valenta, also Squadron Leader John Edwin Ashley Williams, also Pilot Officer Bertram James, also Wing Commander Harry Day, also a Flight Lieutanant Sydney Dowse, also a Flight Sergeant named Per Bergsland, and also Flight Second Lieutanant Jens Muller, and also a Flight Lieutanant named Bram van der Stok, Kappus told the Scouts about how they were going to dig tunnels, he told them about the names of the tunnels, the names being TOM, DICK, and HARRY, he told them about what they were called during the job, he told them that Roger Bushell was called Big-X and also Jens Muller was called the Manufacture but Kappus did not know about the others but he only knew two of their jobs, he told them about the construction of TOM, he told them that one day it was found by Germans, he told them about HARRY, and how it got completed, he told them about their escape, and that their was 76 that escaped, he told them about the 50 that were executed including Roger Bushell and Romualds Marcinkus, and also about the others, he told them about the others that were recaptured, Millie his girlfriend interrupted and told Kappus did anybody make it, Kappus told Millie and the Honeybees that only three made it, including Flight Sergeant Per Bergsland and also Flight Second Lieutanant Jens Muller, who had made their run to Sweden, he told them that they made it to a merchant ship and then went to Sweden, and how they made it back to England by airplane, then Kappus told them about Flight Lieutanant Bram van der Stok, who made his run to France until being guided by a resistance to Spain, Kappus then told them Bram van der Stok then went by air plane back to England, after the talk about the Great Escape Kappus told the Honeybees that its nearly swimming time, Kappus told them to get their swimming togs on, Kappus then told Millie about his Birthday tomorrow, he told her he was born on the 29th of Feburary 1996, Millie then found out his Birthday was on a leap year, Kappus told Millie to get me a gift after Scouting, Kappus got changed into his togs, then Kappus came out and the girls saw his 8 pack of abs, they found he was a strong man, Kappus then jumped from the diving board which was called (The Sawn Jump) and into the pool, the Scouts joined him, Millie was with Kappus, Millie then swam to Kappus and Millie then told him about his Birthday, Kappus told her it has to be special, and all the Scouts have to be hear, Kappus then told Millie, you look pretty today, Millie then hugged and kissed him, then later on Millie told the others about Kappus`s birthday tomorrow, Then Isaac and Marie told Kappus that Lovik had just drew all over his pictures, This made Kappus very mad and he also pursuits him and tried to catch him, He also kipped hitting him and punching him hard, even on the top of the Recreation Centre he nearly punched Lovik off the building but Millie persuades Kappus not to do this, however also Andria tells Lovik to stop being evil, Millie also hugs Kappus and kisses him, until tomorrow!
Kappus's 15th birthday party
On the 28th being not a leap year Kappus`s Dad gave him presents and began to open them, one of them he got was a watch of his birthday, he also got DVDs, and Lego and stuff, Kappus later on had breakfast and his dad cooked him some baked beans and egg and sausages on toast,
Later Kappus and Nic start helping with the party and the things they needed. Nicholas went for a birthday cake, William also went for food, and drinks, Don also helped make the party and put the things up, Joseph also was in charge of the inviting the people from Scouts, Angus was in charge of making the food, Lovik was in charge of the music,
Kappus then liked what he had saw then later on the Honeybees came to Kappus`s birthday party, and also Kappus's veteran boy Scouts that left New Zealand because of the 6.3, came to his party, with Mary unavailable only his dad could be in charge of the cake so was Angus, Kappus then soon went into the room and was surprised by his Honeybees and his best friends, Kappus then came to tell them let the party begin, the music started, Call your Girlfriend by Robyn was playing also Kappus and the others make another song up We Built Millie`s face. Kappus then had a drink, Millie came up to Kappus and told him hero's a gift for you, Kappus was pleased with Millie, he opened it, it was a nice gift for Kappus and the other scouts gave him a present as well. he said to Millie you are the nicest girl in Honeybees, he hugged her and kissed her, then everyone starts to dance on the dance floor it was all what Kappus ever wanted from her a hug.
Kappus gets revenge!
Penny, Ben, Roxxy and Nisa are sitting under a tree.
Bessie: Hey Guys! The New Pony Toy Came Out Today!
Roxxy: OMG! Her hair is so PERTY!
Bessie and Roxxy fangirl about ponies.
Matilda: I think my ears are bleeding.
Kappus: LUNCH TIME!
Matilda: OK, now my ears really are bleeding.
Nic: So, I heard the new pony toy came out today.
Will: Awesome. Oh, There's your girl, man.
Kappus sees Millie's cheerleading moves.
Millie kisses Kappus from afar and Kappus catches it and put's it on his stomach.
Portia: I'm gonna get that mindless oaf fired once and for all!
Portia: So, Ponds...
Kappus: AH! THE WITCH HAS RETURNED!
Portia: No no! It's alright. I'm not the bad guy in this situation. Millie is!
Kappus: What are you talking about!?
Portia: Millie doesn't really love you. She's just brown-nosing you just so she can get all the badges to become The Mighty B.
Bessie and Happy overhear.
Bessie: WHAT! How dare Millie! She better not try and steal my chance of super heroism from me!
Portia: Yeah. It's bad. But really, Millie's got her mind set on a little fellow by the name of Jester.
Bessie and Kappus: Who?
Portia: Some dorky beaver. So, it's like pairing a dork with another dork instead of pairing a dork with an ignoramiss.
Kappus: WOMAN! U CRAZY! There's no way Millie is seeing that dork.
Portia: Their talking right now.
Portia points over to Millie talking to Jester.
Kappus: GASP! Now I'm angry!
Jealousy: Hello, Kappus. I'll be your envy person for the day...(orgasm sound)
Kappus: I don't know how to respond to that.
Bessie: Who the heck is that?
Penny: Maybe it's a genie.
Jealousy: I'm jealousy. I'm an emotion. I get the best of people a-
Bessie: So, Millie's traitoring me just so she can become the hero, huh. Well, I'm gonna be on her ass like mac on cheese! C'mon, Happy, we've got a stake out to prepare for.
Jealousy: Do it!
Kappus: Can I come too, after all Millie is my girlfriend.
Jealousy: No, I meant for you to push the little girl off a cliff!
Bessie: Sure. Just don't get us in trouble. Especially with that other weird old guy following you.
Jealousy: Stick and stones may break my bones, bu-
Bessie, Happy, Ben and Penny throw sticks and stones at Jealousy.
Kappus: Nothing to worry about. Well, except for my rent. Mrs. Gibbons gave me a pie plate to live under. But, the rent is usually due every week.
Bessie: Couldn't you just live under your cardboard box office.
Kappus: She won't let me!
Kappus sobs
Bessie, Happy, Ben, Penny and Jealousy: Stakeout Montage! ACTIVATE!
In the cafeteria hall.
Bessie: There she is...that badge stealing, back-stabbing, cootie breathing JERK!
Jealousy: Ooo, I like her...Now.
Bessie: Now, let's be very quiet as we-
Kappus: DUH! JESTER! YOU STOOPIT! I BET U CANT DO KARROTY! DUHUHUHUHUHDUDUDHUDUDHYIUS!
Jester: ...Huh?...
Kappus begins to attack Jester.
Kappus: It's OK, Millie. You're safe.
Jester pushes Kappus away.
Jester: Jerk!
Jester walks away with Millie.
Bessie: WHAT WAS THAT?! I told you to be quiet.
Kappus: Jealousy told me to do it.
Bessie: Just don't let it happen again.
Jealousy: Well, we almost made it outta the ballpark. But, I have another idea.
Jealousy whispers in Kappuses'ses ear.
Kappus: I don't get it.
Jealousy goes into Kappus's body and takes control.
Jealousy: Just leave me in control.
Kappus attempts to frame Jester for the theft of the only soccer trophy the Honeybees have ever won...back in 1954.
Kappus: Oh No! My tracks! I can't cover them!
Mrs. Gibbons: FREEZE!
Portia: Yeah...you're busted.
Jealousy: And you're on your own. whowhowhowhowhowhowhowho.
Later, at the office
Bessie: Alright, which one of yas did it!
Jester: It was clearly Kappus. You saw him!
Bessie: So, it wasn't Jester. So, then Millie wasn't trying to double-cross me.
Kappus: You butt-kissing, not clever, stupid, annoying, dumb, bland, uninteresting, messed-up, passive aggressive, schizophrenia, idiotic, moronified, Jewish, dumby dumb dumb dumb...dumb...dumb...dumb weeaboo! It was YOU!
Jester: No it wasn't
Kappus cries.
Kappus sobbing: Alright! It Was ME! I deserve the punishment of which you speak of!
Bessie: Well, this is the first time you've caused trouble on purpose, so I'll just have Mrs. Gibbons deduct your pay. How much did MF pay you again?
Kappus: 2 pennies and a strip of expired broccoli...once in a full moon.
Bessie: Well, I'll just reduce your office. For now on, the pie plate will be your office while this warn-out oven mitt will be your new home.
Kappus: Thank you, ma'am.
Jealousy: NO! YOU WON'T HAVE ME LIVIN' IN AN OVEN MITT!
One epic battle scene later...
Jealousy: NO! THAT IS MY ONE TRUE WEA-
Poof!
Bessie: Well, that was anti-climatic.
Kappus: Jester! I'm so sorry, I hope you can find it in your heart to forgive.
Jester: Of course, I can. Besides, if it wasn't for your deus-ex macena, I would've had my ass handed to me.
Jester's donkey comes into the room.
Jester: Aww, who's a nice ass. Who's a nice ass. Who's a nice ass.
Jester: By the way, I wasn't dating Millie, I'm her cousin and I came here to get a new job as Cheerleader Teacher Aid.
Kappus: Oh
Jester: Take good care of Millie, please.
Kappus: I will.
Millie cuddles Kappus,
Penny: Here's a friendly pouch, Kappus.
Kappus: Don't you mean punch.
Penny: No, pouch. That way you can have somewhere to put your oven mitt home in.
Kappus: Couldn't I just live in the pouch?
Bessie, Penny, Happy, Mrs. Gibbons, Ben, Roxxy, Nisa, Matilda, Tigerlily, Nic, Will, Jester, Jester's donkey, the Beavers, Hippie, Hilary, Mr. Wu, Portia, Angus, Don, Joseph, Taniana, Yuri, Boomer, Denald, Hyram, Ivon, Lewis, Kano, Werner, Isaac, Henry, Kevin, Tobias, Edward, Colby and Gordon: NO!
Lovik: SCIENCE!
The End
Kappus's friend Nic getting put upon
At the meeting
Mrs. Gibbons: Let's see. Who have I not worked on this entire time...aside from Lovik...who's just weird.
Mrs. Gibbons spots Nic and realizes he's hasn't done much.
Mrs. Gibbons: Oh, Nicholas
Nic: Ya called, MF.
Mrs. Gibbons: Yes, I realized you haven't done jack this entire time.
Nic: I haven't
Mrs. Gibbons: Well,...you crashed into Kappus's oven mitt house and now I have to give him a plastic water bottle to sleep in.
Nic: Well, what can I do?
Mrs. Gibbons: I need you to...clean the gutters, organize the taffy, take mon petite Portia out for Chinese, sweep the floors, do my taxes, give me a pedicure, drop Bessie off at the post office, feed Jester's ass, clean Kappus's new water bottle home, shave the chickens, help Richard & Dick practice for wrestle camp, give me a manicure, seize the island of Koridie, help out at the Taffy Factory, buy some groceries, keep Penny away from the glue, feed the Hippie, scratch my back, record The Peanuts Movie for me to sell on bootleg DVDs, eat my shorts, tell someone to tell someone to tell someone to tell Patty Fye this hilarious joke I heard the other day, make sure Matilda doesn't escape and give Hal a tip for really no reason at all. Now get to it, Sissy Boy. C'mon, chop chop.
Nic, with his mouth wide open, literally falls apart.
At the Taffy Factory
Mr. Griff: Ah, you must be Nichol-AH!
Nic, holding Penny in one hand and a stick of glue in the other, is a wreck
Nic: Whhhhhhhaaaaaaaaaaaaaaaaaatttttttt iiiiiiiiiiiiiiiiiisssssss iiiiiiiiiiiiiiiiiiiiiiiiiiiiiiiiiiiiiitttttttttttttttttttttttttttttttttttttttttttttttttttttttttttttttt?
Penny: Hallo!
Mr. Griff: Um,..well there's this leak in one of the taffy pipe and-
Nic: I Got it, I got it
Nic stumbles toward the pipes and drops Penny and the gluestick.
Penny reaches for the gluestick with no success because she's fat.
Mr. Griff: No pressure, but we won't be able to start Taffy season if this problem isn't resolved...
Bessie: (overhearing) WHAT!?
Bessie rushes over to the Taffy Factor
Bessie: WHAT DO YA MEAN TAFFY SEASON WILL BE DELAYED!?
Penny: ...Hi, Bessie!
Bessie: Hey, Pen.
Mr. Griff: It's alright, little girl. Nic is on the case.
Nic: I can-OOOOOOOHH! What does this button do?
Mr. Griff: NOOOOOOOOOOOOOOOOOOO!
The taffy machine erupts causing a massive flood of honey.
Hippie: ZOMFG!...a tree that hasn't been hugged yet. Who am I to not hear his cries?
Bessie and the others are on top of the rec center.
Bessie: Penny! Grab On!
Penny: HONEY!
Nisa: Ech! It's in my hair!
Roxxy: HAS ANYONE SEEN BEN!?
Happy: Bark
Matilda: I haven't seen so much destruction since the war in pretend Vietnam.
Bessie: Wait, where's that weird Kappus guy?
Portia: Good riddance. One less dork to feed.
Kappus comes out of the honey with Millie.
Kappus: Good thing I still have my non-existent jetboots.
Kappus climes to the top of the rec center.
Kappus: Sorry, I'm late. I was smoking a pipe. Millie, are you alright?
Millie hugs Kappus: You're my hero, Kappypie!
Kappus: Oh, darling!
Millie: Oh, sugar-nipples
Bessie: HEY! I thought you weren't gonna say that again!
Millie: Sorry
Bessie: It's too bad all that other honey swept through this place.
Kappus: Back to my pipe.
Bessie: How are you able to afford a pipe?
Kappus: I made a down payment on it. It should be payed off by...2023.
A Thomas the Tank Engine character named Duck the Great Western Engine smashed into the wall of the rec center.
Mrs. Gibbons: HEY! THIS ISN'T A BARBER SHOP, YOU KNOW!
Duck's Driver: Sorry, ma'am. It was those damn trucks again! Fucking Trucks! Trucking Fucks!
Roxxy: You're weird
Mrs. Gibbons: I'll sue you after I feint.
Mrs. Gibbons feints
Duck: I can talk, I guess. And this is my driver. I like to call him Duck's Driver.
Hippie comes out of the honey: OMG! U CAN TALK!
Duck's Driver: That's not my real name!
Duck: SILENCE!
Hippie: Don't let the machine tell you what to do, man!
Bessie: Let's go see if the others are still alive.
Kappus: Nah
Bessie: What do u mean NAH!
Kappus: I mean, Nah. I'm just gonna smoke me bloomin' pipe!
Bessie looking furious.
Kappus: (smiling in a bad british accent) I'M THE FRIENDLY CHIMNEY SWEEP
Bessie drags Kappus by his feet.
Kappus: NO! I DON'T WANNA! I DON'T WANNA!
Duck: I'll let you ride me!
Kappus: Fine, I'll go.
Nisa: Yeah. C'mon now. Stop being stupid...er
Duck trundled along the Cable Car line
Kappus: WEEEEEEEEEEEEEEEEEEEEEEEEEEEEEEEEEEEEEEEEEEEEEEEEEEEEEEEEEEEEEEEEEEEEEEEEEEEEEEEEEEEEEEEEEEEEEEEEEEEEEEEEEEEEEEEEEEEEEEEEEEEEEEEEEEEEEEEEEEEEEEEEEEEEEEEEEEEEEEEEEEEEEEEEEE!!!!!!!!!!!!!1!!!
Bessie: Oh My Gosh! The Taffy Factory!
The factory is now in a destroyed state.
Bessie: YOU MANIAC! YOU FLOODED IT! TAFFY SEASON IS RUINED! DARN YOU! GOSH DARN YOU ALL TO HECK!
Bessie: (starts crying)
Mr. Griff: (swims to the surface) It's OK.
Bessie: NO! IT'S NOT OK! SCREW YOU!
Mr. Griff: At least I'm still alive.
All the survivors look at Griff irritated.
Bessie: Uh, Mr. Taffy Man?
Mr. Griff: Mr. Griff
Bessie: Whatever. Anyway, there are a lot of pointless and underdeveloped characters in these transcripts...you're one of them.
Mr. Griff: Bu-but I was in the original show.
Bessie: Yeah, so was Norman the Police Guy.
Mr. Griff: Who?
Bessie: Exactly.
Despite being called pointless, Mr. Griff puts Bessie, Happy, Kappus, Penny, Will, Nisa, The Hippie, Roxxy and a feinted Mrs. Gibbons on his little tugraft through the pool of honey and dead bodies.
Bessie: Uh, Mr. Pointless? I don't think all of these corpses are a little to risqué for a kids show?
Mr. Griff: (sarcasm) OH OK! I GUESS WE'LL JUST HIDE THE BODIES UNDER THE HONEY! WILL THAT PLEASE THE TV-Y7 POLICE!
Bessie: (looks at Mr. Griff angrily)
Roxxy: ZOMFG! The honey killed Yuri, Denald, Hyram, Ivon, Lewis, Kano, Werner, Isaac, Henry, Kevin, Tobias, Edward, Colby, Gordon, Molly, Jean, Mordoch, Harris, Aileen, Alexandria, Taniata, Andria, Gaby, Janit, Joseph, Longshot, Susanna, Susanne, Albert, Kano, Po Chang and Boomer's Toothpick Wife! Sure, they were pointless and underdeveloped and nobody even knows who they were! And sure they're probably gonna come back to life in future scripts with no added character development, anyway! But STILL! IT'S SO SAD!
Nisa: ...Wait, who?
Roxxy: Oh No! Lovik is dead, too!
Lovik: SSSSSCCCCIIIIIIIIIIIIIIIIIIIEEEEEEEEEEEEEEEEENCE!
Roxxy: Nevermind
Po Chang's Ghost: (Angel singing voice) HOOOORRY CHOOOW-COOOW!
Kappus: I'm gettin' creeped out, man. Where's me bloomin' pipe?
Kappus sees a hand come out of the honey and screams like a girl.
Ilya: Oh thank god! Rescue dogs!
Bessie: Hey, it's one of the workers! Grab my hand.
Ilya grabs on for dear life and onto the little tugraft.
Ilya: You know, one of my friends Daniel didn't make it. The honey got him. HE NEVER GOT TO SEE SPAIN!
Then all of a sudden, Rocky comes out of the honey.
Rocky: Woah! That was trippy!
Portia: ROCKY! YOU'RE ALIVE!
Rocky: uh, yeah. Anyway, I got Hilary and the other supporting characters out in time.
Ben: (comes out of the honey) You mean, WE got my mom and the other supporting characters out in time.
Rocky: Sure, whatevs.
Rocky grabs Ben and swims to the little tugraft.
Ben: Great, now me and Mr. Pants are all sticky.
Roxxy: BEN! YOU'RE ALIVE!
Ben: uh, yeah.
Bessie: Soooooooooo, now what?
Bessie, Rocky, Happy, Kappus, Ben, Roxxy, Penny, The Hippie, Nisa, Ilya, Will, Portia, Lovik, Mr. Griff and Mrs. Gibbons (still unconscious) are sitting on the boat wondering how to fix this situation in silence.
2 HOURS LATER
Walkie-Talkie: He-Hello! Is Anybody There!?
Bessie: Wait, that sounds like that guy who's name I keep forgetting.
Kappus: It's Nic!
Kappus grabs the walkie-talkie.
Kappus: NIC IS TRAPPED INSIDE THIS TINY BOX!!!
Everyone looks at Kappus annoyed.
Kappus: .....What?
Bessie: OK, Nic. Tell me where you are.
Nic: I'm right behind you.
Bessie looks behind her as Nic is already on the boat.
Bessie: Oh
Kappus: NIC! YOU'RE ALIVE!
Nic: uh, yeah. Anyway, I'm sorry I kinda flooded the city with honey.
Kappus: It's alright, Nic. It's not your fault. It's this faulty equipment that Mr. Pointless has.
Mr. Griff: Feelings!
Bessie: (Ssshs Mr. Griff)
Portia: Yeah, but we're still demoting you! Right, mommy!
Mrs. Gibbons: (still unconscious)
Mrs. Gibbons: DONUTS! Huh? Wha-?
Kappus: Ya know, if there's one thing I learned today. It's this, smoking is evil!
Nic: Wait, that didn't flood the-
Kappus: No more bloomin' pipes!
Kappus throws the pipe in the pool of honey.
Bessie: Don't you still gotta pay off the down payment you made on that pipe?
Kappus: (starts tearing up)
Kappus: eh
Millie: Ya know, Kappus. I like how big your glasses are.
Kappus: (blushes) DDAAAAAWWWW!!!!
Millie: Can I try them on?
Kappus: Sure thing!
Kappus puts his glasses on Millie.
Millie: Oh, I can't see anything at all.
Kappus: Hey, ya look pretty good with those on.
The rest of the gang laughs and Millie falls over on the boat.
The End
S3-E22b: first date
This actually takes place after Nic getting put upon.
At Kappusesesse'sses'es'sesesesessese'ss'es'eseseseseseesessese'sesesees'essess'sccscs'sseszszss'issese'ssses's'es's house, Nic, Will, Angus, Don, Boomer and Lovik are helping Kappus pick out his clothes for his first date with Millie.
Nic: Bitch, you look fabulous!
Lovik: GEOLOGY! That's my new thing, I shout the names of different types of sciences as opposed to just shouting SCIENCE! What do ya think?
Kappus: I dunno, party people. It looks a bit dorky.
Angus: Archei, that's just thee tie, you need a BLUE bowtie, me lad.
Kappus: (looking skeptical about his look) H-hey Boomer, you gonna be alright.
Boomer: (mourning the loss of his toothpick wife) ...y...yeah, I'll be...fine...(breaks down).
Lovik: SCIENTOLOG-
Nic: Trust me, boi. Millie is gonna love what your wearing.
Kappus: Thanks, my demoted friend, Nic.
Nic: (deadpan) stop calling me that...
One long awkward pause later...
Meanwhile at Millie's House...
Millie: Well, Chester. Tonight's the big night.
Chester Turtleton: ...
Millie: Yeah, it'll be great.
Chester Turtleton: ...
Millie's doorbell rings
Lisa: Coming
Millie's parents answer the door.
Kappus: Hello, Mrs. Millerson
Lovik: (in Nic's Astin Martin Mark II DB-5 as he drives away) SHREKENTOLOGY!
Lisa: Well, now. Look at you, stud. You look like you just came out of one of them Hollywood movies after Christian Bale and Josh Peck started calling everyone faggots.
Kappus: Is Millie home?
Derek: You bet your potatoes she is, come in. Have a seat.
Kappus, Lisa and Derek wait for Millie and small talk about pointless stuff like Shrekentology.
Millie: (rushes downstairs) Kappypie!
Kappus: Babe!
Millie: Sugar-Nipples!
Kappus: Darlin'!
Millie: Party Man!
Kappus: Party Co-Captain Person!
Kappus and Millie start hugging and calling each other lovey-dovey names.
Derek: Sugar-Nipples?
Kappus and Millie have the time of their lives...in the form of a montage. They go rollerblading, they went to the park and to Hilary's Café.
Hilary: (Sighs) They're so cute together.
Rocky: Yea, I remember my first date. Man, she was fine. I gotta call her up, again.
Rocky leaves to call up his old girlfriend.
Later at the beach...
Bessie, Happy, Penny, Roxxy, Nisa and Ben are at the beach.
Bessie: Wow, you were right, Pen Pen. Going to the beach at night is more fun. No crying babies ever, well except for Ben.
Penny: Yea, but I like pool water better since it tastes like soup. The ocean water tastes like soup that has a lot of salt in it.
Nisa: (overhears Kappus and Millie) Hey guys, you hear that?)
Happy: Bark
Nisa: Yea, it is Millie
The girls, Happy and Ben decide to go check it out.
Millie: I had a great time, Kappypie.
Kappus: Me too, Buttermuffin. And tonight is gonna get even specialer, spe- speci- speciamenter-better.
Kappus gets out a ring.
Kappus: Millie Millerson, sweet Millie...will you be my girlfriend?
Bessie and the others looking in aw.
Millie: Oh Kappy, this is all happening so sudden. Of course I will.
Kappus and Millie share their first kiss.
Bessie and the others (except for Ben) "squee" and "awww".
Ben: Wait, weren't they already boyfriend and girlfriend?
Roxxy: I don't know, but I know we-
Ben: I'm just gonna stop you right there cuz I know exactly what you're gonna say and the answer is no.
Roxxy: (saddened, buries herself in the sand)
Nisa: Wait, where's Bessie?
Bessie: (seen next to Kappus and Millie) Oh my gosh, I'm so happy for you two, I guess! CONGRAULATIONS, anyway!
Nic drives up to the beach
Lovik: PALEONTOLOGY!!
Nic: (rushes to Kappus and Millie) KAP! KAP KAP KAP KAP KRAP KAAAP!!!
Kappus: Hey, Nic.
Nic: Your dad wants you home.
Kappus: Well, Millie. I guess our first date has come to close. Do you still want me to drive you home?
Millie: Of course I do, Kappypie.
Kappus and Millie get in Nic's car and drive off.
Lovik: ANTHROPOLOGY!
The End
Honeybee BBQ
On that day Kappus decided to make a nice BBQ, however sending Bessie and Happy to retrieve meat from a butcher shop, Kappus also captured Mrs Gibbons that she found out about him and also tried to stop Kappus, mainly because she learned that he and the bunnies maybe going out with Honeybees, outnumbering her and Portia, but where stood down by Miriam Breedlove and told what passion meant, Kappus however managed to enjoy the BBQ he made, especially did talk with his friends,
Help with Tigerlily to be a Roller-skater
Kappus however was also doing roller blading with Millie, but however as it was a trip to the skate park for the Honeybees to do roller blading, Tigerlily was feeling depressed, Kappus talked with her but she told him how bad she sucked if anyone laughed at her, Kappus told he wouldn't be able to help so he asked his comrade in arms bunny scout sergeant Kano to help Tigerlily out,
Tigerlily got taught by Kano everyday but before they where about to leave, Rocky Rhoads, and his boys, Ringo, and Ray, however picked on Kano because he was a Maori Pacific Islander, however in the fight, Kappus broke up the fight between he and Ringo, and told them he was a great hero since Kappus saved him from claustrophobia back in New Zealand, to which they felt sorry on Kano,
Later the next day again to the Skate Park, Kappus also listened to Kano because he saw her in the bathroom taking a shower, and that however Kappus thought was a little funny because Kano saw her in the shower as well, but Tigerlily was embarrassed and upset,
Unfortunately at the Skate Park, things went wrong, Kano ordered Tigerlily to wait while he went toilet, but Tigerlily went rouge, when she all too well remembered how she had a dream on Rocky's gang picking on her and Kano, she ran off downtown, however Kappus was annoyed when Kano told him and was very angry with Ringo, and also Ringo was the one to blame for it all that he did also tease Tigerlily in the first place, but he apologized to Kano, and Kappus ordered Kano to go find his lost honeybee scout after Ray told them where she went, Lovik got Kano some roller-blade jet boots modified with better axles,
But as Tigerlily had troubles, it was successful and Kano saved her life after she nearly fell down a jetty into the sea, rescued by Kano, and with the help in the middle of an policeman, but some of her uniform was in bad condition and badly ripped and shredded, she lost her shoes, after her feet got wet, and her socks, and her shirt was gone,
However they managed to bring her back Tigerlily apologized to both Kano, and Kappus, as he told her we all make mistakes, and Kappus told her to get some roller-blades because they couldn't have her in bear feet or a bear top, so they managed to get her a fresh uniform and also new shoes and new roller-blades, however Nisa helped Tigerlily to get a new dress but Kano explained he never needed to undress Tigerlily because that wasn't his business so it was only Tigerlily's, that so she agreed and liked his comment, Kano and Tigerlily got on training and then later told her how he felt for her, she however returned his feelings, and Kano agreed to be boyfriend and girlfriend with Tigerlily for the rest of their life,
Kappus also promised to have Kano give Tigerlily lessons,
Kappus's second date
However Kappus suggested that he take Millie on a date, however Millie wanted more to take him on a Danish Restaurant to have their date, he told her he would take her to Denmark but how expensive it was, He promised in future he could take her to Copenhagen if he wished in future,
Nicholas his friend told him on the telephone that wanted Kappus, it did, his father Antonio told him that he was at a long exile beer marathon, so Kappus should however take Millie on a date, it was decided, he did return to Millie and told her she should dress into something nice,
However that day would be a disaster and Portia framed Millie, but however Portia dropped a shoe into the toilet and flushed causing a flood, too later Millie was framed, but Bessie, Penny, and Satha, still forgave her, however going rebel, they hid in the bushes to get changed, but Ronald the leader of the Beavers, and Beaver scouts, Cory, Roufe, and Doug spied on them, Bessie captured them, only to place make up at them, Kappus however laughed at them,
Later on they would make necklaces, Nisa also still forgave Millie, but later in the cafeteria they found Portia was the one to frame Millie, so Bessie caught her and told why she wasn't happy with them,
Later on he saw Millie in a nice date dress, however she had one shoe on, no resin was why, but he felt happy she was so cute and they went on the date,
ST Patrick's day and a horror that night
To celebrate St Patrick's day, Molly O'Connell decided to do so, Mrs Gibbons would be joining them, Kappus planed the night to be extra great,
At Kappus apartment he and Nicholas talked about if Mrs Gibbons be allowed which she would, however his brother Viminez told him about joining the Honeybees as a teacher aid, but Kappus didn't agree because of his non qualified skills, and Viminez didn't go to Troop 201, so did say if it was a special one occasion, but of course his father made cakes for the St Patty day,
That night things were out of hand, Angus and Lovik went to an old Bank to steal, but where captured and soul was taken from them by an old ghost mentioned, Andria reported Angus and Lovik, but things did go out of hand, however Kappus suggested to go look for them, but he warned Bessie and Penny about the haunted bank, mentioning Mr O'Nibbs, the ghost, how the bank lost profits, Penny's soul was taken, and most of Kappus's bunny's and honeybees where, all except for Bessie, Donald, Nicholas, Gwen, Tigerlily, Kano, Denal, Nisa, Kappus, Millie, Satha, Henry, when they went low under the tables, Molly and Boomer were not taken because they where to survive by the Ghost of O'Nibbs, Kappus would sacrifice himself but Millie didn't want him to go or leave him, too later Kappus did so, and Kappus defending himself against the ghost, it only took some of his soul and made him weak, Millie felt sad at him, but angry and enraged at O'Nibbs she and the rest of the team revealed themselves, until Prince of Denmark's March by Jeremiah Clarke played and Bessie defeated him, not to anger O'Nibbs, but surrendered and promised to be friendly, he was suspired to see Bessie was the Mighty B!, and Millie was the Gasslie Graff, O'Nibbs promised to make the party even better, returning all souls, but Lovik all too well was even behaving badly and he took away his soul for once until he behaved again, O'Nibbs promised to be friends with Kappus and the rest as he made a deal with them,
Telling Millie of his mother's death
Fortunately at the Honeybees, the Honeybees wanted to talk if Kappus had a mother, however he didn't want to talk about it, but Millie however told him privately to him, and stands up to him, she tells him what really happened, so Kappus tells the Honeybees about the sad story about his mother, who was a real kind and loving parent, all the Honeybees cried because it was real sad, everyone was sorry for Kappus when he was in tears, Bessie was, Penny was, Portia was, Gwen was, Tigerlily was, Molly was, Jean was, Satha was as well, Nisa was, and Marie was as well, the other bees where sad, Millie had to cuddle Kappus telling him, "It's ok Kappus, It's ok!" as she cuddled him gently.
Kappus turns 80's singer for Millie
Kappus started to go 80's when he watched favorite singers from the 80's so he decided to attract Millie's attention to get his first kiss, before he could do that, Bessie and Penny help make him attractive, he used a electric keyboard guitar and playing, 'Millie's my girl' after doing that, Millie asked to take him out for dinner, Kappus apologized to Bessie and told her he didn't mean SIDEKICK, you are after all second in command,
Kappus takes Millie to a movie and love trouble with Mrs Gibbons
As all of the Honeybees went to a movie, however they where watching a nice movie together called Heroes of Orange, a film about the war, however it was a film to do with Jewish Polish Army resistant fighters, and the saving of Jewish lives, and that it was really romantic as well, Kappus however kissed Millie while watching the film but also Mary Gibbons suspects Kappus of kissing Millie, then she also saw how Bessie kissed Don MacDonald, as well as many others did kiss they're lovers, like Nisa is suspected for kissing Denald, and Yuri and Boomer kissed Tanatia and Molly, Tigerlily kissed Kano as well that she secretly loved him to reveal her truth, Nic also kissed Gwen but then as Mrs Gibbons saw it she would report this to Anton, but Miss Gibbons didn't know that it was passion love but should she succeed,
The next day after watching a film it had made all the honeybees feel comfort to the bunnies except Portia and Matilda whom never felt any same for loves, but Portia suggested to try report it to Miriam or Anton as really to Anton whom cares about the Gibbons family but however though she was afraid Gwen would be seen reported to this and she knew she couldn't betray anyone else, as Kappus and Millie together had a nice day, Mary saw that in her heart she could understand Kappus's romantic interest and how much he cared about Millie spending time together at break times, later by lunch time Kappus saw he could see Mary Gibbons going to sit with Kappus and speak how he and Millie get on together, however after learning the truth, she asked Kappus if she means anything to him and does she mean to love him so much, Kappus told Mrs Gibbons he knows that he might be in trouble but he wasn't in trouble however she is impressed and she asked Kappus how come half the bunnies feel getting on with them, Kappus explains that he gets on with Millie together and also however explains she is a good friend to Kappus and cares much for him, but she also sees Nisa and Denald holding hands, but though he tells that it's only passion and the boys need a friend to talk to, which could maybe why the resin is, Mr's Gibbons had to understand Kappus' Millie, Bessie, Don, Will, Jane, Nic, Gwen, Penny, Joe, Nisa, Denald, and other relationships they where having,
Until later in the afternoon she wanted to call Anton and Miriam, as they came over to the Recreation Centre they saw how much they where with love and friendships, but seeing this, Anton wanted to punish Kappus and the boys have them fired from Troop828, but Miriam however feels it is touching and however persuades to him not to do this or have them fired from the job, as she mentions to Anton that they are just young boys, and they are not adults yet, as a teacher aid a junior age, it is likely to love, but at a senior age it is not ok that means by 18-over it isn't but still a junior by 13-17 is still ok, Anton had to agree he apologized to Kappus and his bunnies and let them go, Miriam now instructed Mary to have the bunnies now be in love with the Honeybees, and a romantic love law was formed so younger teacher aids like Bunnies will love Honeybees if one is ok with that but they know when to give them space, Kappus is glad to stay with Millie after knowing he won't be sent away,
The next day he thanks Mrs Gibbons and Miriam but as such Miriam warns Kappus, "Remember a Senior Teacher Aid is not permitted to fall in love by 18-over, but since you all are 14-15 you will remain with your girlfriend, and I must tell you Kappus this, you keep Millie safe, and you make sure all the Bunnies stay safe with the bees, Kappus agreed, went to sit down with his friends,
A New Honeybee
Millie's childhood best friend from Kentucky, Dominique Harper comes to visit all the way from Kentucky. Millie is excited to see her and Dominique later meets Kappus and thought he was lovely, she also meet the others, she and Millie starts hanging out and causes Bessie to be jealous. Dominique later moves out from Kentucky to San Francisco and joins the Honeybee scouts and everyone throws a welcoming party to her.
However Bessie doesn't but then Dominique talks to her, saying, "Hello what's your name" and she told her, "Bessie why" she started telling Bessie everything, "Bessie I am not bad, also Millie knows how you feel, it was all a mistake she is your friend silly, we all our, Bessie how would you like to be my friend" and Bessie agrees to be her best friend, even Kappus is to Dominique, which they talk endlessly a lot of times, Even when she and Millie are around, Kappus and Lewis or (Longshot) as he was called talk to them, Kappus to his girl Millie, and Lewis to Dominique who made friends with Lewis,
The Twisted Sisters Concert
The next day, all the Scouts went to the concert to hear Kappus playing on the Band with the rest of his members, Kappus first did "We're Not Going To Take It, then "I Wanna Rock", as Kappus played I Wanna Rock, they all liked this song as Kappus sang almost like Dee Snider who had long since retired, Millie cheered for Kappus on stage, then they played "I Am, I'm Me then "The Price" then "You Can't Stop Rock and Roll then "The Kids", then later "on Shoot Down", then later on "Under the Blade" then their final song "Just For Today Was I Never Grow Up Now", Everyone cheers for Kappus and others. Gwen liked what Nicholas did on guitar, everyone like what he did that day.
The Twisted Sisters makes an album
on the next day Kappus, and Nicholas, and William, and Don, and Joseph, and Angus, and Lovik, began to help make an album of the new bandmembers, his album showed the names of the members and the people, it also showed them the music they did, Kappus published this album for New Zealand, and worldwide. Kappus then showed his girlfriend Millie and the honeybees his new album.
I Wanna Rock song goes on the number 1 chart of New Zealand
After Kappus showed all the Scouts his new album all thousands of albums go off to New Zealand, and billons go of to other country's, His album was called I Wanna Rock they called it the best album ever, Kappus`s album was famous, Kappus was put in news paper and Magazines and also featured on ONE NEWS as being the best guy ever to feature on TV, Millie liked Kappus being on TV, She then found he was dreamy and cute, she wanted to one day be on TV like him, Kappus`s girlfriend Millie came onto ONE NEWS and told him "Isn't he the most dreamy man ever (Giggles) oh he is so my boyfriend." Kappus then told them on ONE NEWS this is my girlfriend Millie, after Kappus featured on ONE NEWS he went to his girlfriend Millie and Kissed her, she then kissed him as she always respect him. His lead single I Wanna Rock goes number 1 on the music worldwide chart and then his band members and the honeybees throw a party.
The Trip to Brazil
A Camping trip in Sao Paulo
One early morning Kappus, Bessie, Penny, and Nic and Will and Donald and Joseph began to organise stuff by 4:00 am in the morning that they gotten up early for preparations, the big early morning started for them that they also started asking the boss at the airport that one airplane is to be taken for the Honeybees, while however work into the early morning started, Don also organised many clothes for their trip to Brazil like Jungle Uniforms, Though work progressed because it was order of Anton Germain, they got the plane fuelled, but although while later by 5:00 am in the morning however a very sleepy Nic Weaver went to sleep as he was too tired and he was brought onto the plane, though apparently they're was one argument when the pilot had to keep on refuelling his plane, the airplane was a Airbus A320 with Avianca Brazil company, although however the plane was only chartered by Kappus for his Honeybees because it's being used only for the Bees on their trip however the pilots had to agree,
By 7:00am all girls got off the bus, all the girls and bunny teacher aids joined in, however though everyone including Lovik was eager and although everyone was eager for their first annual trip to Brazil, everyone the Honeybees and the Teacher Aids got onto the Airbus A320,
By 8:00am it was time for the plane to move, although by the time they got off the ground into the sky Nic already awoke sitting next to Gwen and pleased to see her, but while on the plane however when stuff went out of hand, for Kappus he threw some alcohol out of the plane, also while Portia just laughed at it and thought it was funny only because they was teasing Anton, stuff did go well until many of the girls got singy, apparently Portia was listening to Sugar Boys on her headphones, when Kappus went for some relaxing as he sat next to Millie he also was listing to Sugar Boys the song was very pleasing to him he liked Sugar Boys music,
later on the Mid Afternoon, the Honeybees arrived in Brazil into the town of Sao Paulo, in the town of Sao Paulo they soon proceeded by bus and went to a motel, later to a restaurant, and it was their when Kappus and Millie with their good friends began having talks and Marie Malarkey was pleased to see Brazil since she has a part ancestry that her mother was born their, the other name of Marie the D'Argino was also their real last name but the Malarkey was on one side the Irish Man who married her mother in Brazil, while their they had some good food to eat so did Kappus,
For the night they spent staying at the hotel and they where kept safe, however though Marie was very pleased of her home country and however suddenly to that happening she went by herself outside one night and looked at a statue until Isaac went over to talk to her and asked what she was doing out at night, she explained Brazil is also like her home place since she is part Jungle Brazilian, however Isaac understood and when Marie showed Isaac a picture of her family this got Isaac to understand Marie in her heart and understand that the Malarkey is the name belonging to her dad while her mother had the last name D'Argino, she also explained what her middle G. stands for that it stood fro Glennline, also when Isaac and Marie together spent their night they talked well into the night and became good friends,
On the next day that occurred however they where exploring Sao Paulo until suddenly going down the wrong street led to them getting caught, suddenly the Drug Gangster saw yellow girls walking down the street amongst them it turned out that they're was a field trip until one girl he saw recognised to him was Marie G. D'Argino Malarkey, the daughter to Violet D'Argino, and that surprise caught the Gangster's eyes and he strode up and pointed his AK-47 out attempting to kill her, as Kappus saw this he ordered the bus driver in the Double Decker Bus to drive on, the Gangster fried his AK-47 at the bus but although they escaped he went with the gang in a car to get Marie which he was after,
Trouble in Sao Paulo and real truth
While they drove on and on trouble emerged they where being shot at but Kappus asked the Bus Driver kindly if he had a weapon which to his surprise he had a Belgium designed FN F2000 rifles, while they're where not many Kappus, Nic, Will, Donald, Joe, Angue, Lovik, and few of the bunnies took them and they fired at the car which was chasing the bus, in the chase however turned out to be very frightening, the bus went through some tight spaces until then suddenly they went into town somewhere out of nowhere it turned the clock around when the bus lost control and crashed into the building, after crashing though the bus crew, driver Protus, and his conductor, Chevia together managed to get the Honeybees out of the bus, and the Bunnies and Mrs Gibbons and Anton as well, while they got into the reception desk the Bees had to take cover but although however when the drug mafia gang came in they started madly in a mob coming in to the building, Kappus, Nic, Will, Don, Joseph, Angus, Lovik, Yuri, Boomer, Tobias, Denald, Kano, Isaac, Henry, Hyram, Ivon, Kevin, Edward, Colby, Gordon and Werner fired their round though it was enough to save them however they killed many of the mob chasing them, although while they made their escape one stayed behind which was Protus in order to delay the Drug Mafia, it wasn't enough but Protus was suddenly killed by the Mafia, which got Kappus, his bunnies, Mrs Gibbons, Anton and their Honeybees to safety with Chevia to a resistance underground place,
They got to the Resistance Base and their where met by the leader of the Resistance, Constantino, however welcomed them and began to keep the Honeybees safe, but while it was said by Constantino they told one of the Bunnies they where able to trust, Kappus Dario that he was Spanish that Marie Malarkey or D'Argino was also wanted by Mafia as she is the daughter to her mother that her mother is wanted, the problem is though that it was risky for Marie to be in Brazil that she's part Brazilian, in order to protect the Honeybees during they're stay they hope to go place to place so that the Drug Mafia can't hunt them down, they take three guides with them, which are Brazilian Resistance Guides, the three where Araujo, a experienced mountain guide. Mancera, a very talented man and skilled assassin, and Sardinha a young guide of the team where both recruited,
Trip to Brotas
Together however they went to the station the main station of Sao Paulo to the railways, their they're where to go on an electric railway route to the old Bolivian Boarder, it would go on the way to Brotas, and also to Barra Bonita, as everyone got on board they then departed for Brotas, their journey took them out of the city and then into the country, it was also a exciting train journey until Kappus became so enthusiastic on the train and recording the film the trip he was on, he began to get over excited and also in the area he, Bessie, Penny and Millie talked about it, but asked a lot about Brazil what was important for it, Kappus and Araujo explained that for the coffee which made Sao Paulo one of the most prospers cities in Brazil,
later when they sat in their seats they where also enjoying every part of the way for them it was the best trip of their lifetime, the journey took long to get to Brotas,
Exporing Brotas
Later in Brotas they arrived as the train pulled into the station it was very unique arrival and also Kappus and everyone got off the train and then explored Brotas, the town of Brotas which they began to learn was of the district of Araraquara, and also the city started in 1839 when the chapel was built which originated a settlement around it. when then would become the district of Rio Claro in 1853, in the town they also had a impressive time and also was a two day stay until they would get the next train,
They went first to do Waterfall Jumping on the river Jacare Pepira, on Adventure Tourism, and also Rafting plus Canoeing, they all had a great time even their guides watched them,
Marie was also still feeling down but Kappus went to see her and kindly asked her what was bothering her, she told him why she is the god daughter to the D'Argino family, that however Kappus explained told the truth was because she is daughter to a former tribe centuries ago in Brazil at the time of it's being formed, it was told that she was a Indigenous Person, a Native Brazilian, that her family the D'Argino's where formed over the Andes and however was told that her family belonged to their king of the tribe, she is indeed the kings great-several-centuries-later granddaughter, which is why the drug mafia where hunting her down mainly that she was wanted, now with Marie understanding it all how this all began she then however began to realize why she went in the first place but later understood that Brazil is the country to her people and her tribe if she would go see her tribe, she would also hope when the time comes she would then be able to see them,
Later at a restaurant they also had some food to eat with what they ordered, they began to love the South American foods, and also so did Marie, but later on after their stay it all went settled down, until the next morning.
On the way to Barra Bonita
Later they went on the next train all the way to Barra Bonita, leaving Espariado railway station with the elevation at Barra Bonita being elevation of about 457 meters. on the way they where enjoying the lovely scenery which they approached, Kappus however was feeling very excited to see more scenery when he recorded it all, it was very amazing to him seeing it, when Marie sang always Brazilians sang but Marie did hers singing it in Brazilian, later though the train was ordered to stop as someone put stones on the track, but thankfully Kappus took photos of the train and the work and also Kappus and Millie had their photo taken with their romantic part which Bessie did for them, after the track was cleared they went off again all the way but thought the tracks can't go all the way to Barra Bonita so they have to stop at a station in order to take the bus to cover the last 24 kilometres to Barra Bonita as the track doesn't go all that way to the town,
Before they got off and left the station at Jau Train Station, also while their they Kappus spoke to the engine drive and asked if he could tell him what class the locomotive is a General Electric, V8 class, 6383,
The Honeybee enjoy the stay at Barra Bonita
While they got onto the bus they drove all the way to Barra Bonita and sang, Kappus Dario however felt happy he was going to Barra Bonita, this could be his big chance, they went that day on a Ferry to parts of the city on Lake Barra Bonita the same name of the town, however they enjoyed seeing the sights of the town as they all went sight seeing, however Mrs Gibbons asked Kappus why didn't the railway line go to Barra Bonita, but Kappus told the truth because that the line wasn't built to go in that direction but only from Jau people had to take a bus instead, in Barra Bonita during their stay, Kappus spoke with Araujo and asked him by tomorrow to take the Honeybees to where the Pottery is made,
The next day all the Honeybees and Bunnies and also the guides took them to where the Pottery was made, also telling them how it was all done, however Kappus Dario did all the speaking and also in Portuguese he spoke to the man who owned the place, everyone was also amazed he was able to speak a foreign language and could speak Portuguese and Spanish, everyone was amazed by the workshop and how it was all done,
Later on they went into the town and took the tram, it didn't actually look like a tram that had car wheels on it, it was just a tram-bus car they went on it to go around the town it amazed everyone, later on Gondolas also as well, They also took a visit to the dam owned by TRAX Energy Solutions, also they visited the so called Canhao antiadreo 2"Guerra Mundal, whih is a former gun turret, the Panoramio, later went to the so called paddle boats which where made like swans, later in the town they went to a restaurant and it was their that they both had something to eat since they're where starving, and later at the Hotel Beira Rio, they had their dinner in the night, that night at their stay at Hotel Beira Rio, they did some stuff they where also playing fun games and stuff, or talking to their friends, Kappus got his chance to talk to Millie in the night, also however Nic and Gwen got their moment when they where able to have something from the Café to drink and Gwen however began to tell nice things to Nic, it was in that procession they started to reveal their true feelings, Marie was also still worried about the Mafia finding and hunting her down in Brazil but in high hopes Araujo and his two guides can protect her for as long as possible and put a stop to the Mafia Drug gang,
During the sunset she went to see Isaac and it was their that together they started to have a conversation, Isaac and Marie together had a nice moment and together they shared their time of their lives, together it was the most surprising moment for them, Marie however felt she wanted to kiss Isaac but because she knew they're friends she told Isaac and comforted him by telling him she is scared and also would like Isaac to protect her and also sleep in her bed with him, she kissed him in the night showing her feelings for Isaac and promised to keep her safe when she asked Kappus for permission and because she needed some help from Isaac to get over her nightmares and also her hallucinations she has been having, Kappus told it to Mary Gibbons and she agreed Isaac should keep her safe and she agreed to let Isaac and Marie bunk together only for protection in the night, the other Honeybees where not surprised of this but had to agree with Mrs Gibbons it was only because Marie was having bad dreams that the Mafia was hunting her down only for this once,
Later before they left Barra Bonita for Sao Jose dos Campos, Marie thanked Kappus Dario and also said her kind regards in letting Isaac keep Marie safe only because she's been having a nightmare, Kappus felt thankful for Marie and also when Millie went to see Kappus she told him he made the right choice for poor Marie, as did Mrs Gibbons thank him, and so did Bessie Higgenbottom, and so did others,
The Honeybees enjoy a stay in Sao Jose dos Campos
They soon also went by Bus to Sao Jose dos Campos and it was a very big city they did approach the whole city and it was one of the very best, they're set to stay in a camp area, In the camp area Kappus and everyone stayed their and also it would be the time of their life, with thanks and being occupied with protection from any drug mafia, they stayed at a Holiday Camp and their they had enjoyments of comforts, in that camp they also enjoyed being their and also did many activities, the most they did was also go to the city and also elsewhere, when they went to the city they also went to one restaurant and also some great attractions to do, while their however it also was when Kappus met one of the agents working with the Resistance undercover, he also helped suggest more protection since other problems would occur soon and the Mafia have started searching in Sao Jose dos Campos for Marie, in order to prevent it happing Kappus asked the guy he knew to get the police to arrest the Mafia and put a stop to them,
By now they had captured 31 Mafia prisoners, they're where arrested for crimes they committed and placed in Sao Jose dos Campos prison, others escaped which the town was safe for now,
Later on however they enjoyed going to the town and did go the restaurant, they went to Armazem da Pizza and they had a good time, until later they got back by afternoon tea and in time for Dinner at the camp, later on that night Araujo also told Kappus to contact the so called Brazilian Commando Squad from the Brazilian Special Operations Command, the Comando de Operacoes Especials, a unit commanded by Captain Cavaco, and his second-in-command First Sergeant Fernando, the team would land in the night on dark,
Later as Kappus Dario got out from his room he went to the forest and also went to see the units arrival on dark, when the plane flew over it managed to drop the Commandos off and the unit parachuted into the forest, they're where 16 men in that unit, when the unit however landed into the forest, eventually everyone managed to quickly grab their parachutes and also they managed to find Kappus Dario their contact, Captain Cavaco introduced himself to Kappus and told him that under orders to destroy a drug factory in Campos Do Jordao, and also to protect the Honeybee Scouts and keep one girl alive Marie from the Mafia that is hunting her down, in the team of Commandos included Captain Cavaco, First Sergeant Fernando, Second Sergeant Lourenco, and Privates, Matheus, Nobrega, Pacifico, Lindo, Julio, Sarmento, Valenta, Zarco, Recia, Prudente, Raymundo, Rodrigo, and De Rocha in the unit where brought to help eventually however Kappus took them to the camp where they're to be on guard duty, Araujo was surprised to see the unit arrived safely,
The train trip to Campos Do Jordao
Kappus told Anton that we will soon be going on a train trip to Campos do Jordao, Kappus and his Honeybees went onto a train, Kappus went in an vintage train, Kappus went onto being driver of the electric train, he accidently drove it, Kappus knew how to drive a train it left Sao Jose dos Campos to Campos Do Jordao, Kappus was driving the train. as it went past a person, Kappus blew the horn from the train as it went by, as Kappus drove the train he then drove through the landscapes and through the hills, Millie came to the front of the train where Kappus was to tell him how did you know how to drive a train, Kappus told her, "I learned that at Ferrymead back in New Zealand", Millie was surprised that Kappus knew how to drive a train, Later on the train had to pause at a railway station, and that was because both had to change to a more modern version because the old version was no longer able to climb this area in this section, Kappus changed to the modrsiern veon where he, Nic, and William, and Don, and Joseph and Angus, and Lovik, and his Veteran boy Scouts came onto the train along with the Honeybees, Bessie, Penny, Millie, Gwen, Portia, Satha, Marie, Tigerlily, Molly, Nisa, Jane, and Dominique, Alexandria and Gaby joined along, as Kappus was just about to drive the train, a engine driver, told Kappus he was the engine driver, Kappus told him, in Portuguese, "I learned how to drive a train in New Zealand, The engine driver understood Kappus, he and the engine driver drove the train from the station and on their way to Campos Do Jordao, he told Kappus about the controls, Kappus quickly learend how to use them, Millie and Bessie and Penny came to the front of the train, then Nic did, they saw the view as they went up the mountains, Kappus fount the views amazing, Millie was happy of Kappus to show her the vews inside the train, Bessie got excited because she could not wait to see the views, The engine driver told Bessie about the views and how this railway line got made, Millie told Kappus, do you like trains, Kappus said yes i do, Millie was happy of Kappus, Millie told Kappus she used to watch a little kiddeys program when she was a toddler, Kappus told her he used to watch a program called the Thomas the Tank Engine series, Millie was happy of Kappus, Millie kept talking non stop, Kappus showed her the controls, Don, came to the front of the train to talk to Bessie, they got higher and higher and higher, but their was trouble the train had a mechanical fault problem and Kappus had to stop the train up the hill where the valleys were,
Stuck at the Mountains
Kappus and the Unidentified engine driver, went to try and call for help on the telephone for a mechanic to help. Millie told Kappus why did we have to stop, Kappus told her we had to because their was a mechanical problem that forced it to stop, the Repair man came to help Kappus released some help along with Nic and Will, and Bessie and Penny, and also Millie, helped fix the train it took three hours to fix the trains problem, Kappus found the problem and fixed the fault in the train, Kappus then told the Unidentified engine Driver we will soon need to get a move on, as they waited for three hours the Mechanic gave them the go ahead, Kappus was give a go at trying it, it worked and the train began to move again everyone cheered for Kappus and the Unidentified engine driver, for their help.
On the move to Campos Do Jordao
The train then went past the hills through the mountains on the way to Campos Do Jordao, Millie was seeing Kappus at the controls as he drove them, later the train was nearing the town of Campos Do Jordao, after all that they arrived in Campos Do Jordao in a receive short time, as they arrived Mary saw all her Honeybees that they were not with her, she got a little upset with Kappus, but he told Mary that Anton said it was ok to take them on a trip, Mary then found out Anton let them go to Campos,
The Honeybee Scouts enjoy a stay in Campos Do Jordao
After the train trip Kappus found a Camp to stay at with all his Scouts, Kappus then found a room for his men and some girls, Millie told Kappus this was the greatest day ever Kappus, and Millie kissed Kappus on the lips, Kappus liked that, he kissed and hugged her, later they had food for eat, and Millie and Kappus and Bessie and Penny and Nic and Will and Don and Joe, began to talk to Kappus about his day, Millie then told Kappus`s friends he told me he was an engine driver, then they both understood her and what she said, then later they watched a movie but since the Honeybees where both American they had to change the language from Portuguese to English, later after they watched a movie they both went to bed, before Kappus went to bed Millie had a little discussion to Kappus about what was the day like, Kappus told Millie it was a good day Millie, she had a short talk, and then finally she and him went to bed, then the next day they both went for a tour around Campos as they both realised that it look like a Swiss town that it was based on, Kappus and Millie then went onto a single seat gondolier up to the top of the hill, then later on they were soon to head back to the bottom of the gondolier then head for lunch to the park, then they went to enjoy the fun around the town, then later on when dinner came they went back to the camp for dinner and enjoyed them self's, then later they had a camp fire, and had marshmallows to eat, then later when it was their bed time they both went to bed, then the next day they were soon to head for Rio De Janeiro.
The Honeybee's go to Rio De Janeiro
The Honeybees and The Twisted Sisters go to Rio for 2 weeks and they play a game of volleyball in the beach and Gaby gets a surprise visit from her boyfriend Spencer Jenner from Tennessee and he comes with her along on the trip. He tells Gaby that he will move to San Francisco with her. Millie and Kappus enjoys playing in the sea and they both play with each other, Millie told Kappus, that maybe she could show her my turtle when we get back, Kappus found this would be a great idea, then on the fifth day they went to a parade in Rio, then saw the parade of woman, and other People in costumes going by, Millie saw this with Kappus, then the next day Kappus and Millie and the Honeybees go on the taxi bus up to the top then see the view above and also sees Christ the Redeemer on top, Millie saw airplanes going by, as the week was soon to come to an end, the Honeybees were soon to fly back to San Francisco, as it was going them going home,
Coming Home to San Francisco
Kappus and the Honeybees return to San Francisco
They went by airplane, Kappus sat next to Millie and told her you look nice today, she loved that and she hugged him and always kissed him non stop on the airplane, as they entered San Francisco, Kappus and his Honeybees arrived at the late afternoon and their family was happy to see them again, Kappus was glad to be home in San Francisco,
Millie show's Kappus her pet turtle Chester
After they had a nice trip in Brazil they were home sweet home, Kappus got invited to Millie`s house and Millie was suprised to see Kappus, she showed him her pet turtle named Chester Turtleton, as Millie showed Kappus, he was pleased to see her turtle, Kappus and Millie hugged eachother but Chester cryed and got upset because Millie was hanging out with Kappus, but Millie came to talk to her pet and she told Cheaster its ok, this is just my boyfriend Kappus, i still like you Chester, Chester felt better, Kappus wanted to pat the turtle, as he put his finger inside Cheasters glass fishtank, Chester nipped Kappus finger and Kappus thought it had hurt, he did not scream or yell, he holded his breath for 15 seconds, Millie told Kappus that is just a love Nip, Kappus then found out it was only a love bite, Chester did not break off Kappus fingur as Kappus then saw it was not badly hurt, Kappus then patted Millie`s turtle and Millie felt happy for Kappus then Millie and Kappus both hugged and kissed eachother,
Funny Kappus
"Oh Kappus your the funnest boy Ever,"
"oh thankyou Millie,"
Millie to Kappus,
The next day Kappus then fell asleep at a taffy factory, he was asleep, but the man blew the whisle and woke Kappus up, Kappus went yaaber dabeer dooo, and then slid down throught the window and the hit the car`s window, then he drove off, then Kappus sang a song like a flinstones style, "James, Kappus James, he`s the greatest guy in history, (Pause) from a out of San Fransico, he`s about to hit a Cable Car.!!" Kappus screamed as he hit the Cable Car then he was angry that he dented the front of the car, his Car had to be taken back to his house that day, as it came back to his house Kappus then told Nicholas that it will need a new bonit, Kappus then sang a song it was called, Grease Lighting, after they had sang the song they then got to work,
On the next day Kappus with Nic and William, and Don and Joseph and Angus and also Lovik went in the Astin Martin to the Honeybee Scout building in town, Nic drove the car and quickly parked it up, Kappus went out first then however he came to the door, as Kappus came to the door, he then banged himself and Kappus got really angry, then he saw the door he did not release, he opend the door to let Nic, William, Don, Joesph, and Angus, and Lovik inside, then Kappus went inside. Kappus then went to the class room, Kappus entered the room and the Honeybee Scouts were laughing with him, he found out this was strange, then he asked Millie why are they laughing, Millie told Kappus because you banged your self into the wall, Kappus found out this was all a trick, then Kappus showed the Honeybees some funny acts, he showed then his funny one that was one of the funny ones a joke about a man that went to a store, then Kappus showed them a real funny one that was pretending to be Adolf Hitler, he did the joke about a Jewish race that he will elimanate, the Honeybees laughed on that one, then Kappus did the Darth Vader joke, he pretended to use the force and the objet moved and and banged into the wall, then the Honeybees giddled, Kappus said in his Darth Vader voice, "The force is strong with you Mighty B!." then the honeybees laughed Kappus took his helmet off and told them he was jokeing, then the Honeybees found that one to be very funny, then Kappus did one funny joke. he slipped on a banna skin and everyone laughed, Millie told Kappus, "Oh Kappus your the funniest boy ever." then she told Kappus to hold her in his arms, she then fanted and was happy of him, Kappus holded her in his arms, Millie then new she loves him even more, Kappus then showed them some more laughes, he did a funny one where he did his C-3PO robot movements he showed it off to the Honeybees then they began to all laugh, Kappus then showed them more, he did his Yoda voice, this made them all laugh, Millie laughed and giddeled with Kappus course he was very funny, Kappus then did his Mr Bean acts, like the one at the hotel he was at, Kappus did Mr Beans voice, he pretend to use a remote as a telephone he went, "hello." then the Honeybees laughed, Kappus pretended to do the remote going onto other channals, he did a movie one as he was at a wall, then the sports one, then the Hallelujah then he did a movie one then the Hallelujah again, then the paris one, then the Hallelujah again then showed the Scouts his laugh he turned it up loud then he did a movie one the the sports fans chearing, then he did, the cheesy music orgen, and did the funny dance movements, then the Honeybees laughed, then he did a monster one where it was like when he was going down the hill, it turned out to be funny, then he did his Hallelujah dancing and pretending to sing, Millie loved what Kappus was doing, and all of them began to laugh, then later as the music was about to finish, Mary came into the room and saw what Kappus was doing she laughed, then she told Kappus you are the most funniest teacher aide in the Honeybees, Unknown to Mary that Alexandria and Gaby have put a whoopy cushion and a microphone under her chair. She sat on her chair but the chair farted then the noise was heard then all the Honeybees laughed at Mary, but Mary was frightened Bessie said to her whats the matter Mary had anything for breakfast, then she got a little fightened, then she found a Whoopy cushion and a microphone under her chair as she found out what it was, William said, "A whoopy cushion she just sat on a whoopy cushion, Mary found out that it was brilliant, because they got her, after the joke, Millie hugged Kappus, then after Scouts Kappus was on Youtube at home and watched thoes drinking adds that made him laugh.
Soon the next day he would show the Honeybee Scouts the drinking adds that where very funny, as Kappus showed them it on his Computer, the Honeybees began to laugh because it was more funny and was hilarious Millie giggled becuse of the words that were Shoclate and others like Rawberry were funny words, but some other words made Millie laugh like 400 Babys, and one of the words that made her laugh was Kanate, after Kappus showed the Honeybee the drinking adds, he then told them he made the adds for everyone to laugh, Millie told Kappus "Oh Kappus, you really are funny and you are a handsome guy hee hee hee hee." Millie laughed, Kappus and Millie hugged eachother and kissed each other that day,
The Honeybees go to the museum
Kappus and Millie, and the Honeybees go to the museum. Things goes terribly wrong when Gaby accidently knocks over a display item and the alarm goes off, she runs off then she gets caught and then gets in trouble with the security guards .Later Kappus went home and he was given a phonecall that Mrs Millerson was to call Kappus so he could look after Millie for tonight,
Millie's Birthday
Two Days later it was Millie`s Birthday, Millie brought an invatation to Kappus she told him you are invited to my birthday party, Kappus in the after noon went to Millie`s house and he was welcomed their, he wore a nice dress and Millie liked the dress, Millie asked Kappus what have you got for me, Kappus gave her the gift, it was a Playboy watch, she liked that, Millie hugged him, Kappus then bought another for Millie and it was a 10 Barbie doll sets, she then liked the gift she got given she found this to be a great gift, she kissed him and Millie got a neckless from Alexandria and she also got a diary from Penny. Millie got other gifts as well. Kappus then did a song for her on stage, everyone enjoyed it, Bessie saw Kappus`s friend Don on stage, Bessie came on stage to hug Don, Millie came to hug Kappus, Penny came to hug Joesph, as well Gwen also came, she saw Nic and she hugged him, Jane found William and hugged Will, Longshot came to hug Dominique. Boomer came to hug Molly and Spencer (Gaby's boyfriend came to hug Gaby as well after they had found their boyfriends Portia came to hug Rocky, Lovik came to hug Andria, Millie and Bessie and Penny were talking to Kappus and Don and Joseph and then they both talked non stop. Millie`s birthday cake came, Millie then blowed the cake and she had now turned 14 years old, Kappus then hugged her and told her you are the best girl ever, she hugged him and told everyone thanks for all my gifts, i love them, Millie and Kappus kissed eachother after the party and began to play love songs, Millie and Kappus and everyone enjoyed their day,
Trouble with the Dragonflies
Kappus went for a walk in San Francisco but their was trouble the Dragonflies bullied Kappus and a big giant girl name Maude beaten him up and Cherry kicked his balls, Kappus hated the Dragonflies, then he told the Honeybees that the Dragonflies are after Kappus Mary then asked Kappus will protect you Kappus, Millie would protect Kappus then later on after Scouting, Millie and Kappus go out around San Francisco and then trouble came and the Dragonflies called Kappus racist names, and called Millie a nerd, Millie and Kappus both got angry with the Dragonflies, Kappus then planed to spy on them, when it was night, Kappus and Millie and some of her friends came, they saw what the Dragonflies plan was, he heard them saying to kill Kappus, then Kappus went to report on ONE NEWS, then the next day Kappus told them on ONE NEWS that the Dragonflies have called us racist names and bulled us both he told the Police to arrest the Dragonflies for their crimes, but the Police arrived too late, Kappus revead a failer for trying to arrest the Dragonflies, Kappus then found that it would soon start World War III,
Service in World War III
Beginning
Despite the Dragonflies escape and flee to India, Kappus was so mad that he wanted Cherry to die, unfortunately Mrs Gibbons knew that it may cost lives, Kappus made suggestions to Mrs Gibbons to tell the President, Obama on the phone, he agreed to sending forces to Capture Cherry and her Dragonflies to justice, Kappus announced to go to Camp Toccoa, in the USA, and train the Honeybees including it to be a girl jump training school, Kappus however picked volunteers, many of the Troops in San Francisco volunteered, June Bugs did, and he negotiated to their teacher about it, then to Preying Mantistes who also agreed, Lady Bugs also agreed to volunteer as well, but as Kappus went to Pier 13 Black Widows the girls whom sleep in the dark, Kappus came under attack, but however the leader of the Black Widows asked why Kappus was here, but he told them peacefully that to earn their keep must volunteer to help the Honeybees, but if they didn't then he could order a dismantling of the lovely place where they live underground, but they refused and Kappus ordered his Bunny Troops in, to that the Black Widows thought Kappus was mercenary doing his job, but then Kappus talked peacefully told them why don't thy get used to light, the leader told him she and the others are scared and he told them that they didn't go out hard enough, that way he shown the light on them, the Black Widows where not afraid of light, then they agreed to help, next was the Butterflies, they also where nice but Kappus told their teacher to let them join up, they also agreed, with a full force of June Bugs, Preying Mantistes, Lady Bugs, Black Widows, and Butterflies who joined in, all including the Honeybees where told they where going to Camp Toccoa their however the girls said goodbye to there parents and family's, Kappus of course agreed to this, then however Kappus and the girls would go to Toccoa in order to learn how to be soldiers,
Camp Toccoa
As they arrived they also where joined by other girls from different country's, that way the June Bugs and Lady Bugs and Preying Mantistes and Black Widows and Butterflies and Honeybees got to know friends, Kappus did befriend any of the boys whom joined to be officers, girls where chosen as NCO's but if they got great at getting battlefield commissions, then they could become officer, depending, both the girls where put into the unit 1st Battalion 509th Infantry Regiment, United States, and the company was called, Nobel Company, they had a choice of what weapons they had to use and that, They where not surprised as to Anton St Germain however bossed them around, a very snobbish man usually grew mad at his honeybees and the girl platoon,
Oneday at Toccoa, both Kappus and the men stand at attention, Anton and a high grade girl, Evans, comes and yells to them, but where not impressed by seeing both creases on clothes, dust on chevrons, dirt in the rear aperture of the weapons, and rusty bayonet, 1st Lieutenant Germain however disliked how that they had very bad conditions, like as such both Kappus and the others weekend passes where revoked, meaning they had to train hard over the weeks, they where forced to run P.T gear to run up Currahee the mountain that was so high,
On the climb to the top, as Anton drove both Kappus and the woman hard, as they run up the mountain, one of the soldiers, Ellen Muck twists an ankle, and Marie on the other hand went to help her up, as Anton did times each girl as they went up, 2nd Lieutenant Kappus Dario was the first to do so at 23, they where later also instead of running P.T gear, they where in their soldier outfits,
One night 2nd Lieutenant Kappus Dario went marching with 1st Platoon, but one such soldier named Renee Lockhart asked Kappus why Nobel Company gets the hardest training, Kappus also asks why, this of course makes Lockhart understand the need of course of how Anton really hates the Honeybees, later that night Anton then went to check every girl's canteen, for water, and has them all dump them. He noticed one girl's canteen was empty, Kristenson, and she was forced to repeat the run, and that she disobeyed orders, Anton confronted Kappus for this and also told them that this company isn't any other that it is Nobel and will be the best Commando Paratrooper Unit in the US Army and the only girl unit for World War III, Kappus had been ordered to select infractions among the girls,
The next day however Kappus talked to his friend 2nd Lieutenant Nicholas Weaver and told him he has selected the best infractions for the girls, Bessie will be Marksman, and Penny also chosen as Submachine Gunner, Portia and Gwen where chosen as Riflewoman that could carry M16A4, Millie was chosen as a Support Gunner, also mentioning some others to him, this was because Kappus knew to that affect Millie was indeed the right girl to carry a M249SAW, also during intense training, from running over ropes, to crawling under pig guts under barbed wire, and also laying down crawling on the ground under a machine gun training firepower, but one girl did panic and wasn't killed but injured in the leg, Private Twallace, had a server leg wound and had to be hospitalized for about a few months until returning to the unit 4 weeks later, unknown to Kp, that the now promoted Captain Anton Germain who was promoted by Colonel Mary Francis Gibbons, was also going to promote Kappus to 1st Lieutenant that way in order she will make him replace Anton's act as Lieutenant, Mrs Gibbons liked Kappus because of his actions and that he was doing very well, she had also told Anton to give the insignia to him,
The story does go to Germain finding contraband in every girl's closet, also finding Nachos and mentioning one girl didn't have enough strength to fight the war, and also learns that Private Tipper has enough spare time to read letters, Kappus does ask if personal letters are considered to be contraband as Germain replied to him that they have no personal property, he found a can of peaches which was really United States Army property that got taken without permission from the mess facility, the theft turned out to be Private Parkes stole peaches, as Anton asks to dispose of Parkes, Kappus suggests to Court Marshall her on trail, see if she should be punished to work hard like mopping floors up and that, but to that Anton agreed to this, as Anton gave Kappus his insignia ant tells him about his promotion. He then says he wants to privilege the men and girls by giving them a special meal. Spaghetti,
In the mess hall, Kappus was made to serve the Honeybees and was in charge of the food, they managed to finish their food right before Germain comes to tell the others the orders where changed and must run back up Currahee, some of the girls did vomit as they run but others where ok, also three where taunted, Private's Hoobler, Gordon, Lockhart, and told Lockhart that they was an ambulance at the bottom, and he would have no more Captain Germain to deal with, Immediately Kappus and the girls sang to tease Anton, but Anton is apparently annoyed by this but is satisfied that he made his girls paratroopers out of them,
Some of the girls complained and Kappus knew something must be done, Kappus suggested to wake the girls up earlier to get the training to be done by tomorrow,
As he woke them up earlier, he gave the orders to train hard, they sang, "Anton Germian is dumb and we will complete the training by today" was a song made up, Kappus led the girls during training without any foul ups, Kappus then got all his girls too safely, but as Col Gibbons and Captain Germain saw this, they thought Kappus was doing well, he got Bessie to be markswoman, and also attempting to complete training, but as well Twallace returned in time to training, and they got it all done all the paratroopers of Nobel Company where completed by the afternoon after training around the obstacle course, but Captain Germain was impressed but was annoyed but satisfied to Kappus leading the platoon to safety, "Safety First always obey the orders" that Kappus did well to gain trust, after that, they where given a special meal to celebrate the training, also but some Paratroopers who couldn't eat food where either dairy-free or gluten or stuff, Kappus enjoyed his time, he talked to his officer friends that he made a good Platoon Lieutenant, Nic and Will and his friends where amazed, but he also looked at Millie seeing she was best of all, but also seeing his heart in Bessie that she deserves to become Master Sergeant one day, 'Don' suggested that it be possible because she was the tough one of the commando paratrooper squad, when Kappus was enjoying talking to his friends, Millie showed up she had someone special in mind, a friend of hers, a new friend too, her name being Private Gutowski, who was very nice and the newest member to the squad and the team's sniper, Kappus said "Hi" to her and he told that Millie was his girlfriend, as Gutowski understood she already knew because Millie told her, Gutowski told Kappus that she was almost like him, and Millie as well and she would try to find a man like him, He told her "Their is plenty of boys around," that of course made her happy, Kappus liked Gutowski as only a friend that she was like his mother and Millie, he thought her the best, but Millie giggled only to kiss Kappus, Gutowski thought it was so beautiful that she had a crush on him,
Fort Benning
At Fort Benning, Kappus along with the officers, and Captain Anton Germain where to train in jumping school first, but as Kappus went out first, he was number "One" to jump out, as of course Germain hesitates but does it anyway, Kappus landed to the ground but was amazed by his Hispanic and replied, "Seinora I think I died and went to heaven" for a joke, in Spanish, later the enlisted was their turn to jump, but later they all became paratroopers,
It then moves to a celebration for the 509th for becoming paratroopers, Kappus that night however got a drink of beer, and both he and his friends talked, it was also where he met Privates, Rosetti and Kirshenbaum who both apologized as they accidentally bumped into them, Kappus was very forgiving to them because he knew one was Italian and the other was German, he also listened to Colonel Gibbons and that they told them it was a special occasion to see that they where now paratroopers, and that they will be moving up to Camp Mackall,
Camp Mackall
Later the next month they moved to do paratrooper commando training at Camp Mackall, but one mock was Anton leads the girls into an ambush, but they had to restart it again and later got it right, later the company is joined by a new officer, Aaron Keeler who is a kind hearted male officer and befriends Kappus and Nicholas and his friends, later Germain tells them that the company is going to England to train their, Kappus and the others went on a train to Brooklyn Shipyards New York where a ship will take them to England,
Kappus on the train sat next to Keeler, whom was asleep, but Nicholas joined in telling him they will be going to Europe, Keeler also woke up to here the news,
SS. Honeytanic
Later on a ship, they where joined by some scientist's, Dexter and Mandark, who where going to train as Soldiers but as Scientists, came from an unknown town far away, Kappus greeted Dexter and Mandark, and a third Douglas Mordecai III boarded but where curious as to why they came a log way to this, and also as the troops where on a ship heading to England, it would take two weeks to possibly get their, Kappus on the other hand showed the new guests their lab, but Dexter and his rival Mandark did argue most of the time on the ship, but Kappus promised them to get a long that it would be more of the enemy they are fighting than themselves, Kappus however did rest alone on the ship until he sang "Imma going to Europe!" as he and Millie sang together, only because that he and Millie where part European, also he didn't realize that Mandark was exploring the ship until he saw three girls, Dee Dee, Lee Lee and Mee Mee, on the ship, however Mandark weather he realized it or not was pleased to see Dee Dee, but she was overwhelmed that it was the mad scientist Mandork again, Mandark was pleased that he gave her a hug and she said, "Well Mandark, that I am ok with" Lee Lee and Mee Mee did find this funny too, Kappus came along and saw Mandark with Dee Dee, he asked if he knew her and she and him both said, "Yes where just friends" that Kappus however agreed to, Kappus also introduced Mandark to the platoon, he made good friends with him and Dexter and Douglas, and introduced his friends, he did also already knew Nicholas, and soon made friends with William, "Don" Donald MacDonald, Joseph Brethren, Angus McGregor and Lovik Bonto Gogenburg, however Dexter thought Gogenburg looked familiar to him, Kappus also introduced them to Bessie Higgenbottom the Markswoman of the platoon, Dexter, Mandark and Douglas where pleased and that if it was true that Bessie was really "The Migthy B!" and told them she was, Kappus then introduced them to of course the platoon but suddenly Douglas got love struck by one girl, Gutowski, and she asked if he was ok, but he told them it was a maybe he was just a bit silly at times, Dexter well did however sought of feel a bit upset why to that as of him and Mandark should really get on well, and not be arch nemesis's, Kappus told Dexter on the ship that, "It is very hard to give up being rivals, Mandark will trust you if you admit he is better genius than you are, but I know you can be, but you just got to admit he is also second best, maybe you know trust in family's," that Dexter understood Kappus for, Dexter thought he was kind but he didn't know Mandark was listening the whole time though the speech that Dexter will admit Mandark is better than he is,
Aldbourne England
In England as the company did train to await orders and go through more training, While there, Anton Germain leads the second platoon in a race to a certain checkpoint, while Kappus leads first Platoon. but as Anton and his girl platoon became lost and where blocked by a fence, and Anton was tricked by Luna Luz was imitating Major Guillory,
Dario reaches the checkpoint first, and his platoon come across an elderly man on a bike who puts his hands up in mock surrender saying "You Yanks have done it, You've captured me." as Germain and his platoon appear down the road, running towards the checkpoint, and the elderly man inquires, "Is that the enemy?" and Kappus says, "As a matter of a fact, yes it is."
Later despite Kappus's latrines of disobeying orders, Kappus is punished by Anton for not following an order, but requested court martial, which is not really what Anton wants, but also in trial of court martial they released him after telling Anton was to blame for all this, Millie gave him a hug as he would be ok, but Ultimately, Anton Germain was relieved of the command of Nobel Company, and upon leaving, Kappus salutes him, which was not met,
Upottery England
While preparing for the drop in Turkey, Kappus meets 2nd Lieutenant Gregg D. "Gabby" Reich and reprimands him for gambling with the enlisted girls, Kappus thought of "Gabby" being a nice man, and too friendly in Kappus's opinion, also one night he met 1st Lieutenant Thomas Vanderman who was the new commanding officer of Nobel Company and the 509th replacement from Anton, he told Kappus the plans for the invasion of Turkey on a map, he, Vanderman, Weaver, and all his officer friends where called up first to discuss the plans of invasion "Operation Beelzebub", as later was the enlisted girls for the meeting, told them off their plans to attack at Ankara the capital of Turkey, to drive the Dragonfly's out of the country, also he promoted Bessie to Master Sergeant because of her tactics and was to be responsible to lead a company, but before they could head on "Operation Beelzebub" the mission was canceled by tomorrow despite weather conditions in Turkey and the European Countries, so they had to postponed the mission tomorrow, also one night outside Kappus when he was on guard duty he told his friend Nic Weaver how the time they where different places in America,
Finally the next day they where allowed to go on the mission, Kappus took group 67 to a C130J Super Hercules Military Transport Aircraft number 10-5640 and it was their that Kappus told the Honeybees about how airsickness was like to take pills that "Doc" Sterns gave them, as they all boarded Kappus helped them both up, as they plane left Upottery Airfield, Kappus noticed some of the Bees' and Honeybee Paratrooper Commando Soldiers to be scared, Kappus knew that they maybe a chance to survive if possible of that,
Operation Beelzebub
Even thought the airplane's refueled in Austria and Romania for the rest of the journey to Turkey, as they reached Turkey they was enemy firepower on the Hercules, and suddenly as they flashes light up in the night sky, the Dragonfly's fire their antiaircraft shells at the planes, One of the C130J's took a hit and is blown in half, also Kappus saw from his view one of the C130J's getting hit and crashing into the other, also what he didn't realize was, that 1st Lieutenant Vanderman's airplane was shot down killing everybody including 1st Sergeant Millary, as well and all others as well, but aboard Kappus's plane, a shell killed the co-pilot causing the other pilot to panic, and turn on the green light, so they could get out, they jumped from the C130J and parachuted to the ground,
As Kappus and his girls get out of the plane, as Kappus floats down he noticed a burning wreckage of a plane beneath him, as Dario lands, he was missing weapons and his leg bag except of his knife, another girl named Private First Class Rose Tyler from Able Company landed into the same location as Kappus was, but is introduced to her, except she lost her radio, but while walking around trying to find their respective units, the young girl also tells Dario that she was on the basketball team, and was coached by her.
But on the way they met up with Sergeant Lipton with two woman from the 34th Airborne Division, both named Angelia McDowell, and Amy Olson. Kappus takes a map from Lipton and tried to figure out their position looking underneath a ground sheet with his flashlight, their objective was only a couple of miles away.
They walk for a while and later find Sergeant Dakota Dobbins, Corporal Crystal Zhao, Priavte's Andria Wynn, and Marie Malarkey, among the team, on their way they went across the railway tracks also before they hear hoovers. Two Dragonfly patrol wagons beginning to approach them, Kappus tells the girls to wait for his command but not long before Dobbins disobeys and opens up with her HK MP5A3 Submachine Gun, to get the first of revenge against her Dragonfly's for killing her brother, as the other girls open fire too, One of the paratroopers with an M16A4 Rifle throws a grenade, killing the dragonfly's and leaving the rest of the Dragonfly's save one, Dobbins still firing away, She killed the last girl, Kappus reprimands Dobbins for not waiting for his command only for Dobbins to shove her off, also Lipton and Dario takes a AK-47 from the dead Dragonfly's as they walked on and on forever, until in countryside they met up with the Honeybees of Kappus's group, Master Sergeant, Bessie, Corporal's Penny, Portia, Gwen, Private Millie, and the others,
As they into countryside Portia made fun of his name as they walked into small ponds, she called him "Ponds" as for the sake of it, Kappus grew very cross by Portia mocking him, They come to a farm ruined by bomb. they spot two dead Paratrooper Commando's hanging from the trees. McDowell is a little disturbed by this. Around them are dead Dragonfly's and cows caught in the crossfire, They take any supplies they need from the dead, while Malarkey searches for a Taurus Model 605 for herself back home saying has first dibs because of such. Suddenly they hear explosions. The beach invasions have begun, As they walk on, Marie explains to Hall that why Dobbins was so upset explaining her brother got killed and murdered, They finally reach Zmit the small town the objective.
On there way, they pass a group of Dragonfly POWs. Marie taunts a Dragonfly Sergeant, and as she leaves the girl answers "San Francisco" but one of the same streets, Marie surprised turns and says "You gotta be kiddin' me!" and she was from the same place she lived at, Marie still excited asks why she is in a Dragonfly uniform to which the girl responds that her family answered the call that all girls should return to fight for Cherry, Marie can't believe it and begins to chat to the Dragonfly,
In the town Dario and the girls, (except Marie, who was still chatting) regroup with their respective units, or most of them. Most of Nobel Company, like Liebgott, Petty, Ranney, are already there, or more of them that is, also he talks to Lt. Reich, who tells him that Vanderman and 90 percent of the company is missing, and that Dario is the acting CO also he met up with a girl named 1st Lieutenant Amari C. Speirs, from Dog Company, she also asks Kappus for a cigarette but he tells her "I don't smoke, I used to," later Dario is ordered by 1st Lieutenant Lavenson to meet Major Whittaker at the CP. There, Whittaker explains to Dario and the Battalion officers that four Dragonfly 105's are firing on the beaches and town Gebze, forcing the soldiers and the resistant's back to Istanbul, Kappus decided to lead an attack on the artillery guns. He explains to Nobel that the defenses are the four guns are a long trench system, with a couple of RPKS-74's around them, in the territory of the 'Death Valley', He orders Lipton and to come with him to bring TMT's for the guns, Pvt Liebgott, and Pvt Petty to man a Masschinengewehr 3 (MG3) Machine Gun, with Pvt's Plesha, and Hendrix, manning another gun, He then has Master Sergeant Bessie Higgenbottom, Sergeant Dobbins, Cpl's Penny Lefcowitz, Portia Gibbons, Gwen Wu, and Crystal Zhao, and 2nd Lieutenant Reich, to come along with the rest of the Honeybees, Private's Millie Millerson the M249SAW Machine Gunner to provide cover she and Satha Thomas, along with others, Pvt Julissa J. Lorraine, Colonel Gibbons's jeep driver volunteers for the job, Pvts, Ranney and Wynn come along as well, so does the rest of the Honeybees,
They then come to 'Death Valley' They all take positions. Finally, Liebgott and Petty open up on the Dragonfly's with Dario covering fire with his Heckler & Koch G41 Submachine Gun, Lipton and Ranney head over to a tree. Lipton climbs into the tree and snipes the Dragonfly's with her G41 Submachine Gun, with Ranney providing covering fire. Plesha and Hendrix are firing away as well. Zhao, Lefcowitz, Lorraine and Wynn are providing covering fire, Reich, Dobbins, and Malarkey come up to one of the RPKS-74's and each throw grenades, Kappus, Zhao and Wynn come over and join them into the trenches, As Wynn dives she takes a bullet to her butt, They are all firing at the Dragonfly's running off. Reich throws a grenade which hits the Dragonfly in the head and explodes killing her, Two more Dragonfly's got shot down, Lorraine tries hitting the last one but is unable to causing Dobbins, annoyed at her aim, shoots down with her HK MP5A3 Submachine Gun, she spits at Lorraine, Zhao tries tending to Wynn when a grenade lands near her, Dario shouts a warning as Zhao jumps on top of Wynn, Zhao is unscathed, as Dario orders Bessie, Dobbins, Malarkey and Lorraine, Millie and Satha, to secure the gun, he runs ahead and shoots two Dragonfly's working an RPKS-74, Reich tries to help Wynn. He asks where she is hit and is surprised to hear it is her reared, Wynn apologies to Dario after asserting she can still crawl, they heave her out of the trench to crawl to safety,
Dario, Reich, and Zhao head to capture the second gun, They kill the Dragonfly's except for one who did held its hands up in surrender, jabbering in English, Zhao screams at her, before punching her in the face with brass knuckles, knocking her out cold. They've secured the second gun,
As Liebgott, and Petty bring the machine gun over with Dobbins and Malarkey, Marie wonders if one of the dead Dragonfly's had a Taurus, She rushed over a dead Dragonfly, though she doesn't find a Taurus though, it was just a sight for one of the 105's, The Dragonfly's didn't fire because they think she was a medic, but begin to fire when she runs back to the trenches no longing assisting their soldier. Marie bravely makes it back, as Dobbins yells at her that it was a stupid idea they might as well have done it for her,
Dario and the group are joined by Captain Hester and Tyler, Dobbins however makes fun again but Tyler gets back at her, they blow up one gun with a TNT and a Dragonfly Grenade, They then head to the next gun, Dario along with, Higgenbottom, Lefcowitz, Millerson, Thomas, Hester, Reich, Dobbins, Tyler, Lorraine and Malarkey too, to the next gun, Tyler leaves the TNT, while she runs back for more, Unfortunately she stepped on a landmine and was killed,
Reich and Malarkey capture the third gun, while Kappus goes down the trench that Tyler went down, as he passes by, he finds the bloodied and still form of Tyler, Dario try's to get his attention but no avail, Seemingly feeling very saddened, Dario goes to join Reich and Malarkey,
Then Kappus also found documents of maps of Turkey and also managed to take it with him, he went back with Reich and Malarkey and rejoined the girls, then they where joined by Speirs and five girls from Dog Company and a Fox Company trooper, Two of her girls are killed, as she captures the fourth gun, much to Dario' and Reich's disbelief, They had finally captured all four guns. Kappus orders his team to fall back, Their objective is completed,
As Dario explains this to Whittaker, he spots his friend Nicholas Weaver riding on a tank from the beaches of Gebze Beach, Dario decides to ride on the tank with him,
Kappus also worries how the 509th Airborne is still scattered allover Turkey, He then joins a group of girls that participated in the assault, eating in a truck, There, he takes a long pull from a wine bottle, the first ever, He tells Dobbins that he is commanding officer now, Dobbins smiles, Dario having earned her respect,
Also his friend Nicholas told him about the map and allover Turkey, but Kappus told them of a friend who got killed in action, Tyler, Rose Tyler herself, a soldier whom he liked as a friend, Nicholas felt sorry for him and also outside Kappus that night watched as Bombers fly and bomb the town of Eskisehir, he wonders if that he survives he would find a quite place to live in peace,
But in the town of Bilecik, few days or more later Kappus was getting used to being a new commander of the 509th without Vanderman, although he thought that he would turn up, as a lot of Nobel Company soldier began to turn up of course, Kappus also gave orders to 1st Lieutenant Keeler about the planning invasion of taking Eskisehir, itself,
But as Kappus and Nicholas went over to figure out the situation with Brethren, he asked why they stopped, that they needed to find the survivors F Company,
But needless to say they did find F Company, and also he met up with Private Allie Blithe, he asked her if she and Hoobler found F Company and that she said they have, Nicholas also looked at the flower in the Dragonfly's pocket and meant it was supposed to be the mark of a true soldier,
Afterwards they took Elephants the newly designed steeled things built and drove them to Eskisehir itself,
Next day, as Nobel Company approaches the town of Eskisehir, Kappus checked it, and he told Brethren to lead 1st Platoon while he come up with the other platoons, After taking one last look, he checked it with Brethren and says "Go!" as Brethren gets up with a couple of girls, both Privates Rajner, Luz, and Gomez went into the town being the first group to do so but in the process when they charged into the town, a RPKS-74 machine gun opens up to Brethren's first group, killing everyone in Brethren's group except for him and Private Luz who manage to make it safely but are pinned down by the RPKS-74, however Colonel Whittaker and Lt. Nicholas Weaver yell at them to get moving, "Gabby" Reich and Kappus get the girls up out of the ditches, Blithe lags behind, but Dario had to push her up, a lot more girls where killed in the charge, one soldier Pvt Powers gets behind a chicken pen, but the two who where with Powers where killed, another group went to flank them, Lipton, and Dobbins and Gutierrez and a couple others against a gun, one of the girls was shot and killed with Lipton and Dobbins's group, costing the life of Schultz in the process, but the attack did proceed to as planed, Powers distracted the gunners, and although she was pinned, Brethren threw a grenade into the window killing the dragonfly soldier, and it allowed both Lipton, Dobbins, and the rest to carry on, Lipton, Gutierrez and Powers together went to take a warehouse, also Brethren ordered both Hoobler and Luz to takeout buildings with soldiers in it, until one contained civilians, Kappus also went over and told them why it was, but Hoobler and Luz said that they needed to save them, Brethren ordered both Tipper, and Liebgott to destroy another RPKS-74 with a SMAW Bazooka,
Suddenly in the attack, Mortar and Artillery fire came down onto the girls, Lipton yelled at the girls to get out of the streets, Kappus knew it would be the end of him, they sustain many casualties, as Kappus runs to where Master Sergeant Bessie is, she looked at him, until telling her to make a push soon, Kappus also ran into both his girlfriend Millerson and Gutowski that where running to rejoin Bessie's squad, Kappus managed to save both Millerson and Gutowski to cover behind a building that a mortar nearly landed at their position but exploded dust into the ally knocking them unconscious, however Lipton is wounded until a girl named Talbert rushed to save her, [[Also two girls named Walsh and Vaughn together went to clear out a building but Walsh is mortally wounded still alive and slowly walk to Vaughn a bloodied and mangled Walsh,
However they both awakened up, one of the Dragonfly Soldiers tried to check if both Kappus, Millie and Trinket where dead but Millie shoots with her M249SAW at the Dragonfly Corporal and the girls, and both Kappus, Millie and Trinket head around, being in an enemy territory and surrounded, Kappus along with Millie fought side by side together, Gutowski managed to shoot at the snipers in the building, he got Millie and Gutowski to take a building which they did, both Millie and Gutowski would hold off the building which they did, Kappus went across the battlefield to see what was wrong with his comrades, of course Privates Malarkey and Muck went firing at snipers in another area and notices a chaplain named Father Bishop bending over dead and wounded in the open, also they managed to complete the battle, but in the process Kappus told Colonel Whittaker and Lt. Weaver his friends, and the Battalion staff that it is safe, Kappus told it was, but a sniper fires at Kappus's leg, and a piece of ricochets into his leg, Kappus does grunt in pain as he leaned against the wall,
After the capture of Eskisehir, it was a harsh battle but to cost the lives off, Rajner, Gomez, Shoemaker, Espinosa, Tracey, Castleberry, Vargo, Gilton, Valenti, Lundberg, Maccario, Tabag, Nguyen, Jung, Stumpf, Schultz, Torrence, Deemi, Malinowski, Dinkins, Garrigan, Darby, Ochs, Thomhurst, Nabors, Hamlett, Rosetti, Robin, Thom, Beckley, Thompkins, Schroder, and Monday where the members of Nobel killed in Eskisehir, and also about six girls and one officer where injured, 10 wounded, Kappus on the other hand had to have his bullet taken out of his leg by "Doc" Sterns, told Kappus that he was lucky to have survived a ricochet, Kappus noticed Blithe sitting on the floor and tried to help him ask him what was the matter with her, she was only blanked out, Kappus told her to take it easy that will get her out of this, but she told Kappus that she maybe ok but doesn't know what was wrong with her eyes and all,
Later however they where given orders to head to enemy lines, on the way Brethren's platoon was ambushed with one casualty, Lackowski as well, and they where holding position in "Bloody Farmland", however that night Kappus went to the Company and joined up with Brethren to explain what was wrong with the situation, Brethren told him how the leg was but told it still hurts, but also that night trouble was that Talbert was accidentally stabbed by Pvt Smith because that she thought she looked like a Dragonfly, due to this Kappus knew Smith never meant to do it, but was panicking,
The next day, Kappus was arranging plans to the attack but suddenly ambushed by a Dragonfly force supported by Tanks. The girls are forced to stay in their trenches and fend off with their own Striker Shotguns and Mossberg 535 All Terrain Shotguns, M16A4's, M203's Grenade Launchers, Heckler & Koch G3's, G41's, HK MP5A3's, Stoner M63 Light Machine Gun's, M249SAW Machine Guns, and Maschinengewehr 3 (MG3)'s Machine Guns, and Mortars and Bazooka's, but however during the attack Blithe hides and panics as she grows more and more intense, Kappus however seeing this gets her to stop wimping and fire her M16A4, but also during the attack a Tank was coming straight towards them, both Sergeant's Smitherson and Mercier went up to destroy the tank, however they got a bazooka aimed at it but the machine gun from the Tank killed Smitherson and wounding Mercier, but as Kirshenbaum managed to save her to her foxhole where Werner was, but as more firepower growls more intense, and as well Gordon is injured at his machine gun, Brethren took McGrath with a SMAW Bazooka and both successfully took out a incoming tank, both Brethren and McGrath made it too safely, but as casualties begin to mount, Klinken is wounded in the shoulder while trying to fire an M203, Sergeant Boyle is wounded in the leg, Gordon is wounded in the shoulder and calf by a tank shrapnel, Mercier is wounded in the shoulder, and as well as Strohl in the leg as well, Kappus kept on going with the orders until the Tanks from the Second Armoured Division arrive destroying most of the Dragonfly Tanks, the Girls cheer and press the attack, although both Gordon and Moore despite being injured, gets up and fires away at the Dragonfly's, killing and wounding many of them, also Blithe shot the last Dragonfly and stumbled out of sight, Kappus and the rest of the team emerged victorious, so did his Honeybees, but that it cost the life of Sergeant Smitherson in the process,
Later on during the push of the Dragonfly units out of the west of Turkey they still controlled the Eastern Region of Turkey, Kappus and his platoon took Ankara, but also suffered a great half dozen casualties, Lacky Aaronson Bairstow Bairrington Kobe Kobelski Pabin Cervantes Rivas Lasher Kellar and Josey where both killed while taking Ankara the Capital of Turkey, but also having 20 wounded,
Hidden Secrets and OPERATION TOKAT
One night as Kappus was ordered to go into the town of Kirikkale, he along with Private Gutowski went along sneaked into the town, and went to capture a Dragonfly Colonel named Jillian Eltwin of Dragonfly Intelligence, they of course managed to escape the Dragonfly Patrols and in the Military Jeep escape to Ally lines, but as Mortar Shells kept on landing on the ground both them made it too safely to Allied Lines, as they arrived to the shed where the Nobel Team was, Kappus, and Gutowski bought Eltwin into the shed for interrogation, among the team where Master Sergeant Bessie Higgenbottom, Sergeant's Dobbins, Kirshenbaum, Corporal's Zhao, Penny Lefcowitz, Portia Gibbons, Gwen Wu, and Foster, Lance Corporal's Fisher, Jenkins, Privates, Millie Millerson, Satha Thomas, Tigerlily Roberts, Nisa Reddy, Molly O'Connell, Jean Parklands, Marie Malarkey, Taniata Rommatha, Andria Wynn (who got back from Hospital), Daisy "Cowgirl" Hicks, Dolly Willard, Lillie Jiminez, Ellen Muck, "Gege" Freeman, Kaatje Von Kuhn, "Doc" Sterns, Niki Fernandez, Nieve Nunez, Nicolette Hopkins, Phoebe "Fibi" Schofield, Polly Echevarria, and Olga Collins, and also including Privates, Snyder, Tucker, Hunt, Ruiz, Wills, Porter, Vasquez, Washington and Herrera, as well in the group, however that night, Bessie confronts Kappus to why they brought a Dragonfly Colonel, but told that she may have information, Bessie wanted to know what they would be doing in the East, but as well "Gege" Freeman, told them what she was on about in the book, the location being Tokat that as she could have meant, also Bessie and Satha went to check on their 1st Lieutenant Donald MacDonald, who was setting up a Yacht, as it was incase of a retreat and the only way to escape, this allowed Kappus to interrogate the prisoner, both Bessie and Satha went to the shed where both MacDonald, and also of her group Private Melendez, was waiting for them, also while they where doing it, Kappus talked with the captured Colonel, both however "Cowgirl" Hicks and her friend Willard where playing about with a Land Rover Laird Centaur Half Truck, and because "Cowgirl" was being from a Wild Western Thief, she was pretending to do so, but of course both Foster and "Gege" thought they where very silly indeed, but also the platoon was forced to abandon the building when enemy forces started coming towards them, Sergeant Dobbins ordered the platoon to fall back, but Kappus stayed behind to interrogate Eltwin, but she was drunken and she told Kappus that there is a cache of 14,000 gold bars stored in a bank vault a long way a way behind enemy lines in the town of Tokat, In the subsequent withdrawal as Dragonfly Tanks overrun their position, Bessie rushes back to save Kappus and Eltwin, however while doing so, Eltwin was shot and killed by the attacking Dragonfly's as he tried to carried her to safety,
The next day however Kappus spoke to First Sergeant Ben Perkins, who was very upset and was blaming himself for the attack last night, he thinks that Kappus will bust him down but Kappus suspired to this plans to make a plan, he gives Perkins a Gold Bar to cheer him up and follow his orders, and also that he will listen to him with a golden bribe to Perkins, Kappus spends also the next day spending information to Higgenbottom, and also meets up with 2nd Lieutenant Whitefield, an (African-American whom is paid to do so much things for Kappus) as Kappus offers him to 'bankroll'the heist for a piece of the action, ("I need lots of weapons, M16A4's, SMG's Machine Guns, and Bazooka's and two field radios and rations and equipment for a platoon of girls in the field for three days...") after he calculates that 14,000 bars equates to $16,000,000 worth of gold, Whitefield needs no further urging. also Kappus however tells that he may need Tank Support, with the help of Platoon Tank Commander from the 2nd Armored Division known as "Fireball" and three of this Combat Vehicle 90 tanks, also "Fireball" showed Kappus his men of the 2nd Armored Division that helped them in "Bloody Farmland" as well,
As Kappus recruits the rest of his platoon, Master Sergeant Higgenbottom however was very cross that she warned if he told them she would bust them out, Kappus told her if she transferred him she would have to transfer the rest of her platoon, but also Lieutenant Whitefield told Higgenbottom he had the whole thing soughed out but Bessie asked why he came here, Millie told she didn't want this to be mentioned but however Bessie that $16,000,000 million was waiting to be picked up, but Bessie told her that Kappus forgot to tell her it was behind enemy lines, Kappus who told them, Bessie argued with Kappus telling that it may cost the lives of her girls, but Kappus trying to convince Bessie this, but "Gege" Freeman told Bessie that he had it all covered, as also "Cowgirl" Hicks told Bessie that they are getting killed now for 50 bucks a month, as Fernandez said that too, as Willard told Bessie the same rick was one when they parachuted into Turkey, also as Melendez said that they want to fight again, "Gege" also told Bessie that Kappus has amour support, as Whitefield told Bessie that they was three tanks from the 2nd Armored, but as Bessie and Whitefield argued, she asked who was in command, Kappus replied it was "Fireball", but Bessie also knew "Fireball" was a freak, Kappus convincing Bessie about three tanks, Bessie complains he is a nut, also Hopkins tells that they where all nuts, Bessie then tells about rules and regulations, in a fighting of a war, meaning never stick an neck out to nobody, unless if they where heroes, meaning she never saw any heroes, Kappus tells that no one not even "Don" MacDonald his friend will do any good, all the girls will be going, Bessie asks who will lead them, Kappus tells that Bessie will but if she doesn't he will, Bessie looking at this, Freeman told Bessie about everything with as well Bessie understanding this, she asks Corporal Lefcowitz, and to Foster, and to Vasquez and to "Cowgirl" Hicks, Kappus tells they are all to it, Kappus also tells someone will think they are sent back to the front lines, Bessie soon understands and agrees to join with them and lead the mission, she agrees to show Kappus what they got and showed them a gold bar,
Later at night Kappus told Master Sergeant Higgenbottom in her jeep with "Gege" Freeman in the car, Higgenbottom tells Kappus about roadblocks and that it didn't matter and all which mattered was First Sergeant Ben Perkins being on time, Higgenbottom understanding about 1st Sergeant Perkins, their time and target, Kappus told always was a first time, and told the town they must pass is Delice as well where Dragonfly patrols are, Higgenbottom asks what happens if it wasn't, Kappus told it must be their too, Kappus told they was only a few minutes left and must start moving, plus to stick close to Kappus and wouldn't wait on anybody, Higgenbottom told that they will make it to Tokat, Kappus took "Cowgirl" Hicks with him to her Land Rover Laird Centaur Half Truck, Kappus also went to his in the lead, along in his truck was his servant Whitefield, Susanne Kirshenbaum, Penny Lefcowitz, Millie Millerson, Jean Tatum Parklands, Marie Malarkey, Ellen Muck, Kaatje Von Kuhn, Trinket Gutowski, Nicolette Hopkins, and Tucker as well, and Kappus drove his Land Rover Laird Centaur Half Truck always in the lead, as the cavalcade moved to Tokat to look for the gold,
As they approached the town of Delice, a lot of Mortar Firepower rained down on the town killing several or half or most Dragonfly's in the process mostly injuring or killing them caused by 1st Sergeant Perkins as well, Kappus in the lead drove hard right into the firepower, Whitefield told Kappus that Perkins was firing all over the place and was very dangerous, Kappus still drove right in, as they went in the Klaxon Alarm sounded in the town when the cavalcade went straight in, Kappus however had to drive safely into the town without suffering casualties but had to drive straight into the town when mortars where firing down on them, as they went past the town a Dragonfly officer sounded out and saw this she ordered a squad to eliminate them, as they came by a squad his girlfriend Millie fired at the Dragonfly's with her M249SAW Machine Gun at them, killing half of them in the process, it was like a nightmare that Gutowski recalled to Millie, then as Kappus drove almost crashed into a Car that the Dragonfly General was driving in blew up and killed both four in that car, Kappus stopped just as two inches from the car almost implied on his Half Truck, Millie had to buy time by shooting at the platoon of Dragonfly's, in order for Kappus to reverse, which the cavalcade moved out, although "Cowgirl's" Half Truck hit into a electric post, and managed to carry on, as buildings exploded they knew they where in the horrors of war as the platoon carried onto their objective, however Gutowski panicked and she got shock from the horror's of war, Millie also did and had to cuddle her friend Gutowski as well, Kappus saved the cavalcade out of the town and away as the whole town of Delice blew up in the process, possibly killing every Dragonflies their as possible, but Kappus's cavalcade made it too safely,
The next day after the expedition broke through a Dragonfly-held town during the mortar barrage, Kappus and his team where relaxing at a hillside, Kappus was also having a rest next to a tree, but also as Corporal Foster asked how many magazines for his Heckler and Koch G41, he replied he only needed 3 for his G41, Willard however was playing country music with her harmonica because she came from Western Country that was, Foster gave out magazine clips to each weapon that was of different sorts, then as Hopkins went over to tell that "Buzz" Higgenbottom wanted to see him over at the command land rover, as Kappus went over, as Bessie explained to Kappus about few little things about the map, and they have to cross a river to get to the town of Tokat, Kappus also told about a bridge six miles out. but Bessie "Buzz" Higgenbottom told Kappus that The Air Corps knocked out every bridge out of that river two months ago, Kappus tells that the air corps knock them out by day and the Dragonfly's rebuild both the bridges by night, meaning the platoon that he told "Buzz" needs to get there tomorrow at dawn and they've got to get themselves a bridge, but Bessie worried about Kappus's plan and that she thought it isn't possible to cross a Dragonfly's Bridge into Dragonfly territory, Bessie considers Kappus to be a crazy man, Bessie explains to Kappus about how much can a force of Dragonfly's be guarding one town for gold, which in the argument of Bessie to Kappus's surprise, He told about could be over 30 to 40 troops, Bessie wonders if Kappus is lying or telling the truth, and because that would be the normal support for the for the Dragonfly Tanks, Kappus told why that was because they have "Fireball" and his Combat 90 Vehicle Tanks, Kappus told Bessie that he didn't know about anything of the Dragonfly Tanks, Bessie still considers "Fireball" to be crazy still but complains to her lieutenant that they won't get out alive, Kappus explained that they will figure a way to escape the town, Kappus considers her to have a good hit for tactics, Bessie considers to keep it right here on her shoulders, $16 million above and beyond.
But things went wrong as a Jet Fighter from their side however mistaken them for a Dragonfly force, the rest of the soldiers manage to find cover, Kappus and Bessie did, Bessie managed to get them on the double and grab the equipment out of the trucks, Kappus managed to get everything to them just in time, when "Buzz" warned them it was coming close, Kappus saw this and he and the last girl to head over was "Cowgirl" Hicks, as the fighter fired missiles onto the vehicles it blew up both the trees, both the vehicles, and also everything that they needed was gone, Bessie told Kappus if they could still make it and that he was a wise man, and that "Fireball" must show up, also Whitefield asked Kappus what they must do and he told him that they need to move out before a Dragonfly Patrol comes along, as they began to move out Bessie orders Kappus on point because he is the wise man and the leader that got them into this,
Later after crossing country, they had to rest again and Willard also played another tune with her harmonica and also sang as well along with "Cowgirl" Hicks, all the girls laughed and thought Willard was very funny, after a rest Bessie gave the orders to her squad to move out, also Kappus was telling how Gutowski does well that she is a very great soldier, but asks why he got them to that front line instead of their lines but Kappus also tells her why, "Gege" Freeman complains she is hungry and thirsty,
But meanwhile while crossing into farm country, they came across a paddock, but neither did they know it was a minefield, they trundled onwards with only eighteen miles to go, unfortunately it costs the life of Private Hunt, after she stepped onto a landmine, Kappus really got them into a mess now, Millie called out to her friend Bessie, but also said she was ok but walked as they realized it into a minefield, "Cowgirl" Hicks calls to Bessie that Hunt brought it, Kappus tells Bessie there is a road at the edge of the field, Bessie tells they must mark the spot to the road if they where to survive, she also ordered to take out the bayonets to mark the spots and move towards Dario, she orders Zhao to move them out slowly, also she orders Private Melendez also to pick up Hunt's M249SAW but also she warns Private Washington to stand still, but Washington upset goes to see if Hunt is still alive, but as she does and Bessie is shouting at her, Washington cries over Hunt's death, but has to move on and she cannot move over the minefield because that it is covered with mines, she then grabs her bayonet to mark her spot, so do all the girls and Whitefield, Kappus as well began marking any spots to see if they will ever make it, but unfortunately what they didn't know was that as well at a Dragonfly Military Camp not so far from there they where warned and an officer had sent a squad to go track down what happened over their after receiving phone calls about soldiers in a minefield and one of them went off, Kappus did his very best to mark spots but he suddenly went over to the road at the edge of the farm, he told everybody it looks alright from there, and Bessie told to get moving and stay careful, also Whitefield found a mine with his bayonet, Bessie wonders what kind it was, Whitefield however doesn't know what kind it was, one of the girls, Sniper, Gutowski however was first to make it over and Kappus ordered her to get down there on a bend, then everybody soon came over to where Kappus was after they all went too safely across the field to the edge of the road, as both Lieutenant Whitefield, MSG "Buzz" Higgenbottom, and Corporal's Lefcowitz, Gibbons, Wu, Zhao and Foster, Lance Corporal's Fisher, Jenkins, Privates, Millerson, Thomas, Roberts, Reddy, O'Connell, Parklands, Malarkey, Rommatha, Wynn, "Cowgirl" Hicks, Willard, Jiminez, Muck, "Gege" Freeman, Kuhn, "Doc" Sterns, Fernandez, Nunez, Hopkins, "Fibi" Schofield, Echevarria, Collins, Snyder, Tucker, Ruiz, Wills, Porter, Vasquez, Melendez, Washington and Herrera, both together went across the field to the road, they where soon spotted by a force of Dragonfly's the officer however tried to shoot at them, but in the process, Millie shot one of the soldier as she was too shy and frightened which resulted in the death of a Dragonfly soldier in the Dragonfly Officer's car, then Kappus grabbed his girlfriend along with Bessie as well to make it very safely into the forest, they where going downhill,
On the run they went over some bumps, and the Dragonfly's started shooting at them, but they outran them as Kappus began to however, however Kappus and the team where surrounded by Dragonfly Soldiers and they couldn't escape all around them they where trying to flank them, both Millie and her friend Gutowski started shooting any of the perusing Dragonfly's, Kappus and Bessie where shooting together, however thought he contacted from the radio from "Gege" Freeman and he called for an airstrike, Bessie pleased he did, they fight their way out, as they escape from the place where they had cover, Kappus and his team ran a long way from the perusing Dragonfly Soldiers, and the Jet Fighters attacked their position killing both the Dragonfly Soldiers as if the attack call was "Broken Arrow" and that it was, still more perusing on their position and Kappus however had to get them to safety, Kappus and Schofield and Ruiz together managed to zig zag around to get the platoons separated in order to allow the Dragonfly's as a decoy to catch them, Kappus along with Schofield and Ruiz ran together on their own, delaying the force managing to attack the remaining force, Millie and Gutowski also had to delay them both, Bessie and Penny and Nisa, to the left way, and others in other groups, in the run of the pursuit, Kappus and the two girls with him came under attack by a bunker on a hill, so Kappus with Schofield and Ruiz managed to take out the bunker and Kappus gave Schofield and Ruiz the order to attack, they quickly grabbed a RPKS-74 Machine Gun Schofield and Ruiz attacked with it as well it was the only way of defense, Kappus attacked with his H&K G41 Submachine Gun and however successfully killed a perusing patrol, Schofield and Ruiz did take the RPKS-74 with them, unfortunately as multiple groups came in, and they regrouped with the squad, it costs the lives of both Corporal Foster, and Private Melendez, as well as they where surrounded and both killed, however to which Kappus saw both Foster and Melendez both get killed, Whitefield and Hopkins also managed to set the trap to kill the Dragonfly's with the C-5 detonator, which will explode and kill them all and they also dumped petrol gas into the line which will ignite the fumes killing all Dragonfly's, Kappus told them to do so, and he barely made it out alive with Schofield and Ruiz as well when they set it off they all made it alive, it killed the Dragonfly Officer and the patrol in the process, Kappus looking over at this, he realizes that they did a great job but for the lives of Hunt, Foster and Melendez was costly as well, Bessie feeling depressed for the losses of her three soldiers and that they where good and great girls, she orders them to move out, Bessie took a last look at Foster and Melendez, but Kappus himself went up to her and replied, "Their is nothing you could have done for them, they would have sacrificed their own lives for your team and well they did their duty I guess," but Bessie understood Lieutenant Dario and had to hurry on,
As they marched over countryside to reach a abandoned hut both Lieutenant's Dario, Whitefield, Master Sergeant Higgenbottom, Sergeant Dobbins, and the rest of they're platoon arrive, both the team spent the night over the looses over Foster, Melendez, and Hunt, however though Kappus spoke to Bessie and felt sorry for her loss of Corporal Foster whom was loyal to her, which apparently Bessie is thankful to Kappus Dario, Whitefield also made them all a cup a tea, some of the girls never actually drank tea but they had to, also while Millie kept looking at Kappus for no such resin, it became her habit that she wanted him to be with him, Kirshenbaum and Kuhn slept together to keep each other company, mainly Kirshenbaum has started to get her nightmares from remembering horrors of warfare, Kuhn helped her keep company, Kappus also went to talk to Kirshenbaum and he told her why she feels so-sad and in tears, she explains to Kappus that her nightmares are due to remembering her now deceased friend Sergeant Rosetti, and how she sees her death over and over again, and she thinks she is next to die, apparently Kappus only helped give her a hug to say she shouldn't worry and like a psychologist he helped Kirshenbaum with her memories, he asked who she loved so much, as she said that she loves Bunny Scout Werner so much, Kappus promised to tell Werner for her and how much she cares about him, "Gege" Freeman however felt worried and interior to know why war is about losses of friends, Bessie explains to "Gege" that that's how war is like but "Gege" assures to listen to Bessie and understand never to get in the wrong place be killed, so she follows her directions, meanwhile as everyone was asleep and five hours later Private Satha Thomas calls to Bessie and tells her that she can see a group of Combat 90 Tanks approaching their position, led by "Fireball" as it is leading also a Engineering Bridging unit of the 42nd Engineering unit, however everyone got excited they where going for the ride, Whitefield however complained to the Tank Commander and however Dario also joined in to tell them how they move through a column, however Bessie says its a circus, but "Fireball" tells her to take it easy, however an argument with "Cowgirl" Hicks and Staff Sergeant Alexia Cruz almost started, however Cruz says if they double cross then she will kill them, Whitefield is worried that they might learn it, but Dario ensures it that they won't, and they have $16 million and they won't let them beat them to it, the rest of the team move out aboard the tank,
Later near a river in the midst of the battle, the 509th team joined with 42nd Engineers and 2nd Armored battle the Dragonflies, while attempting to get the bridge in place, the losses where minimum and losses was tanks, all except two, however as he was calling for Higgenbottom, Whitefield only called but as Dario talked on the radio where he and "Gege" Freeman where at with "Fireball", on the position where some teams split up into groups, on Dario's side as he called to Higgenbottom, it was clear on Dario's side except for artillery, so however it was too far to cross the bridge was but had to get the teams moving by foot, as Higgenbottom follows this order to sent them into twos and threes, as "Fireball" asks what Higgenbottom said, Dario replies that is sending them across, however as Cruz radioed and tried to call to tell Dario he was making a mistake in crossing the river he did so, he made his orders he and the team will push forward, after that the teams board the two tanks, as "Cowgirl" Hicks ran across the bridge the last girl climbed up with help from Jiminez, and Willard, the two tanks went moving out, but unfortunately two girl soldiers of the 42nd engineering unit named Helms and Soto, however boarded the tank after they're was no way back or double backing across the otherside when the bridge collapsed, Dario still asked why they would join them but he told them they will be ok,
As the two tanks went moving out into the countryside of the state of Anadolu they went past many towns on route, such as Yozgat, and following villages, Locals saw this and apparently understood why are they doing it and realizes that they are being the first to go to northern Turkey the journey would be breath taking and however subsisted in a long one, refueling the tanks was one and taking food and water is one for the soldiers, but though why Helms and Soto where new on this journey they had to do so in following the mission had no other choice, though Dario advised them when they had a brief stop over at an abandoned gas station for some food of rations they picked up on the way even coffee and fizzy drinks where still in order, Dario welcomed them but Helms and Soto couldn't know if they can trust them on such a mission, so they went with it anyways, Kappus while at the Gas Station managed to collect money from the register and also the alarms never went off, because before enemy's have been doing so in taking food, already no one or security is they're, so they did so, Dario though took money but it's not really as American money was it was apparently Turkish money but at least he collected it for the earnings, Dario however managed to sit with Millie and Gutowski however he had news for Gutowski and told her to promise to take Jenkins to the top of the tower, however she follows the orders and decides to take Jenkins with her, although it's Jenkins's responsibility and she is in charge of the radio now, Jenkins however is Lance Corporal and above then was Gutowski so Jenkins however had this responsibility into the becoming of the next generation leadership, though she is a Lance Corporal this could help earn her respects, so the plan was settled, Jenkins and Gutowski went with the plan,
Later after about another 24 hours reaching Tokat, they where in the hills, but only did Lcpl Jenkins and Pvt Gutowski go together to the bell tower where however they're they would await Dario to give the orders, the rest where awaiting in the hills, it was very quite with Dragonflies about and however many as such where however chatting and that would be a problem if Jenkins and Gutowski are spotted, Jenkins however spoke on radio to Dario telling what she and Gutowski have seen in Tokat, however Jenkins explains they are three Dragonfly tanks in the town patrolling the city in the middle of the square, Dario explains if they see anything would they be able to see a bank, though Dario sees rooftops and bombed out buildings and such he and a big brown building which behind the bank with a jeep, two guards, and about three trucks, and an officer walking to the building, and it wouldn't be a problem for the team, but however they ask if they want to check it out but Dario orders them to stay in the tower, he tells "Fireball" what he thinks but tell him and reassures him its a wasted trio but nobody said anything about horns with tigers, but Higgenbottom however tells "Fireball" to keep those Dragonfly tanks busy and the teams take care with the rest, however "Fireball" is unwillingly partaking to this but Dario ensures to keep them interested for a while, but one of his crewmembers his bow machine gunner named, Alaric Britters and mechanic however complained that Dario, and Higgenbottom are crazy and he is worried he won't make it out alive, but "Fireball" knocks off Britters, however as "Fireball" tells Dario they have to hit a tank from behind and they could hear the Detroit motors long before they are able to attack into town, but he assures him to know the way into Tokat, however Whitefield ensures "Fireball" it's his hour of glory, Dario however will tell which way he has to go, before Dario is about to contact Jenkins and Gutowski and tells them in 20 minutes the bells start ringing so they will ring the bells as part of the plan to attack Tokat, to keep ringing for long as possible, Jenkins is not shore but he follows it, Gutowski will however in five minutes start shooting the guards on top of the bank, Dario then gets everyone to move out,
Dario also manages to get teams into groups, but however they're isn't a response from Dario when Jenkins and Gutowski tried to contact him, the rest of the teams went into the town, with all the girls and Lieutenant Whitefield leading them, Dario however ordered "Fireball" to hold his tank, he contacts Jenkins and she tells him where he was, Dario tells Jenkins he is outside of town, and Jenkins tells they have all the Dragonfly tanks down there, and they're getting ready for heavy duty action, Jenkins is afraid she will die but Dario orders them to stay and hold they're ground and follow orders, and that it's just routine, so they will stay put, Jenkins is afraid she would loose her ass and Gutowski but tells her that they won't, "Fireball" says if they will move out but Dario orders this and they do so, in groups of columns, Higgenbottom takes her most ever trusted soldiers Millerson, and Thomas with her, sneaking past the fence towards Tokat in the alley way, both Fisher and "Gege" Freeman together with Sergeant Dobbins and Nisa Reddy and Tigerlily Roberts together head to a farm house pub they're a nice man lets them hid inside such as a nice dog, however "Gege" also into two groups went sneaking behind the house, down the alley way, both Portia Gibbons and Gwen Wu together set up a Stoner M63 Medium Machine Gun to a blown building without being spotted, Phoebe "Fibi" Schofield and Ruiz set up they're Bren light machine gun as well as Ruiz with her RPKS-74 rifle with her, the two go together and place themselves near a football field which now is being used as a trench or battle ground, it was deserted when "Fibi" and Ruiz went into it, "Cowgirl" Hicks and Willard together go towards Dracula's Dungeon at Tokat Castle, but no internally to go into the castle but to a building where they set up they're spot, Hicks with her M203 grenade launcher, and Willard with her SMAW Launcher and SIG 550 Assault Rifle, a Swizz design, mostly because her father loves to buy things in Switzerland, then also Jiminez and Collins together went together near a river, hiding in the bushes they set up a or so set up did Collins her Light Support Weapon L86A1 though she loves British built SA80 Converted rifles from SAS, her L86A1 was her favorite, Jiminez together she set up took her liberty of her Spanish design her CETME AMELI Light Support Gun, and however Jiminez however though it remarkable to be fighting right alongside her friend Collins, Molly O'Connell, and Taniata Rommatha together went to set up near some trees at someone's house, which the owner kindly let them in, Nunez, and Echevarria together snuck into a church and however on the go took out and slit both Dragonflies, Echevarria was very of course happy in killing a Dragonfly with her knife but Nunez promised her never to murder anyone, Dario would been angry if Echevarria became murderer, Washington and Wills together to top of house roofs, also many other soldiers find they're posts, as Dario aboard the Tank arrives which breaches the stone wall, Dario holds the tank until he is able to signal "Fireball", he checks if the way is clear also "Fireball" goes to check from the wall protect Kappus if he is next and killed by Dragonflies, inside a building does Parklands and Wynn together set up a Stoner M63 Medium into a building, Zhao brings Fernandez, and Tucker with her, Lefcowitz takes Hopkins and Vasquez, together, as Dario is inspecting the building a bombed building he checks it sees if all is quiet, sneaks and quietly makes not a sound, but hears the rumblings from the Dragonfly tanks at the center of town, Washington and Wills together make they're way inside on top of house roofs, Washington goes to one, while Wills is to make it to another one, Dario heads back to the tank, then just as however Jenkins is about to sound the bells, and he starts to Wills makes it to her hideout spot, Dario however orders the tank to move out which he does, Kappus orders the tank to hold it, he gives the hand radio and also calls Gutowski whom however makes no response, however "Fireball" tells it is what he wanted but tells him so the Dragonflies cannot hear them he moves them out slow, however Washington in the room which he falls accidentally down a roof and a man and women in bed together see this, meanwhile for Wills does a great job she plants his TNT explosive which however she at last completes her job, Wills however escapes the house but as a result ontop of the roof, both Parklands and Wynn witnessed Wills on top of a building went to cover, while Bessie took her team, with Millie setting up inside a building near a window she mounted her M249SAW, meanwhile as Dario brought the tank into the building he did the sign to move forward but however as a result it did damage some of the wooden supports never making a sound when "Fireball" gave order to hold it, Dario spotted where they're now, "Fireball" replied they have them right where they are, however suddenly as a sign was called out by an officer, Gutowski made her first shot killing the first solider in Tokat, Dario makes his move, as Gutowki shoots and fires at the guards, Dario fires his Heckler and Koch G41 SMG at the Dragonfly soldiers, including the officer in command Brigadier General Alina Fentress in the process, one of the tank commanders Aislysen Hanneman however commanded her tank, Fisher and "Gege" in a house however a grenade launcher is fired to a house by Fisher, "Gege" kills a Dragonfly soldier, in the battle that follows O'Connell and Rommatha shoot with a Stoner M63 and take out numerous of Dragonflies coming out of a building, Dario takes out a Tank crewmember and Gutowski shoots killed a commander, meanwhile above the roof, they start shooting Dario as he retreats behind the wall to let Gutowski shoot and kill the two machine gunners, meanwhile Bessie protects Satha's life, and Millie also takes out more Dragonfly soldiers attempting to flee down the street, then as more came she shoots them, Higgenbottom and Satha go to Millerson, however as Wills is on top of the roof she attempts to take out a heap of soldiers on the roof, but in the process while attempting to take cover Wills is shot and killed in the process, meanwhile in the attack that follows, both "Fibi" Schofield and Ruiz start shooting at the football field where Dragonflies approach them shooting the spots where they're hiding, as the building explodes, however where both Nisa and Tigerlily are both at, and both are shooting a Stoner M63, they go for cover behind a shed, but as a result the explosion impacts but saves them the shed does from the explosion, Tucker however attempts to find more cover in the attack with her Bren rifle she fires but as it follows she is shot up and killed, as Zhao and Fernandez escape and retreat as they're position is overrun, Dario orders the tank to move out because of a Dragonfly tank coming for them, however both Nisa and Tigerlily recover, Higgenbottom moves Millerson and Thomas out, and after the bells stopped, when however Whitefield orders Jenkins to stop, also Higgenbottom however attempts to take a tank out which is led to a trap, Dario however orders them to move out which "Fireball" obeys and eventually crushing a car, however "Fireball" fires paint shell is incorrect but as the tank got hit behind it tries to attack from behind it's back but due to a narrow alleyway its turret is stuck, Dario however shoots one of the Tank Commanders until, "Fireball" shoots the tank, then as both Portia and Gwen with Porter as well whom is with them, Portia gets the team to move towards the building, joined by Whitefield, Jenkins, "Doc" Sterns, as well, they attempt to regroup, as part of the attack that followed, meanwhile for Marie Malarkey and Ellen Muck together used a church where a Father of the church and a choir group of boys and girls are saved, much to that Malarkey and Muck are religious they go on top of the church building and are joined in the attack by both Nunez and Echevarria on top they regroups meanwhile as Dario was at his own duty, both Portia, Gwen, and Porter arrive at a building they think is a bank, Porter covers them while Portia and Gwen try find a way into the bank, they're are unable to open the doors since it is locked, however Portia tells Porter to go check for a back door, however as Portia and Gwen talk they think about stealing the gold for no one but themselves rather disobeying orders instead to leave Dario and the others behind with no gold so Portia becomes number one filthy rich, as a result due to this Gwen is however interested but doesn't want Portia to go into greed, before they react Porter shouts a Dragonfly tank is coming to they're position, as they make a breakthrough to the building it explodes in the process and the blast instantly sends Portia flying into a wall and also blows her off the ground and however Portia is injured in the legs and badly bruised and has a wound to her face, and a damaged broken arm, however both Gwen and Porter help they're fallen comrade, and Gwen does what Is right for her friend, meanwhile while in the street the attack however becomes worsened, it fires at the building with Synder is in as she attempts to take out the tank with her SMAW Launcher however though Synder is killed, also where machine gun firepower is fired in a café where both Kirshenbaum, Kuhn are it kills Vasquez as a result where Lefcowitz and Hopkins are, on top of the building the tank fires at the position where Nunez and Echevarria are on the church building, Nunez is killed as she dies to save Echevarria as a result, Dario however regroups with what is left of the squad, only was Whitefield, Higgenbottom, Dobbins, Kirshenbaum, Zhao, Lefcowitz, Gibbons, Wu, Fisher, Jenkins, Millerson, Thomas, Roberts, Reddy, O'Connell, Parklands, Malarkey, Muck, Rommatha, Wynn, "Cowgirl" Hicks, Willard, Gutowski, Jiminez, "Gege" Freeman, Kuhn, "Doc" Sterns, Fernandez, Hopkins, "Fibi" Schofield, Echevarria, Collins, Ruiz, Porter, Washington, and Herrera are the only team mates left, with the 42nd Engineers both Helms and Soto, and the 2nd Armored with "Fireball" and his crew, of the dead both Nunez, Synder, Tucker, Wills, and Vasquez had been killed in the town, however they're was trouble with the tank as it broke down, with that the problems was the matter for Dario, now they're had to be an alternative solution,
With the alternative solution, Lieutenant Kappus Dario, Lieutenant Jevan Whitefield, Msgt Bessie Higgenbottom, and Tank Commander "Fireball" together made a cowboy Mexican standoff, they walked like cowboys really being Americans, Bessie put on her cowboy hat for show and Kappus with his officer hat on, they marched towards the tank commander Aislysen Hanneman of 115 was waiting as she aimed her tank towards them so which they wouldn't do anything unless a huge fight did begin, which Kappus, Bessie and "Fireball" felt worried of, when Hanneman revealed herself to Kappus, Hanneman introduced herself to Kappus and the others, however Bessie offers her some Taffy which she refuses, when Bessie tells Hanneman that they're just soldiers and don't know what that war is about, although she tells her that what will happen is the US army will be coming down the road soon into Tokat, although Hanneman tells her that her orders are to make sure the bank doesn't fall into US hands, although Kappus tells Hanneman reassures the bank won't fall into US Army, however when Hanneman tells Kappus that they're just the US Army when "Fireball" tells her that in the bank was $16,000,000 worth, when Bessie tells Hanneman about it, when Kappus tells Hanneman that the job is to blow the banks doors open, they blow the doors open allowing the surviving members of Dario and Higgenbottom's team, both Whitefield, Dobbins, Kirshenbaum, Zhao, Lefcowitz, Gibbons, Wu, Fisher, Jenkins, Millerson, Thomas, Roberts, Reddy, O'Connell, Parklands, Malarkey, Muck, Rommatha, Wynn, "Cowgirl" Hicks, Willard, Gutowski, Jiminez, "Gege" Freeman, Kuhn, "Doc" Sterns. Fernandez, Hopkins, "Fibi" Schofield, Echevarria, Collins, Ruiz, Porter, Washington, and Herrera, and 42nd Engineers Helms and Soto, and 2nd Armored survivors, "Fireball", Britters, and few of the crew,  and also Hanneman, manage to get into the bank through the blown doors and find some Gold, however Kappus wouldn't give his hopes up but he gave his chance, the hope was found in a crate, and at last it was Gold Bars, all of the tema where rich with $ 16.000.000 million worth,
At last Tokat was free from Dragonflies and everyone was cheering after the Honeybees saved Tokat, the liberation began and everything was back to normal, When they where loading lots of Crates of Gold Bars onto a , Pegaso 3050 Truck, the load was very heavy but it took time, however when Kappus asked "Cowgirl" Hicks what she would do with her money, she told him she would buy a Land Rover Half Truck like she just drove with her friend Willard and says she has since gotten used to them, however while they where loading up some of the members where staying behind, "FIreball" and his crew, Britters, the bow machine gunner for the tank, and the Fez tank driver Peynirci, where staying behind in the town having just braught tank 115 for preservation, Helms and Soto where staying in town to await for their unit as they bid fairwell to Master Sergeant Higgenbottom they tell that it was such an honor to serve with them and they're given two gold bars in order to tell Colonel Mary Gibbons and General Whittaker what Kappus and the team did outstanding work,  also Tank Commander Hannemann is saying goodbye to Lieutenant Kappus Dario wishing her luck, as she and two of her tank crew members, Plotkin, and Larochelle together are going to German lines, before Whittaker and Gibbons arrived, Dario and the rest moved out into the sunset,
Liberation of Turkey
Shortly after Kappus and the team took Tokat, the Honeybees later took the town of Erzurum, however though they're where no casualties but apart from two deaths, Private's Lovette, and Sthilaire, where both killed but at least no wounded,
Although Honeybee Forces did only do north the south in Diyarbakir was also taken by another US army and British army and Turkish forces, although it was a successful raid, and Honeybee Company's job was done, the Dragonflies pushed back to either Syria, Iraq, Iran, and Turkmenistan, as well as Lebanon, but those in Lebanon where also caught by Israeli forces and either executed or prisoner of wars, many who fled to Syria, Iraq, Iran, Turkmenistan also their had forces with some religious units on their side, although out of many Dragonflies in Turkey about 1500.0000 taken prisoner of war, or others being executed for horrible war crimes, However Field Marshall Kysha Reichenbach, the General in charge of Turkey that operated all Dragonfly forces in that country was also not lucky to get out and escape her staff where captured and taken prisoner of war,
Previously after the raid on Tokat, Dario was court marshalled for leading a assualt mission without authorisation from General Whittaker and Colonel Gibbons, Kappus wasn't put under arrest but he told them he did this so that in order for troops to get into Turkey, and they didn't want Mary Gibbons and the others to be upset they took goldbars with them from that bank, but as Mary Gibbons and General Whittaker understood they knew and also respected Dario's terms because 42nd Engineers Helms and Soto told them what he did and also the girls did was honourable, Kappus and his team wouldn't be put under arrest or jailed but they would however be given medals or promotions soon afterwards, Kappus was later congratulated and made a Captain, Bessie was given the Distinguished Service Cross, Penny Lefcowitz was also promoted to E-7 Sergeant First Class being Bessie's assistant Sergeant, Portia Gibbons and Gwen Wu where made E-6 Staff Sergeant's, Thomas was also made E-5 Sergeant, while Muck as a E-5, Malarkey as an E-5 too, because of her actions, they would be promoted and made the newer grade NCO's being the only ones best to do so,
Settled down on an Island
After Turkey the Honeybee Company settled down on the Greek Island of Cyprus, in the city of Nicosia, Kappus and the team would settle down until another Airborne Assult would take place later, when they settled down and Kappus remained off duty he also began to take his girlfriend Millie on a date to a resturant to try out Mediterranean foods, they did and they had something Greek foods to eat,
Kappus however spent time alongside his officer friends at the beach oneday, with the officers his friends, 1st Lieutenant Nicholas Weaver, William Daniel, Donald MacDonald, Gregg Reich, Joseph Brethren, Sean Lavenson, Raylan Schultz, Jevan Whitefield, Jimmy Alford, and 2nd Lieutenant's Angus McGregor, Lovik Gogenburg, Dexter, Mandark, Yuri Kolmeir, Boomhour Ratliff, Tobias Ipswich, Denald Robertson, Kano Wiremu, Isaac Miriam Henry McKovski, Hyram Gunn, Ivon Jones, Kevin Marshall, Edward Holmes, Colby Siddons, Gordon McClung, Werner Lohnningranhn, Yuvin Diel, Dimitri D. Dombrowsky, where also talking about their so called time they had, when of course 2nd Lieutenant Douglas Mordecai joined they offered him to with the officers, as it was Officer's day off on beach they talked about how great the time was they're having, although weather it was with girlfriends or other stuff, but of course one trouble happened with Jimmy Alford as he told them about his troubles to Kappus of how he deals with a girl who follows him, Phoebe "Fibi" Schofield, although Jimmy was worried of Phoebe because she is following him so much and she's grown attached to him, Kappus tries to make sure Jimmy is safe but as Phoebe starts to arrive Jimmy is chased into the sea by Phoebe and they begin to somehow play in the sea as she is piggyback riding him, Kappus and others did laugh but they talked and ignored Jimmy's plead for help, Dexter and Mandark tell each other that over the past since Kappus was gone both he and Mandark have sorted out the arguments and brought the end of their feud between them, now making them allies promising to aid one another on battle, Kappus was proud and with Lovik that he got them to now be friends side by side, Donald MacDonald tells tonight he is taking Bessie on a date to the hillside café a new place that opened and wishes to see, Joseph and Penny are going out on a date together that is to the mall, Reich however who now has a new girlfriend Catriona Honeycutt also as agreed to date "Gabby" Reich, Lovik also explains that Andria is teaching him how to behave and also learn good sides plus helping him learn more rather then be an idiot, Raylan also tells Kappus that he's got a crush on Kaatje Von Kuhn, and however the real reason Raylan loves Kaatje is he's been seeing her beautiful butt checks on the beach as a result it's making him want to be her friend, and although Raylan has told Kappus he's been up at Kaatje and started talking to her, Kappus is proud of his personal security officer that has maybe finding the right girl, he asks help if he would like to talk with Kaatje to him someday which Raylan agrees to but he tells that at the moment because he and Kaatje have now gotten to know each other as friends first they cannot date until future notice, Jevan Whitefield also tells Kappus that he has started dating a nice girl whom is African American named, Issy Hemphill whom also began to start hearting Jevan as well, also however the most important was the Douglas told Kappus and his officer friends that he has become good friends with Trinket Adowa Gutowski, because however he's been getting to know her much, some teased Douglas saying if she loved him but told Kappus she will know when time is ready but she does actually like Douglas, Kappus actually felt happy for his friend Douglas as he's been making great friends to him ever since day 1 on the boat and since he was a new officer that got in that day,
Later on during their stay on Cyprus, Raylan asked Kappus to seek help from him to win his heart for Kaatje Von Kuhn, which apparently 1st Lieutenant Raylan Schultz was getting love struck by Kaatje and began to develop a huge crush on that girl, Kappus helped Raylan out and however got him to see Kaatje at the beach later on where she was with her friend Susanne Kirshenbaum which however Kappus and Raylan went to speak with Kaatje, she was frilled to meet Raylan but as Raylan told her the truth that he's been watching her butt and he's been getting struck by love, Kaatje however forgiven Raylan and understands the case that he's got a love struck but she tells him that she and Raylan should start off as friends, which Raylan agrees too because she won't be ready until later, though Kaatje understands and forgives Raylan for looking at her buttchecks she is understandable which Kappus felt happier for his friend Raylan since now she's a forgivable girl,
Later after he helped Raylan out with Kaatje in order to tell her the truth, later on his stay he also helped Phoebe "Fibi" Schofield in which she told him she madly wants to go out on a date with 1st Lieutenant Jimmy Alford, Kappus asked why she loved Jimmy so much, but however she explained the reason Phoebe loves Jimmy is because he saved her life before previously in Turkey oneday during a battle she nearly fell down on a weak bridge that collapsed and Jimmy Alford had to save her, which as a result Phoebe became getting attached to Jimmy due to being love struck, Kappus then understood the story but he wasn't pleased about Jimmy being scared of her since she's only doing the right thing if necessary, after Kappus got her some nice date clothes in order for Phoebe to date Jimmy at her best wishes, Phoebe was made beautiful by Portia and Gwen and she looked cuter for Jimmy to date, although by the time Kappus went to the flat where Jimmy was staying for sometime and found he was hiding underneath his bed, Kappus asked why he was under the bed but how it was explained he told she follows him, but when Kappus had to tell Jimmy Alford the truth about what love means when you saved someone from falling off a bridge you owe them love, he explained to Jimmy that you got to deal with love no matter what and it's only a matter of time so he told Jimmy that he has to now deal with Phoebe madly being in love with Jimmy, when Phoebe saw him underneath his bed she just laughed but though Jimmy tried to escape and run away he refuses to come out underneath his bed, until Phoebe pulled his legs from underneath out, she unfortunately began kissing him and sighed her relief that she kissed Jimmy, Kappus also hopped the two go out on a date but Jimmy was afraid of Phoebe,
While on Cyprus, Chief Warrant Officer 3rd class. Thomas J. Zaplen, from the base the so called Navigator Officer went with Kappus Dario on a small recognisance mission around the Island together went for a ride in the jeep, Dario and Zaplen together on their own went scouting in the jeep making sure however Cyprus was safe, Dario and Zaplen together got on well while they started having conventions, however together Dario and Zaplen went later on scouting across farmlands making sure no one became AWOL or broken any military laws, Dario and Zaplen however on a scouting mission went into a out of bounds area, however one occasion a farmer however threatened two soldiers and he shot one of them while escaping, the other soldier from another unit, Private First Class Choate, and Private First Class Waugh, where caught stealing crops, both where from the 173rd Airborne Brigade. Waugh was shot and mortally wounded, although Choate made it alive he told Dario and Zaplen that a mad farmer was shooting at them, Dario however was very cross seeing Choate caught stealing crops from a farmer, but as Dario saw the farmer who came close towards them and out of the crops tall grass threating to kill the three, including Dario, Zaplen and Choate, he charged towards them although Zaplen shot his Sterling submachine gun or Patchett Mk 1 killed the mad farmer shot him seven times, although Zaplen killed the farmer in the process, Dario, Zaplen, and Choate together went into the farm house, eventually Dario took the house which turned out to be a double agent with the Dragonflies, a spy was recording their locations, and the mad farmer was apparently a spy as well working with the Dragonflies, after that both the three where court marshalled by General Whittaker and they had a talk that they found a double agent working with the Dragonflies, and they also said if Zaplen didn't fire his Sterling submachine gun he would had died, Whittaker thanks the three for their duty now that a double agent is dead and all is at piece,
While on Cyprus, Dario also took his girlfriend Millie on a date to the movies, while on that date they also enjoyed watching the film very much, after the movie Kappus and Millie went together to the park to enjoy some fun, while they did enjoy fun they where soon called back to base by Military Police after orders to Kappus Dario went through from General Whittaker calling all officers,
The next invasion was planned by General Whittaker to his officers, all the Officers including Dario attended, the new mission Operation Northstar, was the codename for the 509th Commandos of Noble Company, the mission to Turkmenistan was to capture the city of Ashgabat, they would drop into Kopet Dag, the mountains between Iran and Turkmenistan the only way into the boarder as many other boarders where being watched by so called Dragonflies and the Taliban whom aided the Dragonflies, a Dragonfly Field Marshal named Ashtyn Adolf Britsh, the leader of the Dragonflies was however taking over Turkmenistan and Operation Northstar would be the most ideal mission for such a raid to cross over the Kopet Dog, into Turkmenistan on the boarder between Iran an easier route as it is the only such route made available across the boarder, the platoon would however then reach on a goal at the capital Ashgabat and head for the Oguzkhan Presidential Palace, capture Field Marshall Britsh, and her staff take them captive for how long, and perhaps more soldiers can arrive in on time take Ashgabat and also have the city under allied control, The Russian 45th Detached Reconnaissance Brigade, and the 76th Guards Air Assault Division, the 98th Guards Airborne Division and the 106th Guards Tula Airborne Division, and the Greek 1st Raider/Paratrooper Brigade, the German 1st Airborne Brigade, the French 11th Parachute Brigade, the 27th Mountain Infantry Brigade, and the French Foreign Legion with the 2nd Foreign Parachute Regiment: Commando Parachute Group, and the French Air Force, the Egyptian 222nd Airborne Brigade, the Czech Army 43rd Airborne Battalion, and several other armies plan to invade, one such army Kappus was familiar in meeting where the Spanish Army, the Spanish Air Force, he wanted to see Spanish Air Force, Paratrooper Brigade, the mission would be simple in invading, the Noble Company would invade with the other 509th Infantry as well, they would meet with the French 27th Mountain Infantry Brigade led by General d'armee (Army General) Lemaire, which is part of the plan,
Later all the girls partook in the meeting room for Operation Northstar, Kappus was telling the girls that Operation Northstar was bigger then Operation Beelzebub in Turkey, and how many Airborne Divisions getting involved it would be bigger then ever before and they where dropping on the only place without being detected the border at Kopet Dog between Turkmenistan, Iran, and Afganistan, the only border line is Kopet Dog, the allied objective is to go into the capital Ashgabat and to the Oguzkhan Presidential Palace, capture Field Marshall Britsh, and her staff then take them captive until the city is under allied control, the 509th is to be allied with the French 27th Mountain Infantry Brigade led by General Lemaire, and then so that more airborne divisions can move up into Ashgabat, and the job is to liberate Ashgabat wait their and for the tanks to arrive, the plan of attack is the good news is that it could help Russia get into Afghanistan or Iran very quickly as well maybe could end the war by god knows what or when, however when Nic was telling them to take kids by surprise and also say goodbye to Cyprus and that they won't call this mission off it will be a mission that may lead to disaster he thinks could happen, although Kappus felt secretly nervous inside so did his officers, his NCO's and Enlisted felt dreadfully nervous as well as the new replacements did,
Of course Kappus's 1st Platoon had new replacements in the unit, of the new replacements whom where brought in to replace others previously been killed in the first place the new members included, Private's Barbie J. Heffron, Josephine W. "Hevy" Miller. Leni E, "Droidbait" Lamoureux, Libby C "Echo" Garcia, Vivian J. "Cutup" Menze, Liah A. "Fives" Hashley, Cynthia E. "Nub" Longo, Crystal C. Murphy, Cyndi J. Fuller, and others where new members whom had to get along with the original girls, since then half the girls started to like the new ones but others had they're own ways didn't seem to respect them at first since they loves teasing them,
As once again for a second time Kappus and the girls began to gear up, Kappus's group was already gearing up weapons and rations and explosives and stuff, but while they where doing so suddenly they saw two vehicle's approaching, a Jeep and an Army Truck carrying a unicycle, however though this unicycle was the obsession to Lance Corporal Marie Malarkey her issue when she and a friend went to take it but didn't belong to them, also in the Jeep was a AWOL solider from hospital, Private Strohl who wanted to re-join the company, when the Jeep which came as a shock when it arrived was their former Noble Company C.O Officer which turned out to be former Captain Anton St. Germain, now a Battalion S-4, Kappus however thought Anton was going to kill him and get his revenge for taking his company and ruining his life but however after he talked with Marie Malarkey for her record she did as a crime, Kappus with his 1st Lieutenant's Jevan Whitefield and Raylan Schultz went over to speak to Anton, when Anton saw Kappus he wasn't cross but he said, "Hello Captain Dario, how's your company going?" and however though when Kappus explained the story to him he listened, but Kappus asked Anton, "Are you going to replace us again I feel this has happened all over again and again?" but Anton told and reassured him that Captain Germain hasn't come to replace Noble Company and hasn't come to take over once again but he explains that he loves his new job as Battalion S-4 and it's working out just fine for him, Kappus is pleased that he won't replace the company but Germain tells he was transferred to 20th Special Forces Group and in that unit he now leads a special force now which was all Anton ever wanted to command and be the Battalion S-4, however though that Kappus wished Anton the best of luck for his new job, Anton made a promise to make sure Kappus doesn't fail him and disobey orders in future and hopes he will look after the girls and make sure they're all like a family, Anton said goodbye to Kappus but he was a little pleased by how he wanted to instead be a 20th Special Forces Group then the 509th but it seemed odd to Kappus that he didn't think the other way round but he used to love Noble Company and now the 20th Special Forces Group, Kappus was pleased that he won't replace Kappus nor anyone else and it was a relief, after meeting Anton though for a small period of time, Kappus and his company went on board the C130J Super Hercules to fly all the way to Turkmenistan to the Kopet Dog and the border between Iran and Turkmenistan,
Operation Northstar
On board he didn't feel scared like on the previous mission but that was different to him compared to Turkey, the 508th Parachute Infantry Regiment and the 511th, and 513th would be joining soon as well most likely with Noble but Noble's goal was to join up with the French 27th Mountain Infantry Brigade, on board the plane however he was also at least lucky to be with his company and knew the only resin he was they're with them, the plane pasted over Iran but it reached eventually towards the boarder of Turkmenistan to Iran and also on the ridge at Kopet Dog, Kappus was first to jump from the plane once again and followed by others,
Kappus however flew down to the ground and it was very closer at the boarder into Turkmenistan, many of the girls however managed to gather up equipment's after they landed, but at least they where going into enemy territory though, Kappus's team with Master Sergeant Higgenbottom the platoon sergeant, and Sergeant First Class Lefcowitz, and others began to however team up, they all ran into the boarder, although all of the Honeybee Noble Company went into Turkmenistan from Iran up Kopet Dog, Captain Dario was leading the company with his team including his 1st Lieutenant's Whitefield and Schultz with him, the team went over the ridge but eventually they had to in the mountains wait for the French 27th Mountain Infantry Brigade which half the girls grew tired of waiting, however Private First Class Lillie Jiminez complained about it and grew tried of waiting, she replied a bad word, "How can we have to wait for the French to arrive! this is so boring I want to go back to Cyprus!" but Kappus spoke to her kindly, "Be patient Jiminez don't be impatient wait until the French 27th Mountain Infantry Brigade arrives and remember try not to complain," but as Jiminez apologizes to Captain Dario, Kappus understood her and respected her apology and took his meaning for it, eventually when the French 27th Mountain Infantry Brigade arrived they parachuted down allowing the team to get clear so they wouldn't be in the way, it allowed General Lemaire, and his second-in-command Major Rousseau, Captain Masson, First Lieutenant Sanchez, Second Lieutenant Meunier, the youngest officer on the team, and others land down to the zone they're to drop in, as however the Honeybee Paratrooper revealed themselves to the French army looked all around them that they're girls most of them and officers where mostly men, however as such Kappus introduced himself to General Lemaire, and promised their goal to attack Ashgabat, with the platoons led with Rousseau, Masson, Sanchez, and Maunier was part of the plan,
Crossing the Ahal regin over Kopet Dag and towards Geok Tepe or Gokdepe the former fortress of the Turkmens in Turkmenistan when Captain Dario's team and others pressed onto Geok Tepe, they where at a place that a great battle long ago took place by December 1850 - January 1851, the Siege of Geok Tepe and while Dario arrived at the temple he also saw how the battle turned into a Russian Victory at the time of place, but when however 2nd Lieutenant Dimitri Dombrowsky saw the museum and saw the great battle he did mention his ancestor used to fight in the Siege of Geok Tepe and was in the Russian Empire, and his great-great ancestor Grandfather was a Grenadier Private in the Imperial Russian Army as well, he too was involved in the great massacre which thee commander Mikhail Skobelev ordered the massacre even Grenadire Dombrowsky was forced to murder around 8,000 Turkmen Soldiers and Civillans, including women and children, but after the massacre was created it forced Skobelev to be removed of his command because of the massacre, and in 1881 Ashgabat was founded 28 miles southeast of Geok Tepe, however though when Dombrowsky the great-great-great-great-great-great-great grandson to his ancestor asked his Captain that years ago he wouldn't have meant to do it but where forced to, Dario forgive Dombrowsky because he understands that the past was the past two century's ago,
But while in Geok Tepe however eveyone in the small town the Resistance and the civillians welcomed the Noble Company and the armies, it was a proud day for them and everyone was welcomed, however though Kappus Dario, Nic Weaver, Will Daniel, and his officers however had to go through a huge crowd of people one Lieutenant, Clifton B. Brewer began to call out to his girls to keep on moving from his platoon or that was Sergeant Lockart's platoon, and many girls began kissing Lieutenants and officers even though they didn't want to do so, Kappus made his look out with binoculars making sure he could see if the Tanks where set to arrive soon, but although somehow one girl kissed Kappus and one kissed Nic, but although this was only because they where doing it saying they're the heroes, although Brethren and Reich arrive though so do Whitefield and Schultz also arrived, Kappus tells Nic that they will need to get to the bridges very soon and to attack the Capital, but when many witnessed some Turkmen Boys went sleeping with Dragonflies and girls did it turned out that after Brethren witnessed it and asked what they did, the Resistance Leader Karatay however said they slept with Dragonfly's and some where lesbian which them civilian girls did, after Nic introduced Karatay to Dario of the Turkmen Resistance, he explains how can they get rid of the Dragonflies from their Capital in Ashgabat, however when he said that they where reliable reports and anything they was able to help the Noble Company and the French 27th Mountain Infantry Brigade, the crowd was cheering and that tanks went driving through town, but after Karatay agreed to show Dario the quickest way to the bridges and stuff, Dario agreed to let Karastay help and also Dario gave orders to his officers to get the unit to stay for the night, it was a very big day for them at least it was,
After telling Karastay how the Russians would get into the town, he explains if the Russian's the 45th Detached Reconnaissance Brigade, the 76th Guards Air Assault Division, the 98th Guards Airborne Division and the 106th Guards Tula Airborne Division arrived, Karatay said they did arrive and elements of the 45th Detached Reconnaissance Brigade just landed, led by Lieutenant General Vagin arrived, they where the only ones available during that time, but only Officers where in this Commando unit, the team included Major Aksakov, Captain Yezhov, Captain Yolkin, Captain Babanin, Senior Lieutenant's Antipin, Belikov, Giebov, Dorokhov, Lieutenant's Zharkov, Zabolotny, Zolotov, Zhillin, Kedrov, and Junior Lieutenant Ponomaryov, are members of the 45th to arrive and Officers Only detached, they're special assignment is to also help Noble attack Ashgabat, while for the night they wondered how they could attack Ashgabat by tomorrow but how it was to be done is a mystery but although to one of his officers which Whitefield said was it a trap the Dragonflies where waiting for, while Kappus made plans for attack he had a decision that it would be able to ride on tanks for the attack into Ashgabat, Dario would also go but not attack as ordered because Colonel Mary Gibbons has ordered Kappus to not go into battle he was assigned only this once as Field Officer so he can help cover in the escape with the help of both the Turkmen Resistance, his team, the French 27th Mountain Infantry Brigade, Noble Company, and the 45th Detached Reconnaissance Brigade, and other units should the town fall into enemy hands, Kappus along with Nic, his Lieutenant's Whitefield and Schultz are to be used to help in the protection of the unit in the teams retreat encase Ashgabat is all lost,
Next day the unit became prepared for action, Karastay wished Captain Dario "Good luck" and gave maps how to attack into Ashgabat into the town, with the entire platoons of the 509th of Noble Company, his French 27th Mountain Infantry Brigade, and the Russian 45th Detached Reconnaissance Brigade, the 76th Guards Air Assault Division, the 98th Guards Airborne Division and the 106th Guards Tula Airborne Division, and other units began to head out to Ashgabat, Kappus with the 509th which Noble, Tango, Foxtrot Company's began to assist with the 27th Mountain Infantry Brigade, and the 45th Detached Reconnaissance Brigade, the mission was simple they're goal is to attack and storm the Oguzkhan Presidential Palace, with platoons from 1st Lieutenant Clifton B. Brewer, 1st Lieutenant Sean Lavenson, 1st Lieutenant Gregg D. "Gabby" Reich, 1st Lieutenant Aaron F. Keeler. 1st Lieutenant William Mark Mendoza Daniell, 1st Lieutenant Joseph A.J Pero Brethren, managed to lead their platoons in columns, after leaving Geok Tepe, Noble was with a Tank Armoured Divison and on the way to Ashgabat however most rode the tanks others went marching on the road, or the fields, Brewer was also with this platoon while on the road, they where coming closer towards Ashgabat, and they managed to get into the town but while getting closer and closer however all seemed not noisy and all was quiet, it was also deserted like a Ghost Town, nothing was about but only half a dozen people left, half of people's dead body's where around the town, macciscared, all gone most for them and also abandoned cars, all that was left was only 12 civilians that Noble where unaware of, they got closer and closer seeing abandoned buildings, the groups split into four, Dario took his team with Master Sergeant Bessie Higgenbottom, and also 1st Lieutenant Whitefield, and 1st Lieutenant Schultz, and as well as several other officers and NCO and enlisted girls,
In the town Dario took with him 1st Lieutenant Schultz, Chief Warrant Officer 3rd Class Zaplen, and also Warrant Officer Jordan E. Knowles, and several girls, Sergeant First Class Lefcowitz, Staff Sergeant Dorothy Edwards, Sergeant Kirshenbaum, Sergeant Martha Reed, Corporal Stephanie "Annie" Bonner, Corporal Phyllis McFadden, Lance Corporal's Rita Jenkins, Lance Corporal Florence Dykes, Grace Goetz, Lance Corporal Shelia Masterson, Specialist 1st Class Thelma Duckworth, Private First Class's Satha Thomas, Molly O'Connell, Daisy "Cowgirl" Hicks, Dolly Willard, Private's Dawn Lewandowski, Edna Stack where chosen as to decoy into the Palace, while Bessie's group with 1st Lieutenant Whitefield, and Junior 2nd Lieutenant Douglas Mordecai would go into the building, three of Bessie's honeybees where chosen which where, Penny Lefcowitz, and Private First Classes, Satha Thomas and Molly O'Connell, however Dawn Lewandowski and her friend Edna Stack had been chosen since the previous mission in Operation Beezlebub both Lewandowski and Stack both got rewarded a silver star for bravery, and later assigned under Master Sergeant Bessie Higgenbottom's squad as they're the best handpicked, both of whom are Riflewomen and the best chosen, they got towards the Oguzkhan Palace, eventually however they managed to harpoon a rope to the top where a secret agent whom was working at the Oguzkhan Presidential Palace and ally to the US Agency helped them into the building, one by one they also managed to get in,
Inside the building Dario took with him Schultz and disguised themselves as businessmen, since Kappus was Half-Spannish and Schultz was Half-German they where to act as businessmen, the plan seemed to work, Jordan E. Knowles however was dressed as a Janitor, Zaplen as a Builder and Heritage Consult, Lefcowtiz and several of her girls, including Edwards, "Annie" Booner, McFadden, Jenkins, Duckworth, Thomas, O'Connell, went to upper levels, while Sergeant's Kirshenbaum, and Reed placed traps into the building to take out the Dragonfly guards inside, with Dykes, Goetz, Masterson, "Cowgirl" Hicks, Willard, also helped, Lewandowski and Stack also where outside as signallers to indicate to Bessie's squad, eventually the plan was working as according to plan but suddenly things went wrong, apparently as a gun shootout was heard on the upper levels upstairs however one of the girls which apparently Goetz was shot dead by AK-47 in the massiave shootout, although she used her AK 5 in the process and died to protect Agent Lillian Denison in the process she made a perfect standoff, Dario and Schultz however aimed their guns, Dario with his H&K G41, while Schultz with his Hecker and Koch UMP fired in the room with the Dragonfly staff, however many of the staff died but only fewer where left, however Field Marshal Britsh, Colonel Kathleen Lantz, and Major Marie Spurlock, both escaped and survived, however many staff in the room where killed, but Lieutenant Colonel Milam, Captain's Crooner, Ahmad, Riggins, Dawkins, where captured, with a Dragonfly Guards named Ogle and Vick where among the captured and taken Prisoner,
Eventually they managed to take them out of the building although Dario wanted to still chase Britsh but it was no use as she had escaped, of her staff only six had been killed, Dario and the lingered up with the POW's, taking Milam, Crooner, Ahmad, Riggins, Dawkins, Ogle and Vick with them, on their escape however Dario made a decoy and let Dawkins be escorted with Sergeant Reed, eventually Reed was able to take Dragonfly Intelligence Officer Captain Dawkins to a lift, however though she did so but all too well it turned into a disaster however when the lift reached the ground they're where an army of Dragonfly soldiers at the bottem, Sergeant Reed unfortunately was gunned down by the reinforcements and by Britsh's army, but not only Reed died but also Dawkins as well did, when Dario heard the shots he took the team with him to the stairs eventually he threw grenades at the bottom stairs and threw them like baseball, however half the Dragonfly's where killed in the grenade explosion, eventually the battle began they successfully however won the round but secretly however Ahmad took a dagger from a dead Dragonfly soldier she took (since Ahmad was also believing in a nasty god and was poisoned) eventally however Dario regrouped with Bessie but however though at the cost of one casualty Private Edna Stack, as it appears Stack scarficed herself so that Private Lawandowski can regroup with Bessie and tell them what happened in the signal, the battle although was untilmately closer to being successful but however worse was to follow, Brewer's squad with Sergeant Lockart and her girls was attacked, many others got attacked in the battle, eventually they managed to bring the POW's with them along,
Through the battle however all was well but they managed to engage Dragonfly soldiers but although several of the grils died, Private First Classes Gunderson, and Loyd where both killed, POW Dragonfly guard Ogle was also killed in the attack, but until suddenly when they're where about to cross the bridge when Ahmad stabbed McFadden in the neck and took her rifle, eventually picked up a AK-47 to Crooner, however Ahmad told them to stay away as they held Staff Sergeant Portia Gibbons hostage, they said if they leave them alone they won't kill Portia, daughter to Mary Gibbons, however though eventually they listened but however they stole a boat however though eventually they operated the motor but Bessie however ran and caught up with the boat jumped off the bridge and managed to brawl them in the boat, in the fighting however Ahmad and Crooner tried to kill Bessie but suddenly they approached exploding spraying water the boat eventually was discharge with water and the boat had some water in the bottom, as Ahmad tried firing the stolen rifle from the now dead McFadden however Bessie then injured Croomer in the process, Ahmad however was was about to knife Bessie in the heart but however she was about to be knifed until Bessie bit her hand releasing the knife from Ahmad's hand, then Ahmad however was kicked in the stomach and however Bessie pulled a pin out from a stolen grenade from Ahmad and Bessie kicked her into the river with the spraying water, however though Ahmad screamed "No" In the process but she was thrown into the sprayer and the grenade exploded in impact destroying the water system and also herself however though Bessie managed eventually get closer towards a high ground, eventually however though Kappus was able to save her and he lit the flames on the fuel and eventually thrown it onto the boat, however in the process it however burned Crooner alive and as a result she was buned to crisp, Kappus and Bessie left Crooner on fire, (unknown to them that she was recovered and seemingly brought to medical station that others thought she died but survived more likely) Kappus and Bessie, Millie and Trinket regrouped with the rest,
Eventually they managed to get towards the town regroup with Brewer's squad but however it was a problem when it happened, the Dragonfly tanks just arrived in and half the allied support was destroyed and apparently for them the team of Dario's squad regrouped with Brewer's squad, but however by the time they already got to the town unfortunately it was too late and Renee Lockhart had already gone missing in action after a shrapnel hit her back shoulder, the tank that was following towards a electric wire was unfortunalty destoryed in the process, also Private First Class Klinken was mortally wounded as well, after apparently Corporal Jessie Hoobler, and Private First Class Shirley K. Whipple, and Private Julie W. Robb went to take cover in a trench across a hedge, they where already pulling back, Specialist 1st Class Cooney, and Private First Class Linn where both killed while in the retreat when Dune Bug Staff Sergeant Amy Walker ordered her squad to retreat, although one girl in her unit whom remained behind was Private First Class Tubbs, but eventually Tubbs was rescued later on, also when Corporal Hoobler, Private First Class Whipple, Private Robb, returned to 1st Lieutenant Griffin E. Foley and Medic Speciallist 1st Class "Doc" Sterns however where told about Private First Class Klinken, which Sterns agreed to go save with Hoobler as protection as they're where under enemy fire, however the RPKS-74 became a problem but not for Sergeant Heather E. Grant, she used her M136 AT-4 or AT4 as it was called onto the window where the Machine Gun was firing, it was so that it wouldn't be a problem since Dario's platoon was coming in to join Staff Sergeant Pressley's squad to give them a hand, two more where killed, Sergeant Killian, and Private Arnold where both killed however when they tried to duck from a tank shell that blew the building which cost them two lives, although Corporal Curley was lucky to survive as she was not too close to the blast but knocked her down she did survive but her platoon Sergeant Killian, and her friend Private Arnold where both killed in the process, although "Gabby" ordered a fall back she ordered Corporal Sara H. Alley Jr. to pull back, however after they found Klinken, Hoobler told Foley about the Dragonfly's almost outflanking them, however Foley obliged to Hoobler since she was correct and he understood her, a mortar came raining down which both Foley, Hoobler and Specialist 2nd Class Patsy T. Griswold (one of several radio technician's of Noble Company) escaped while Robb stayed to cover the three to escape, however though when the Mortar blew the wall up which was made of concrete, Robb was in shock and frightened for a couple of moments meanwhile trouble emerged with the 27th as Dario's platoon reached their checkpoint he asked General Lemaire about why the platoon wasn't going in well enough, but the reason was told as Lemaire told Dario that he's sorry but his mission had failed, knowing him all along he told Dario that the capture of Ashgabat was a disaster not only that but to the entire French 27th Mountain Infantry Brigade and almost all, Lemaire was ordered by Dario to gather his surviving men for a full retreat from Ashgabat, with Major Rousseau, Captain Masson, First Lieutenant Sanchez, and Second Lieutenant Meunier, even so in the retreat from the town however everyone started running in separate ways, apparently another Soldier was Missing in Action again, Private First Class Stella D. Farrow was among one of these, apparently she was shot in the leg while escaping with two of her friends, which only both Master Specialist Nellie H. McCreary, and Private First Class Sonya S. Sowers where told to escape, eventually McCreary made no choice when she made Sowers had to leave Farrow for the Dragonflies, as Farrow was only wounded in the leg unable to escape, secretly Farrow managed to limp until being long forgotten alone, four more Honeybee paratroopers, Sergeant First Class Lynn Searcy, Corporal Beth P. Kuykendall, Private First Class's Kunz and Faber where running away from enemy fire however they're where the only girls from the unit, but however though in the retreat Kunz the riflewomen was shot dead by a sniper into the chest which pierced her right through instantly killing her, Staff Sergeant Pressley was also ordering a pull back, she got both Private Kerry L. Pfeifer and Sergeant Heather E. Grant out, as however Specialist Luna Luz the Radiowomen was also telling everyone they're pulling out on radio but Pressley had to order her to get out of their or she would be killed in the process, eventually Pressley saved Luna Luz's life just in time, however another girl was killed in the process, Private First Class Gaskin also was blown up behind a building between both Private First Class's Crooks and Finky, which Crooks and Finky managed to somewhat survive, near another building however Lance Corporal Weems was killed but her friend Private Ballew was hit by a piece of sharp wood of splinter from the building, the wood pierced her leg, however in the retreat however Private Josephine W. "Hevy" Miller and Vivian J. "Cutup" Menze, together where in the foxhole, this would prove to be Miller and Menze's last stands together as soldiers, as "Cutup" the joker was also stating she was going to live, a mortar round hit the foxhole only to blow both Miller and Menze to smithereens. but this gradually saddened both Private's Libby C. "Echo" Garcia, and Liah A. "Fives" Hashley, which however Dario came over with 1st Lieutenant Jimmy Alford, apparently Alford and several of Kappus's girls went over towards both Garcia and Hashley, looking over their now dead friend, what remains of "Hevy" Miller was that of a already bleeding head nothing remains of "Cutup" since she was blown to smithereens apart from some limbs and body parts from "Cutup" Menze, apparently Garcia and Hashley looked at Dario in sadness and he said, "Come on you two lets go, it's what Miller and Menze wanted you two to do?" however though Garcia and Hashley where forced to move on afterwards, suddenly in the escape 1st Lieutenant "Gabby" Reich was shot in the buttocks which both Lance Corporal Marie Malarkey, and Lance Corporal Ellen Muck went over to Reich, eventually "Doc" Sterns arrived to assist with a wounded Reich, although Reich said he would prefer to be left for the Dragonfly's however Malarkey and Muck had no other choice they cannot leave their Officer behind, eventually when Sergeant Dobbins arrived to Marie and Muck they asked what they're where doing but told they needed to help them, they had to barrow a stretcher from a nearby hospital on the way which the kind doctor agreed to and he agreed to assist in the helping of a wounded 1st Lieutenant "Gabby" Reich, which eventually both Dobbins, Malarkey, and Muck made a brave act in doing, however in the full retreat however 1st Sergeant Caroline C. Lipton was amazed for "Gabby" Riech having a bullet full of holes, however as Dario kept ordering everyone to retreat the last of the soldiers began to move out, however Nic Weaver asked him how bad it was but Dario told him "he didn't know" but suddenly a bullet hits Weavers helmet although after it does hit his helmet though, Lipton told Dario they had lost 19 girls in their company, 11 injured, and 10 missing in action, including Renee Lockhart, after that happened Dario and the platoon had to leave Ashgabat behind as it had fallen into Dragonfly forces, but behind the column they saw cars following them normal civilian cars which however it seems that these surviving civilians had no other choice but escape,
Among the dead was Goetz, Reed, Stack, Gunderson, Loyd, McFadden, Cooney, Linn, Killian, Arnold, Kunz, Gaskin, Weems, "Hevy" Miller, "Cutup" Menze, Wolford, Zheng, Chief Warrant Officer 2nd Class Spencer, and 1st Lieutenant Johnathon G. Schmidt was among the causalities of the 19 dead, while of the 11 injured, was 1st Lieutenant Clifton B. Brewer, 2nd Lieutenant Boomhour "Boomer" Ratliff, Chief Warrant Officer 5th Class Tyler T. Sunnyson, where the 3 officers wounded, but for the eight, Klinken, Tubbs, Rogers, Maxey, Mampre, Ballew, "Fibi" Schofield, and O'Connor where among the 11 wounded, while the MIA, where Lockhart, Farrow, Collette, Wells, Delarosa, Chamberlain, Rossi, Means, Echols, Vanhorn, however where among the 10 MIA, they had been separated from the company after they abandoned them, however Dario and his forces suggested to stay put near the mountains not far from Ashgabat with all the surviving forces, in the mountains he suck refuge and while their they spent many time for the night including resting the wounds and the stress, all wasn't so well when sadly however O'Connor however one of the wounded girl, died in the night so earlier around 8.00 om time, O'Connor was too late by the time before they could eject plasma and save the girl, all later on around 12:00 pm midnight wasn't well Dario was checking on all comrades but he came across a dying Private First Class Klinken, however "Doc" Sterns, Hoobler, Whipple, and Robb went over their dying comrade, before Klinken died she said in her final words, to Captain Dario, "Dario? I never meant to die like a soldier but I only wanted to get lucky but this time I wasn't so lucky since Turkey? I only wanted to live," and before dying she said to him and made him a promise to put in a request for her at a memorial before she died, Klinken died of her wounds that night this gravely saddened both Dario, Sterns, Hoobler, Whipple, and Robb, the loss of their comrade was only just recently occurred, Dario felt sorry for her and for Sterns she did her best to try save Klinken but wasn't enough, but recently however Dario asked Sterns about Brewer if he is going to live, Dario was worried about poor Clifton if he didn't make it, apparently Sterns was pleased to tell Dario that 1st Lieutenant Brewer is going to live as he is not critical, while she told more good news of Ballew had a splinter in the leg she too was going to live, the others, Tubbs, Rogers, Maxey, Mampre, "Fibi" Schofield, are going to live, while 2nd Lieutenant Boomhour "Boomer" Ratliff, and Chief Warrant Officer 5th Class Tyler T. Sunnyson are in good condition and will also make it, but Ballew will have to face many hospitals on her leg,
Eventually Captain Dario began to start having prisoners Dragonfly Lieutenant Colonel Milam and Captain Riggins, and Dragonfly Guard Vick where interrogated by Dario, however though they also had "Cowgirl" Hicks interrogate them watching over them as well, Dario, Schultz, Whitefield, went on in to interrogate the prisoners, Master Sergeant Bessie "Buzz" Higgenbottom did her duty and scolded the Lieutenant Colonel and her girls Riggins and Vick, Higgenbottom however began torturing Vick first, she screamed in pain but Dario saw that Milam got her answers, eventually Milam told Dario that Dragonfly Field Marshal Britsh is crazy and she hates her as well for her crimes, she says she didn't want to do this but it was on her orders, Dario with no option had to believe the Lieutenant Colonel, Riggins also told Dario about how Britsh in Turkmenistan plans to create a superweapon and also tends to build a huge army that could take control of not only Russia but also Ukraine as well, eventually Dario heard enough and reported the information to Colonel Mary Gibbons, eventually the information got through to Mrs Gibbons and passed to Intelligence,
However as time went on at night, Staff Sergeant Megan J. Pressley came to ask Corporal Jessie Hoobler and her friends if she seen Lockart yet but knowing that Hoobler was correct she hadn't, Pressley stated she knew she and the others where most certainly not dead at all, Hoobler suggested to go on her own to look for Lockart, but Pressley suggested to come along but was rebluffed when more decided to join Jessie for the search for Renee Lockart, with Hoobler both, Whipple, Robb, "Echo" Garcia, and "Fives" Hashley, and also who overheard them in conversation was Specialist 2nd Class Siobhan U. Grady who volunteered as she could help them in the night, Pressley agreed and the matter was settled where both Hoobler, Whipple, Robb, Grady, Garcia and Hashley went on a rescue mission to save Sergeant Renee Lockart, and also the other 10 missing, however Pressley sent the enquiry to Captain Dario at the last minute telling him about what Hoobler has done, but Kappus said and ensured Megan,
"Megan don't just judge both Hoobler, Whipple, Robb, Grady, Garcia, and Hashley, they're got a job to do and so do we... they're doing what they must to look for anyone missing I can respect that and I am glad you told me so Megan, out of all your a great Sergeant now I need you back at your post resume work and tell Corporal Pendleton to focus on watch tonight I don't want the enemy going anywhere near you got that Megan?"
Was the reply Kappus asked Pressley which she obeyed orders, she was told to tell Corporal Grace P. Pendleton to get to work on watch duty to make sure the enemy did not approach, later that same night Kappus went to see Corporal Amber W. Mainz and Private First Class Kori G. Apland, Private Mirabelle H. Watson, and Private Moya L. Claxton, who where talking through the night about why many war's don't end in victory but as Kappus overheard this he explains to Apland who was complaining about it that not all wars have a victory for many and Apland had to understand this from a certain point of view, later he found Sergeant Kytten J. Jessup starting a argument with a Private by the name of Nicky T. Courtney who where bragging about who was to blame as Courtney lost a friend Private Sage C. Wolford and the blame was taken on Jessup for her actions this was because previously in Ashgabat what happened earlier was that Jessup did nothing about it to save Wolford and this cost a huge rivalry argument which the two started to beat each other to almost death, Kappus grabbed them and stopped the scrap and then angrily said,
"RIGHT WHO WAS IT WHO IS RESPONSIBLE!" only for Nicky to point out it was Jessup causing Kappus to grap Jessup by the arm and he placed her down on a military vehicle which he used the butt of his rifle and smacked Kytten Jessup's butt as corporal punishment she began to cry in pain as it hurt her butt bruising her but Colonel Gibbons seeing this commosion quickly subsided at it and quickly grabbed Kappus she told him off as he committed a military law regulation she said to him,
"I don't know what your doing Captain Dario but you don't go corporal punishing Jessup, whatever this is explain this situation?" she said to them which Kappus told that Jessup was the one who started an argument with Nicky and Nicky knows she was responsible for the death of Nicky's friend, Sage C. Wolford, which as a result Mary Gibbons felt rather angry and said, "Well Jessup you should be ashamed of your actions If I catch you fighting with Private Courtney again I will seriously turn you into Honeybee Taffy, now get out of my sight Jessup, you too Courtney I don't want to see you two fighting again," she said but turned to Kappus to tell him, "I am really disapointed in you Kappus you know better then to discipline soldiers like that giving them the old corporal puishment isn't what you do that is bad for the army and you can get in big trouble for it, I can see you did what you had to do because of a scrap but you shouldn't go spaking girls butts giving them corporal puishment that is not our way,' she had to advise this because Dario came to understand a lot about military regulations that it wasn't right to corporal puish Sergeant Jessup and that behaviour was not okay thus Dario felt ashamed of himself,
Eventually in the night Dario could see the sight of the town in the background that they're was bombing in the town going on in Ashgabat, Kappus knew of it but his friend Captain Weaver told him he was always right about this but Kappus advised him they would have to dig in for the night, although Weaver knew they won't be waving any flags tomorrow, when they began to dig in Dario told his friend Weaver that what he has learned he must never dicipline a solider again from Colonel Gibbons, Weaver told him, "Well first off don't committ and action like this in the near future, you know that is bad and what if your going to be arrested on the spot," he had to advise to him this becasue he knew what if he was guilty to face his actions, when they where having a drink, Jessup found Dario and Weaver and she came forward to talk to Dario telling him,
"Whatever you did I forgive you for it you actually taught me a lesson Captain Dario, you showed me that I had been a jerk and I needed to learn a little better I won't call police or tell them of your actions but you have shown me a different way of punishment that I have had to learn from my mistakes." she said to Dario who he agreed and he was forgiveable to her but they explained Dario has had to learn from his mistakes from Colonel Gibbons that if he does it again he could loose his rank and that wouldn't be a good thing, but Jessup says, "In the future I will learn from my mistakes, so will I with Private Courtney but your more like the Father of our unit almost like one," she had told to him which Kappus said, "You think I am like a father?" to that which Jessup replied, "Yes?" and Dario felt much better, but actually his action he committed helped show Sergeant Kytten J. Jessup that she should know better then to start scraps and arguments and that thanked him that if he wasn't their the scrap would have gone very serious and someone would have been killed had it not been for Dario to step on in solve the matter,
Eventually Sergeant Renee Lockart, Private First Class Stella D. Farrow. and both Corporal Roxy E. Collette, Private Tabatha S. Wells. Sergeant Pam L. Delarosa. Lance Corporal Priscilla J. Chamberlain. Private Lula H. Rossi. Lance Corporal Roxanne U. Means. Private First Class Ruby A. Echols. Private Octavia P. Vanhorn. where later rescued by scouting jeeps into town eventually later being picked up by both Hoobler, Whipple, Robb, Grady, Garcia, Hashley, and they ended up returning to base where the others where waiting and the girls where reuinited to their team, they eventually where able to soon move out on the retreat to the boarder between the boarder at Iran, on the retreat they had to before a huge force which was set to come for them would hit in 5 hours, they eventually where able to make their move out,
Relationships
Nicholas Eddie Ojeda Weaver
Nicholas is Kappus's best friend, right hand man, bodyguard, and his Aston Martin driver. Nic is a nice man to Kappus and always hangs out with him. Although he is very friendly, he suffers from alcoholism. He is a great electric guitarist, according to Kappus.
Bessie Higgenbottom
Kappus first met Bessie at Kiss Kiss Clue and their friendship grew. They are good friends, but they interact quite a lot. Kappus hangs out with Bessie, although he finds her talkative self annoying. When World War III came, they became closer. Kappus stated, "You were really brave of surviving the Bloody Farmland, but you were still cool, Bessie."
Penny Lefcowitz
They are very good friends although their friendship together is seen they talk a lot. Like Bessie, she is one of Kappus` good friends being one of the three friends that helped Kappus on many times on many adventures. At one stage during World War III, after taking the town of Eskisehir, he stated to her, "Penny... That was kind of cool, dude!"
Millie Millerson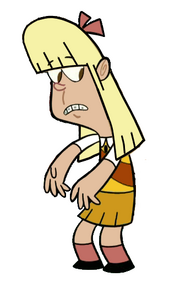 Millie look Kappus's girlfriend Mildred 'Millie' "Milliepooh" Isabella Millerson
Millie is Kappus` love of his life and girlfriend.They started off as friends in the beginning, but Millie secretly liked him at the time. Kappus didn't know she had feelings for him and liked the way he looked, being insecure about his looks. However, they would always go on many adventures together, getting closer very day. One day, Millie confessed how much she loved about him at the Recreation Center to Nisa. Millie decided to hug him, (and in return, Kappus hugs her back), which signaled they felt the same towards each other.
Their first date, however, was sad once because Bessie and Penny might have ruined the date with Kappus and her, he explained that Bessie might have felt almost it burns to see a friend go out with someone who's geeky, but however he explained when she was in tears that he cares about her and should move away from her past once she framed Bessie once, later on the beach as the couple made and considered they decided that they would be in love and however he explained how he felt for her and developed a crush on her, which Millie returned his feelings and agreed to kiss Kappus for the first time on the beach, although Bessie and Penny saw this they did think it was very cute for them to make out Millie however considers she will marry Kappus and be together in the future as husband and wife as it is found out when Millie visits the future she is married to Kappus which indeed however makes her blush, she like him share a lot together but mostly a lot, sometimes he has to give her space as he always does for her and she does for him meaning it is what boyfriend and girlfriend do and they also share lots of dates together going to Danish or European restaurants likely meaning as such she enjoys dating him so much. she however will never stop following Kappus sometimes when she wants him which Kappus doesn't mind her being together.
Possible Season 3,
It is unknown if there will be a season 3 of The Mighty B series. According to this page http://wiki.answers.com/Q/Is_there_going_to_b_a_the_mighty_B_season_3 there could possibly be a season 3 of the series, If there will be a season 3,The series will focus on all of each characters story rather than just Bessie's even though there might not be new characters there could possibly one though and the creators have not confimed this yet. |} Categories: